When self-proclaimed city girl Emily Monaco visited a small town in Languedoc-Roussillon's French countryside, she found beauty in the people and places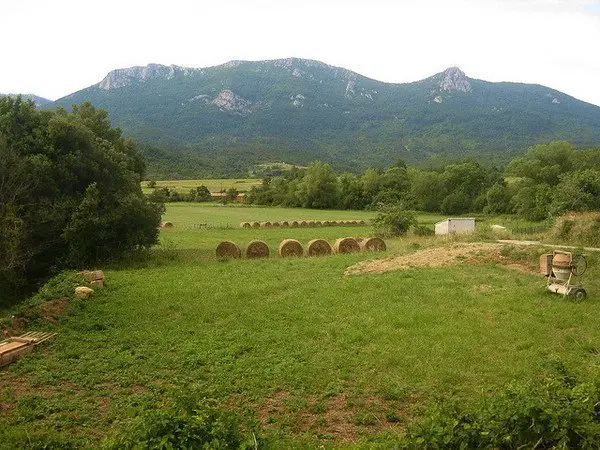 In French, soulagé means "relieved." Soulatgé, on the other hand, means "pottery." A family of potters, to be exact. Otto and Nicole Lindner, their daughter Claire, and her husband Jamie have several pottery studios in this tiny town, which is located in southwestern France in Languedoc-Roussillon, about an hour's drive north of Perpignan, and one and a half hours south of Carcassonne.
Last July, the Lindners were kind enough to open their space to a group of American teenagers attending a French immersion camp at which I was a counselor. While the girls learned about pottery, however, I learned much more on a walk through the French countryside with Claire.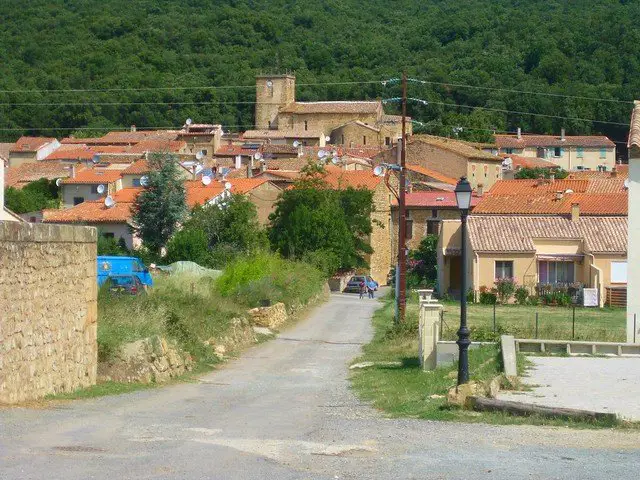 The town of Soulatgé is minuscule, with the brightly colored doors and windows typical of houses in Languedoc-Roussillon. Aside from a crêperie and a couple's beekeeping and honey-making warehouse, the pottery studios and galleries are some of the only businesses in the town, situated just next to the church at the top of a hill that forms the center of the small village.
Jamie is the leader of the show as far as pottery pedagogy is concerned, and it is he who comes to greet us, wielding a hand-made mug of coffee. He usually works with clay to make fun, fanciful sculptures works of art like "wolves in sheep's clothing" that we peruse before getting started.
But when it comes to teaching, it's all about the potter's wheel. Jamie is English-born, but he easily teaches the course in French for our budding French scholars, showing them how to make pinch pots and guiding them through work on the wheel.
Meanwhile, I strike up a conversation with Claire. Our group of 12 is separated into two of six, and while the first group throws pots with Jamie, Claire – along with newborn baby Woody in tow – volunteers to take us on a walk along the riverbeds in the rural area just outside the town's limits.
Claire was born and raised in this small town; she recognizes every tree and plant by name and easily navigates a path that allows the six city kids to climb and jump on hay bales, something they've likely never seen before. I'm more interested in how she ended up back here in Soulatgé. She and Jamie met while she was studying at university, and her English is now as perfect as his French, with her years of living and working in England. She wants to raise Woody to be bilingual, and she pumps me for information once she learns I studied child language acquisition in college. I find myself digging through my brain for all the information I can remember; I want to share with her as much as she's sharing with me.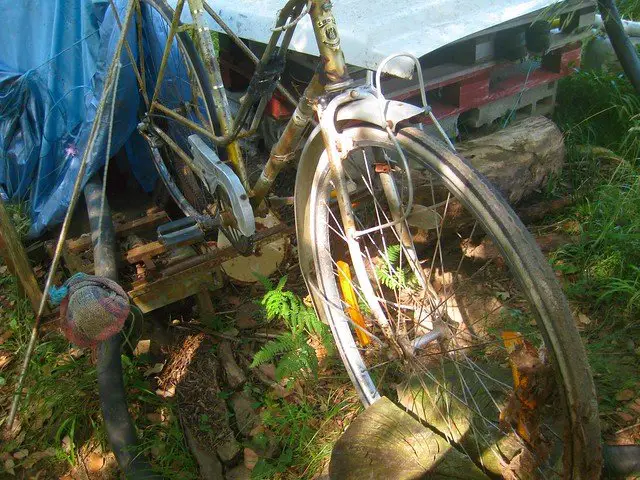 We walk further into the underbrush, past an old bike-operated pump that has me fascinated and taking hundreds of pictures; after all, I was born a city-kid, too. Claire laughs and brushes it off like it's nothing. I keep forgetting, as she describes her travels and studies, that this, for her, is normal. This vast expanse of French countryside, a legendary mountain rumored to be the one place man will survive after the apocalypse, is her backyard… and Woody's too.
And yet the baby is not the reason she chose to come back to her family home three years ago; she moved for her art. After several years working abroad, Claire and James had the opportunity to come back to Soulatgé, where Claire's parents still had their studio, to take on an atelier of their own and the Espace Remezo, the gallery where they display and sell their work together. After a splash in the water with the girls on a raft made of an old surfboard, we wander back to the atelier to see exactly what it is that she came home for.
Each member of the family works with a different medium: Jamie with clay, Otto with decoration and glaze, Nicole with stoneware, and Claire with porcelain. As Jamie shows the second group how to throw pots, I ask Claire about this choice.
"Porcelain is a very pure material…" she says, almost dreamily. "I wanted to break that."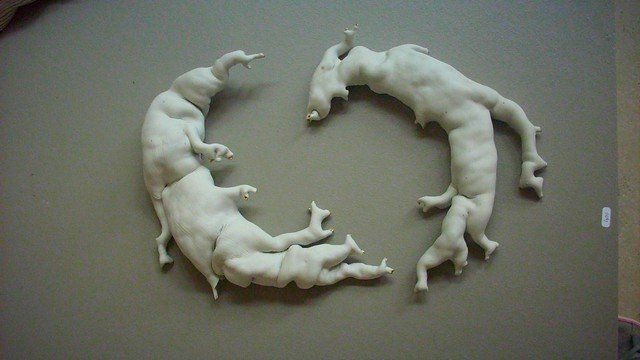 She's not speaking literally; her porcelain sculptures are anything but broken. They are works of meticulous artisanship, constructions based on feeling, movement, and texture in what is typically a very proper and poised substance. I admire the sheer mass of them, more impressive still next to such a slight, young woman.
She mentions changing yet again, moving on to another medium of expression. She speaks with such a combination of certainty and openness that it's impossible to guess what she will choose to do in the end, though with as much clear drive and love for what she does, there's no doubt in my mind that she will succeed.
We say our goodbyes quickly and without fanfare; we have an hour's drive home, and I'm sure she has other things to do. Still, I wonder what it must be like, to live in this small French town, to live out one's dream, to have the freedom and decisive power to take a group of Americans on an impromptu two-hour walk around one's vast backyard. Just because.
Editor's note: The trip was done through a linguistic program for children and teenagers called the Paziols French Center. You can visit the blog the students write during the program in both English and French. Emily is the co-director of the program and would be happy to answer any questions you may have.
* Photos by and property of the author
Pin for Later