I adore street food. I simply love it. And in Athens, some of the best street food is available during the autumn and winter months.
Just steps away from the ancient agora and under the looming gaze of the Parthenon, lies the Monastiraki section of the city.
Take a stroll through this bustling neighborhood where vendors sell fish, meat and vegetables alongside more touristy fare of T-shirts, worry beads and replicas of ancient vases, and you'll come across one of my all-time favorite treats: roast chestnuts. You have to work a little at peeling back the crispy outer layer, but it's worth it!
Chestnut vendors sell roast corn as well – it tastes great with a sprinkle of Greek sea salt on top.
You may also like: The World's Best Food And Dangerous Destinations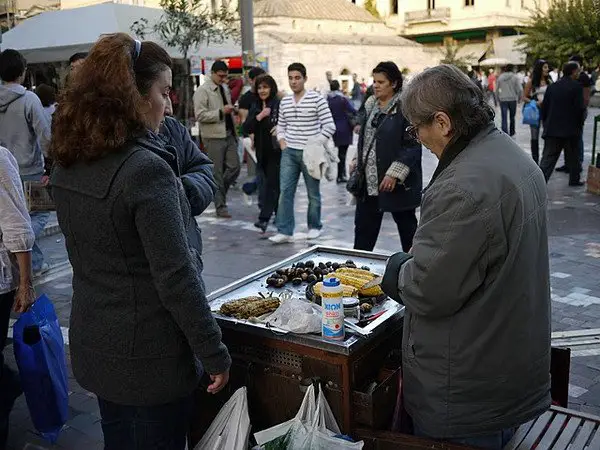 If you get thirsty from the chestnuts and corn, just a few steps away are the Salep vendor. What is Salep, you might ask? I passed by this huge bronze urn for four days before I got up the nerve to try, and found out…it's orchid tea!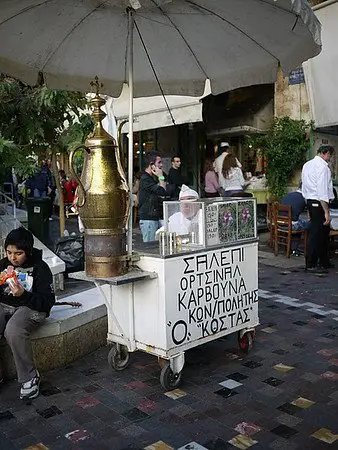 The vendor handed over a tiny cup with a foamy finish, a dash of cinnamon and the most exotic fragrance. I took a taste and it had the strangest mix of sweet, citrus and nuttiness.
You may also like: The Greek Food Experience In The Hands Of A Monk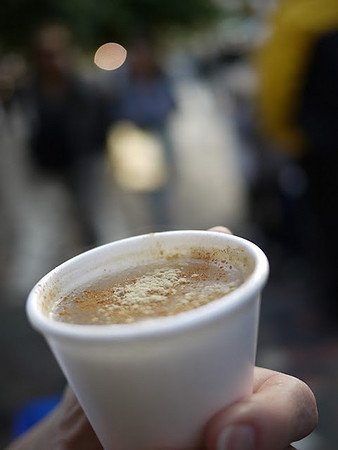 Apparently there's enough demand for orchid tea in Athens to support more than one vendor. In the middle of Ermou, a busy downtown shopping street, this man has also set up shop. And instead of one gleaming bronze dispenser on his mobile cart…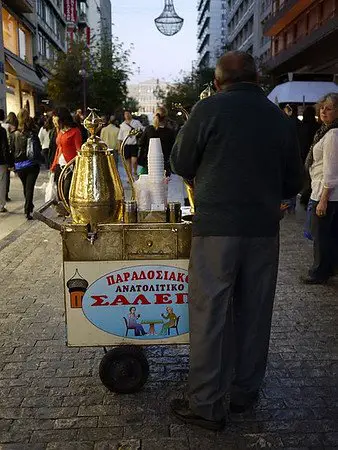 …he has two!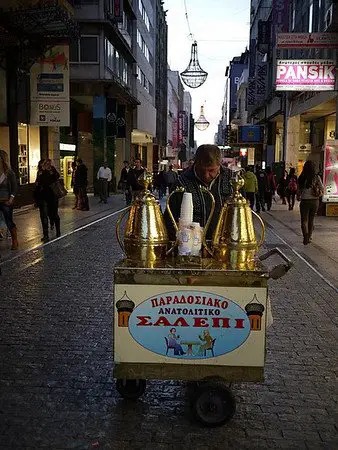 Keep wandering down this busy pedestrian mall and you'll bump into an Orthodox church, located in the middle of an intersection.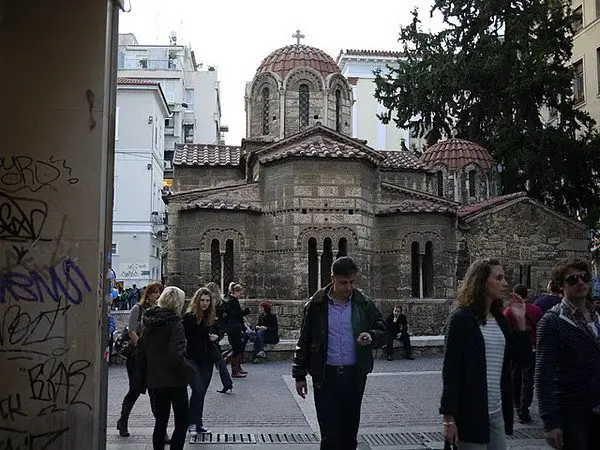 Just behind the church, I came across a booth of assorted pastry rings. Some resemble traditional doughnuts, and others come in a variety of flavors. These soft, chewy rings are stuffed with a wide selection of fillings, including ham, cheese, tomato, apple, olive, and even chocolate!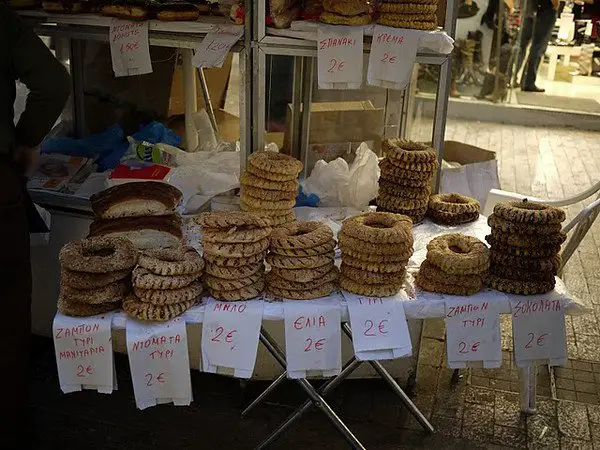 Last but not least, what would Athens be without a souvlaki stand?
These guys serve up the best, and you can find them across from the Monastiraki subway station, where fresh souvlaki wrapped in pita costs less than 2 Euros.
Even though I was staying on the other side of the city, I managed to find an excuse to wander away from the ancient marbles of the Agora and grab lunch here daily.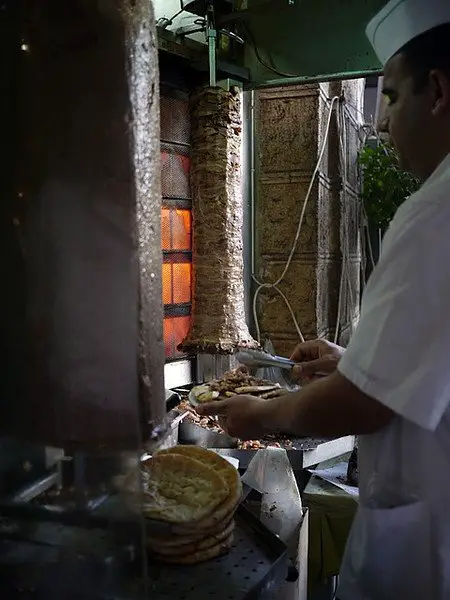 I'll have one with everything: tomatoes, tzatziki, and while you're at it, throw an order of french fries on top!
Find a seat nearby – unwrap your souvlaki (take extra napkins for drips!) and enjoy some of the best people-watching in town.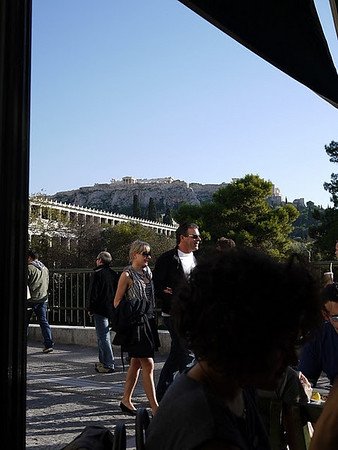 If you keep strolling, perhaps you'll catch a glimpse of some other notable Athenian sites, such as a temple appearing suddenly between the olive trees.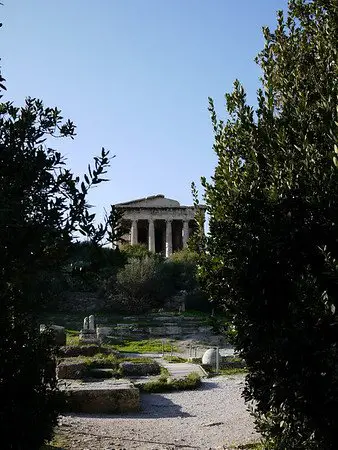 To top off your street food cravings, you can find ice cream anywhere in Athens. My suggestion is to end your moveable feast with something a little different, and one of my favorite Greek treats – pasteli: a unique confection made of sesame seeds and honey.
And if you're feeling adventurous, pick up a piece of fresh coconut still in the shell.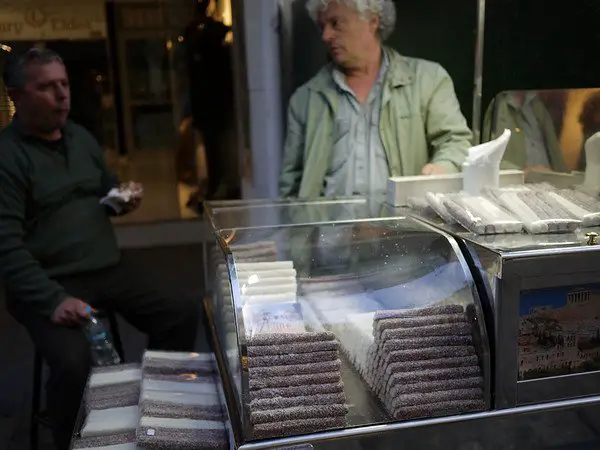 Or just admire the waterworks!
You may also like: A Slow Food Tour Of Piedmont, Italy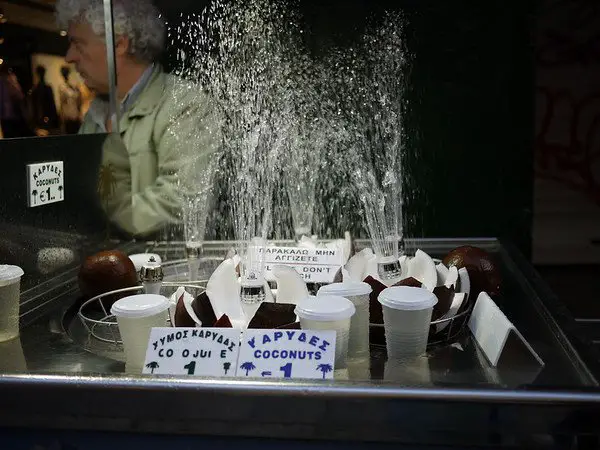 Pin for Later