Paris may be well known for its cuisine, but it's not well known for its budget restaurants.
The experience of sitting down for hours and eating a multi-course meal with friends is a day-to-day routine for the French. Yet quick or inexpensive meal options in Paris are few and not usually worth mentioning.
Luckily, you've got a friend on the inside; I've been a student in Paris for nearly five years, which is enough time to find the cheapest and most delicious options for eating on a budget in Paris.
You may also like: Paris Off The Beaten Track Spots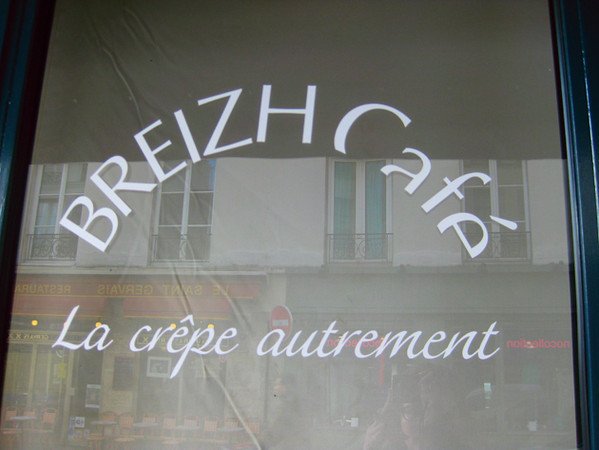 1st Arrondissement
Home to the Louvre and ritzy rue de Rivoli, the first arrondissement is one of the most touristic in Paris.
While you'll find plenty of sandwich shops and even a McDonald's and Starbucks, opt instead for the Bistrot Victoires (6, rue de la Vrillière). Stop here for lunch to take advantage of generously portioned salads, all priced under €10 and offering everything from seafood to foie gras.
For a bit more, you can have steak-frites, roast chicken or duck with fried potatoes.
After a lunch like this, dinner can easily be bread and cheese from the grocery store!
2nd Arrondissement
The second arrondissement is principally devoted to businesses, and most travelers don't find their way here during their stay. You should, however, check out rue Montorgueil, one of Paris' oldest market streets, to put together a picnic on a nice day.
Try La Fermette (86, rue Montorgueil) for cheese and Maison Collet (100, rue Montorgueil) just a few doors down for une tradition: a baguette a few centimes more expensive than a regular one, but completely worth it with regard to flavor and texture.
At the top of rue Montorgueil (you'll have to turn around and walk back toward Les Halles), you'll find a lot of spaces to sit; the steps outside St. Eustache are lovely on a sunny afternoon, as there are usually people singing or playing music in front of the giant gothic church.
Note: As of March 2012, a building project has been started in this area. The building is moving along quickly and should be finished by next year, but as a result, certain parts of this space are closed and re-opened during the building. You're sure to find a spot to linger; you may just have to look around a bit.
You may also like: The Best Cocktail Bars In Paris
3rd Arrondissement

One of France's most famous dishes, the crêpe is actually from the Brittany region. Luckily, in France, all roads lead to Paris, which means that you can sample traditional Breton crêpes at Breizh Café (109 Rue Vieille du Temple) in the third arrondissement.
Closed Mondays and Tuesdays, Breizh Café welcomes customers every other day of the week for classic Breton crêpes like ham and cheese or a variety of flavored butters, as well as some house specialties like smoked salmon and chives, or Savoyard raclette cheese, scrambled egg and bacon.
You may also like: Visit Brittany, France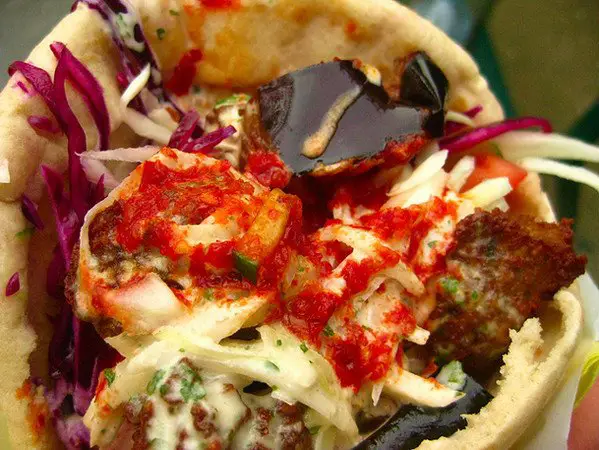 4th Arrondissement
The fourth arrondissement holds most of Paris' Marais area, the prime locale for gay clubbing, vintage shopping and hipster-watching.
And no Paris budget eating list would be complete without the infamous l'As du Fallafel (34 rue des Rosiers). Any student worth their salt has made it here for a pita stuffed to the brim with the most perfect, tiny falafel balls, eggplant so creamy you'd swear it was poached in olive oil, crunchy cabbage slaw and either yogurt sauce or hot sauce (or both).
At €5, it's probably the cheapest thing you'll eat in Paris…and possibly one of the best. Order at the window and take your sandwich to one of the many parks in the surrounding area; this is not food made for walking, as you'll need both hands to eat it.
5th Arrondissement
The fifth arrondissement, also known as the Latin Quarter, is home to many of Paris' university students, which means that it's not difficult to find a cheap meal here. What is more difficult is finding a cheap meal that's actually delicious. Most students make do with inexpensive but uninspired sandwiches and fast food sushi, but you can do better.
Café Panis (21 quai de Montebello) makes a good and hearty-sized croque monsieur, with several variations on the classic, including, gasp, a vegetarian version! (This is unheard of in Paris.) The prices are very reasonable, and if you snag a seat on the terrace, you'll have a clear view of Notre Dame just across the street.
You may also like: Even More Budget Restaurants
All photos, Emily Monaco ©, used with permission
Pin For Later