Batangas is a province in Luzon, the Philippines, that is also among the most visited places in the country. Batangas is quite a popular destination for a relaxing weekend getaway with a collection of fantastic historical sites, unique architecture, and nature spots.
Batangas is about a 2-hour drive from Manila and is also dubbed the "Industrial Port City of CALABARZON" (CALABARZON is a region in the Philippines that consists of five provinces: Cavite, Laguna, Batangas, Rizal, and Quezon). Being relatively accessible from the capital of the Philippines, Batangas has become quite a popular tourist spot for those looking to enjoy the beauty of nature. 
This stunning historical and lush province features an excellent collection of picturesque beaches, waterfalls, and mountains. If you wish to spend the weekend here, away from the hustle and bustle of the city, you will need the perfect place to stay. Fortunately, Batangas also holds several nifty boutique hotels that will help further enhance your vacation. 
Best Boutique Hotels in Batangas
For those craving a slow-paced, relaxing weekend getaway near Manila, Batangas is one of the best options you can take. Nothing beats strolling and lying around a beautiful beach on a sunny day. If that sounds up your alley, I suggest booking your next staycation in Batangas. 
To help you plan out your little weekend getaway, I compiled a list of the best boutique hotels in Batangas. I considered several factors such as location, amenities, and the overall aesthetic and ambiance in creating this list. So, pick one of these beautiful boutique hotels and enjoy a relaxing stay in the province of Batangas. 
1. Cintai Corito's Garden 
– A Tranquil Hotel with a Balinese-Inspired Aesthetic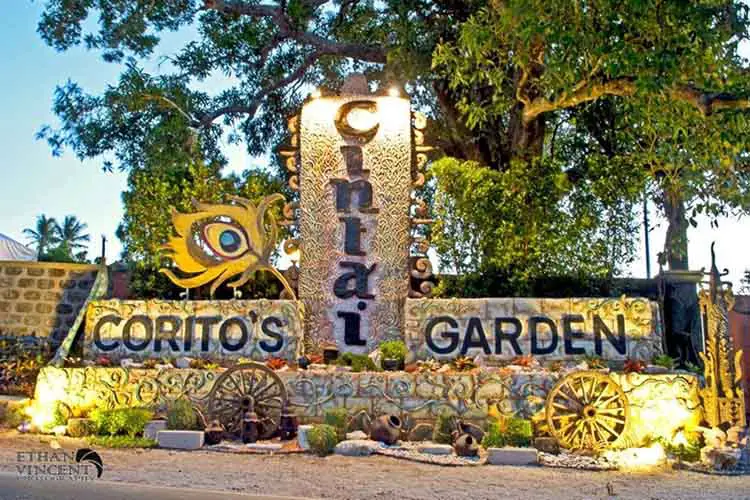 Quite possibly one of the most Instagram-worthy boutique hotels in Batangas, then Cintai Corito's Garden did not skimp on its presentation. Featuring a Bali, Indonesia-themed architecture and design, this nifty 7-hectare boutique hotel and resort is like a 2-in-1 travel package. 
Every single corner of this garden resort is stunning. The Balinese-inspired hotel holds up to four swimming pools available to guests. There is also a yoga and meditation space for those who want to relax both mind and body. There are also a handful of cabanas and cottages that you can rent. 
This one-of-a-kind boutique hotel and resort in Batangas offers a nice getaway from the city and is perfect for families and couples. Along with the elegant villas, Cintai Corito's Garden also has an onsite restaurant that serves delicious food. 
2. The Farm at San Benito
– A Tranquil Boutique Hotel and Resort with a Focus on Holistic Wellness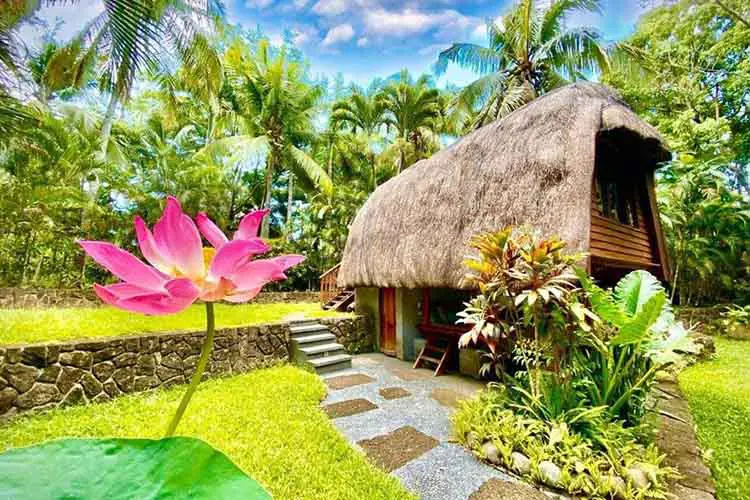 The Farm at San Benito is another popular hotel with many amenities and facilities to make your stay a truly convenient and comfortable experience. Amenities here include free Wi-Fi, a fitness center, swimming pool, spa, yoga room, and a 3 km golf course. The place is also situated in a pretty quiet area so that guests can fully relax. 
Besides the impeccable facilities and services, The Farm at San Benito also offers a collection of excellent holistic wellness treatments. From yoga sessions to the Mandala Flower Meditation technique, this place focuses on your physical and mental health.
3. Villa Del Faro
– A Peaceful and Cozy Hotel Near the Beach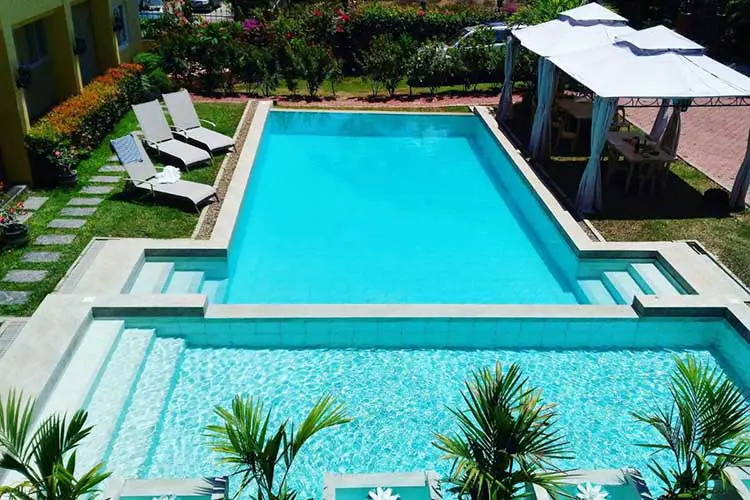 My favorite thing about Villa Del Faro is how near it is to one of the loveliest beaches in Batangas. This boutique hotel resort is literally a stone's throw away from the nearest beach and is about a 15-minute walk away from Cape Santiago Lighthouse. If you don't want to go to the beach, Villa Del Faro also has an outdoor swimming pool. 
Other notable amenities include an onsite restaurant and a karaoke bar for those who want to belt out a tune or two. In addition, each of the 12 air-conditioned rooms features a pretty economical design, and all rooms have their own HDTV. 
Additionally, all rooms offer a relaxing garden view. Being quite far from the city and near enough to the beach to enjoy the soothing crashing of waves, Villa Del Faro is one of the best spots to put your feet up and throw those worries away for a couple of days. 
4. Nayomi Sanctuary Resort
– Enjoy the View at This Relaxing Hillside Boutique Hotel and Resort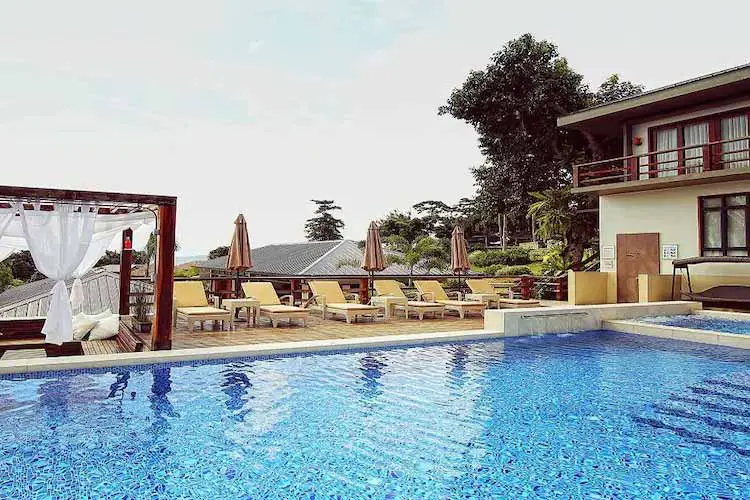 The Nayomi Sanctuary Resort offers lush verdant greenery, beautiful rolling hill landscapes, and that refreshing Batangas cool breeze to complete your staycation. Besides being designed for comfort and relaxation, the Nayomi Sanctuary Resort is also nearby other famous destinations in Batangas, such as one of the world's smallest volcanoes, Taal Volcano. 
To complete the leisure package, Nayomi Sanctuary Resort also offers top-notch guest services such as a spa, massage, and restaurant with a pretty delectable and diverse menu. If you are looking for outdoor activities to do, you will be glad to know that Nayomi Sanctuary Resort has facilities that offer boating and biking nearby. There is also a nice hiking trail and several recreational water activities that guests can easily access. 
5. Hotel 1925
– Take a Trip Back to the 60s at this Amazing Boutique Hotel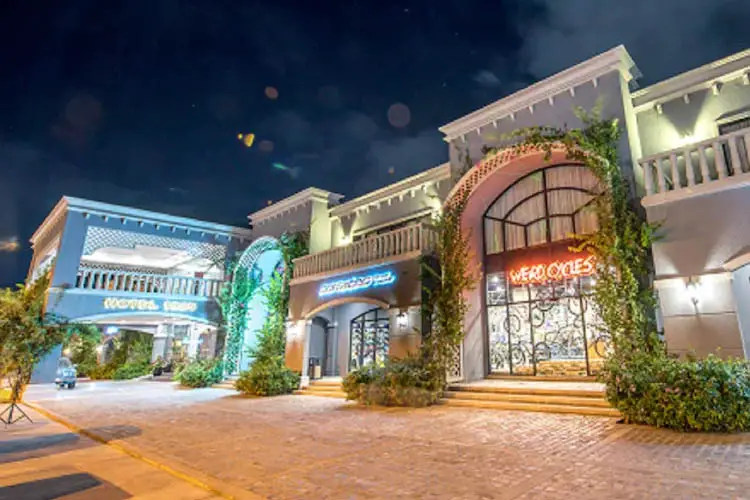 Another aesthetically distinct boutique hotel in Batangas is the Hotel 1925. This charming heritage hotel features architecture that harkens back to the 60s. A grand staircase will greet you with a friendly and professional staff wearing old-school hotel uniforms from the entrance. The luxurious vibe of the Hotel 1925 is further accentuated by the blend of classic interior and modern décor. 
All the rooms in Hotel 1925 have that classy and high-class vibe with extra space to enhance comfort. One of my favorite parts of this hotel is the Italian-themed restaurant, the D' Ursi Autentica Pizzeria Napoletana. The reason? Their pizza is simply divine, and if you are in the mood for a more traditional Filipino cuisine, the Imprenta Filipino, where the menu features all the classic Philippine dishes. 
Hotel 1925 is among my most recommended for those looking to stay at a highly "Instagrammable" hotel. 
6. Aquatico Beach Resort
– Boutique Hotel that Offers Comfort, Luxury, Style, and a Beautiful White Sand Beach
Here we have another Bali-inspired boutique hotel in the form of the Aquatico Beach Resort. This Instagram-worthy hotel and resort are located right beside the beautiful Laiya Beach. With a luxurious touch and outstanding privacy, the Aquatico Beach Resort is one of the best places to go if you want to get away from the noise. 
One of the best spots in this jaw-dropping boutique hotel and resort is undoubtedly the infinity pool. So if you are looking for the perfect photo op, that's the area you should go to. Plus, the infinity pool has a genuinely awe-inspiring view of the sunset.
Another reason to book your stay here is the stunning white sand beach that Aquatico overlooks. In terms of comfort, all the rooms have a pretty decent size, and all are incredibly clean and come with all the essential amenities. In addition, a poolside bar opens every night for those who want to chill by the pool with a cocktail in hand. 
7. Crusoe Cabins
– An Eco-Friendly Boutique Hotel with a Nice Caribbean Twist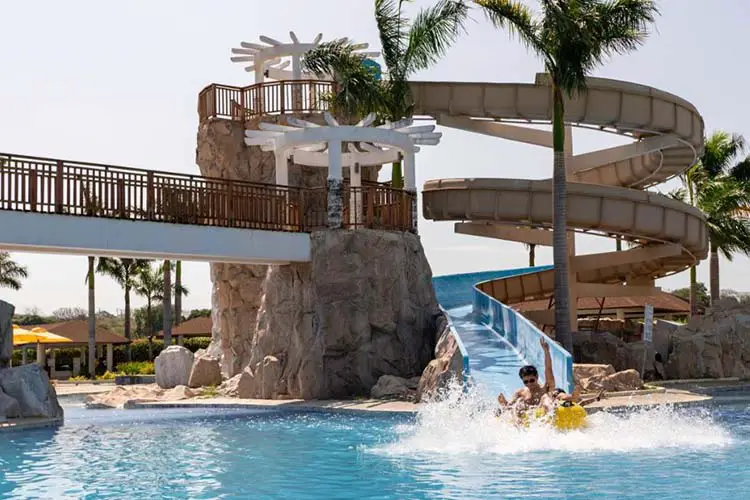 I highly recommend checking out Crusoe Cabin for those aiming to fully embrace Batangas's countryside charm. This serene resort boutique hotel is one of the best in the area and offers a fantastic panoramic view of the ocean. 
This lovely resort hotel is located right beside the 15-hectare Calatagan South Beach, one of the best beaches in Batangas, with its pristine beauty and vibrant blue waters. In addition, Crusoe Cabins is also nearby the Aquarina Water Park which offers a great selection of recreational water activities. 
The rustic design of the cabins and the eco-friendly facilities make the Crusoe Cabin one of the most relaxing spots to spend your weekend in Batangas. If you wish to laze around the beautiful beaches, you got it. Are you looking to have some fun under the sun? There is a water park nearby. All in all, the Crusoe Cabin nails the weekend getaway vibe right on the head. 
8. Noni's Mountain Resort
– A Scenic Mountain Boutique Hotel with Glamping Options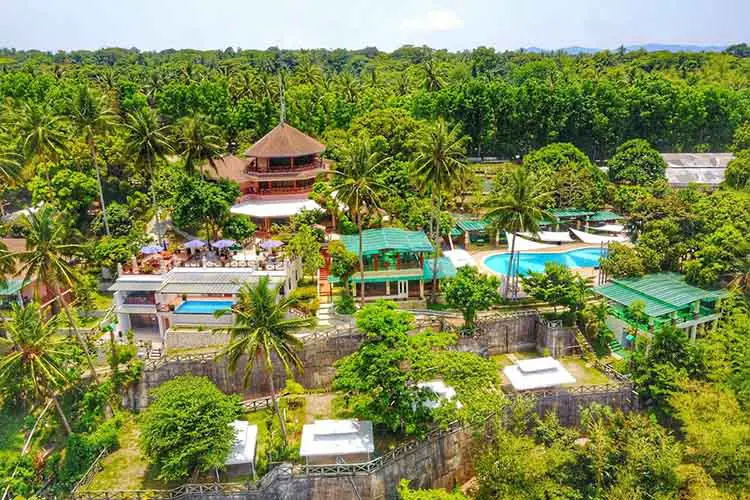 Care to stay in a tropical paradise hotel resort? Check out the charming Noni's Mountain Resort. As its name implies, this hotel resort is located nearby the mountainous part of Batangas. Surrounded by coconut trees, Noni's Mountain Resort pushes that rustic tropical vibe to the forefront. 
This quaint hotel and resort is an outdoor pool, restaurant, and bar. The area also overlooks the lush mountains of Batangas, and you can even go on a short hiking trail located nearby. All the rooms here feature an HDTV, with the Superior rooms having their hot tub and spa. 
This is a hidden gem boutique hotel as it offers outstanding views of Tagaytay ridges, Mt. Maculot, and Taal Lake. Also, Noni's Mountain Resort offers glamping accommodation which is a massive plus for those who want to connect more with nature. 
9. NDN Grand Hotel
– A Stylish and Accessible Contemporary Boutique Hotel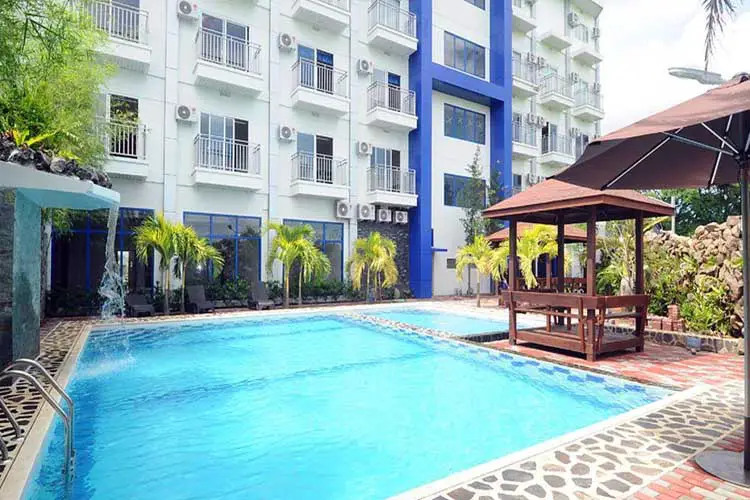 Being a relatively new hotel, the NDN Grand Hotel features a lovely executive aesthetic, making it an excellent option for those staying on a business trip and for leisure. There are 61 large rooms and an onsite restaurant (Rosalinda's Restaurant), which offers a decent menu. 
There is also a 24-hour fitness center with a relaxing garden view accessible to all guests. The NDN Grand Hotel is nearby many famous Batangas landmarks such as Malvar Shrine and The Lifestyle Strip.
10. Villas by Eco Hotels
– Environment-Friendly Boutique Hotel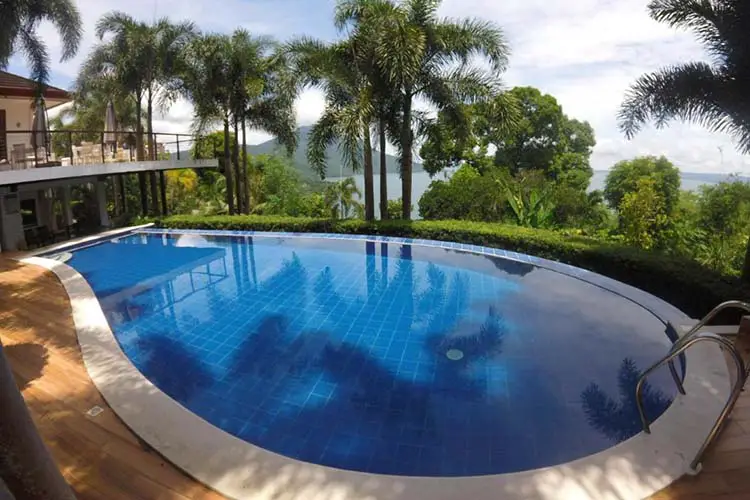 This boutique hotel is nestled perfectly in the heart of a verdant green forest and an Instagram-worthy view of both Taal Volcano and Mt. Maculot. The Villas by Eco Hotel are among the most comforting places you can stay in Batangas. 
The Villas also follows the eco-friendly rulebook and incorporates sustainable elements wherever possible. From the exclusive use of LED lights to using ingredients picked fresh from the farm nearby, the Villas by Eco Hotel certainly impresses with their dedication to the environment. 
As for the rooms available, all have their private bathroom, air-conditioning, HDTV, and refrigerator. All rooms also have a balcony that provides guests with a fantastic view of Taal Lake and its farm and garden.