What are the differences between a Paris bistro, brasserie, café & wine bar?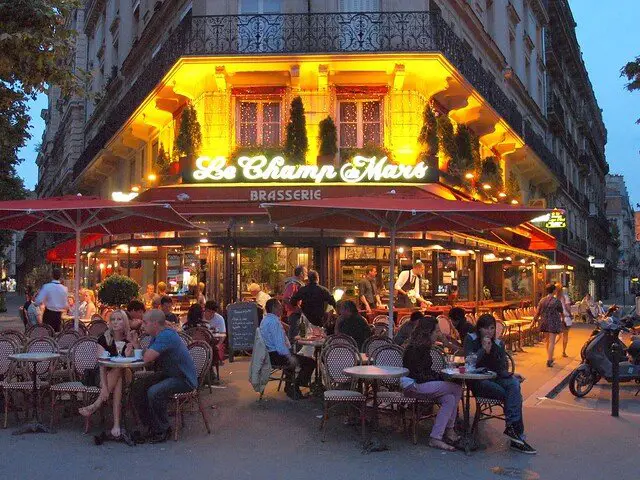 France is famous for its cuisine, and with establishments ranging from three-star Michelin gastronomic havens to sidewalk crêpe stands doling out thin pancakes with Nutella, the choices are varied.
For most tourists passing through Paris, however, the day-to-day meal falls along the curve of the typical Parisian bistro-brasserie-café-wine bar. But what is the difference?
The answer? Not an easy one… Mostly because, like with most issues relating to food (or, let's be frank, relating to anything), every Frenchman has an opinion, and every opinion is slightly different.
You may also like: Rediscovering Paris
Should I go to a bistro, brasserie, café or wine bar?
Bistro definition: Russian soldiers in small restaurants (or cafés, or brasseries…) shouted out, "Bystro!"
Historically, the difference is quite clear, relating to the name of each locale.
A café is a place where one goes for coffee; a brasserie shares its name with the French word for a brewery and is, therefore, understandably, linked to a French demi of Kronenbourg.
Wine bars in their current incarnation are actually a fairly new development in Paris, evolving from caves offering glasses of wine to taste before the purchase of a bottle, with a small snack in case one were filling up their own wine cellar at home.
You may also like: Cafe Chat: Travel Serendipity
The word "bistro" is also newer; with the legend being that during the Russian occupation of Paris in 1815 (and yes, this is considered "new" by Parisian standards), Russian soldiers in small restaurants (or cafés, or brasseries…) shouted out, "Bystro!", the Russian word for "quickly." The restaurants themselves appropriated this name towards the end of the 19th century.
Today, however, bistros, brasseries, cafeś and wine bars all offer a variety of coffees, teas, liqueurs, beers and wines… which begs the question: What's the difference?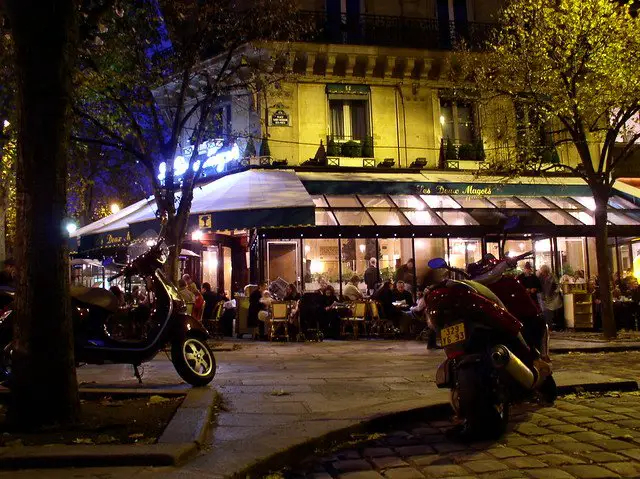 As far as I'm concerned, the differences are few and mainly relate to the food.
Definition of a Bistro in France
A bistro – or bistrot, as it's often spelled in France – tends to serve hearty French home-cooking like cassoulet, steak-frites and blanquette de veau.
Bistros can be fancier, like my favorite bistro in Paris: Bistrot Paul Bert (18, rue de Paul Bert), where one of the best steaks I've ever eaten is on offer.
Definition of le Café | What is a French Cafe?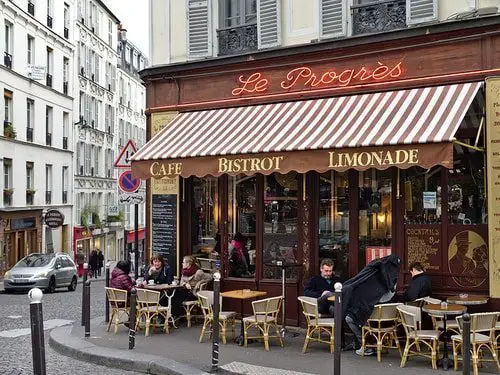 Cafés, meanwhile, generally serve little more than a "Snack" menu, if they serve food at all: platters of cheese and/or charcuterie, maybe a couple of sandwiches like the famous croque monsieur and madame and some meal-sized salads complete with ham, cheese and vegetables.
Places like this are characterized by their bar, where you can get a coffee standing up for several centimes less than what it would cost you sitting down. Cafés are also often home of Tabacs, selling cigarettes and lotto tickets, and tend to be the meeting point of older French gentlemen at midday.
Amélie Poulain's Café des Deux Moulins (15, rue Lepic) is a good example: in the movie, food is comprised of daily specials, and local regulars come to read the paper and get caught up on gossip. Today, the café still stands, though its touristic appeal has raised the prices.
Your best bet for a typical Parisian café is to wander into one in a residential neighborhood on your travels in Paris!
You may also like: Films That Inspire Paris Travel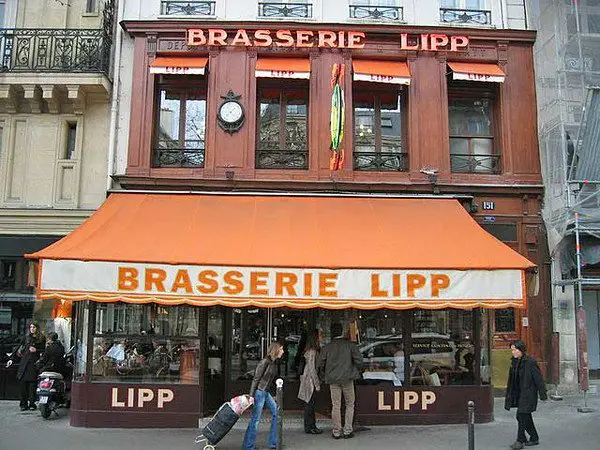 Definition of 'Le Brasserie' | What is a Brasserie?
Brasseries, which share their names with breweries, offer a bit more than cafés as far as the menu is concerned, while not being quite as fancy as bistros.
They also have the distinction of serving food all day, which restaurants and bistros do not do. Some of Paris' more famous brasseries like Au Pied de Cochon (6, rue Coquilliere) or Brasserie Lipp (151, boulevard St-Germain) have prices to match their renown, while local brasseries throughout Paris offer a hefty plate of food for a more reasonable bill.
You may also like: Budget Restaurants In Paris
A bit of confusion lies in the distinction between café and brasserie: my favorite "brasserie" is actually called La Didot Café (77, boulevard Brune), offering all sorts of authentic, traditional dishes, like andouillette with mashed potatoes. Another favorite brasserie, Le Centenaire (27, boulevard de la Tour Maubourg) – home of my favorite steak tartare in Paris and a truly delicious confit de canard – houses a Tabac and café as well. Parisians have gotten used to this interchangeability between the words, while locals of the countryside are not quite as accustomed to it.
Definition of Le Bar à Vin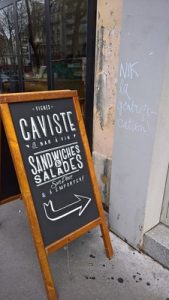 Wine bars have grown rapidly in popularity in Paris, with many of these establishments offering a lunch or dinner menu as well. Typically, wine bars have offered the "snack" menu of cafés, with a cheese or charcuterie plate as the only option.
Today, wine bars like O-Château (66, rue Jean-Jacques Rousseau) offer a combination of bite-sized snacks to enjoy with wine and a full three-course meal. One of my favorite "wine bars" is more of a wine restaurant: Chapeau Melon (92, rue Rébeval) is a wonderful wine shop that offers a four-course menu (chef's choice!) Wednesdays through Sundays to accompany the bottle of diners' choice, to be purchased at retail prices, with an 8.50 corkage fee.
Whatever you call these restaurants  – bistros, cafés, brasseries,o or winebars  – they can be the key to affordable and delicious food in Paris. For authentic cuisine, there's nothing better, and there's no shortage of choice: you're sure to find your own favorites on your travels!
Pin For Later