A colorful village in Brittany, France, and the choices are easy
Do I go and stay for a while, or just "go"?
Let's face it: pretty villages in France really aren't difficult to come by. But when choosing one to stop in, knowing that you've made a good choice isn't always immediately apparent.
You drive into town as a fly by visitor with all kinds of questions that need to be answered; and one way or another, they will be.  I'm not even talking about questions such as "Should I go to this museum?" or "Should I go to that cafe?" – I'm talking about the kind of questions that first must be answered when entering  a new sphere, whether it be a small village like La Roche Bernard, or a big city, like Paris; things like, "Where should I park?" and "Do I go left or right?"  Or perhaps as in this case the most important question of all must be answered:  "Where is the closest restroom?"
Sometimes places that I have high hopes for, turn into mere restroom breaks. While sometimes places that were possibly only going to be restroom breaks, turn into the way your spend your day.
In La Roche-Bernard the answer to that question of where to park was obvious: In the near-empty lot next to the harbor; the small harbor with a tableau, gaga full of sailboats, their masts scraping towards the sky, their hulls so impossibly colorful that they seemed to be radiating with no help from the sun. The harbor with a parking lot for cars too, with its own well marked restroom.
Two equally appealing paths diverged from the parking lot, and the answer to my second question of which way to walk was apparent: I must take both of them. The sight of a lone fisherman down the way made my decision of which path to take first easy. As I walked the sound of slapping halyards against sailboat masts in the breeze was familiar and oddly comforting, making me momentarily homesick for a memory of something I couldn't put my finger on.
There were certain things about visiting the Brittany region that I kind of expected. I knew about the whole seafaring, salty, red, white and blue striped shirts thing. I expected crepes, apple cide, and giant salty oysters. But I would never have guessed the plants that would be blooming in September.   Throughout this part of France things were flowering that on the east coast of the United States I associate with Spring. Flowers burst out of every nook and cranny.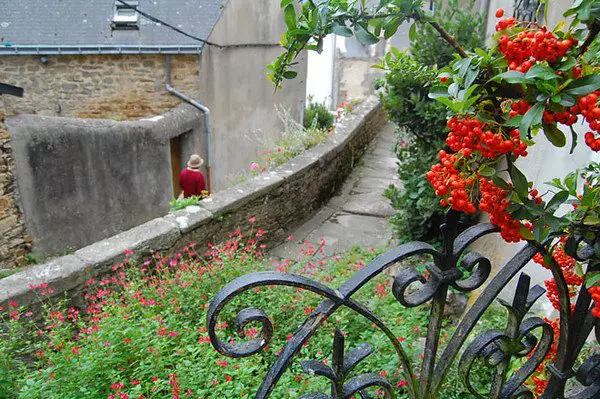 Everything about this town was crazy, saturated red, blue, pink, orange or purple; as if the village itself had an agenda of color.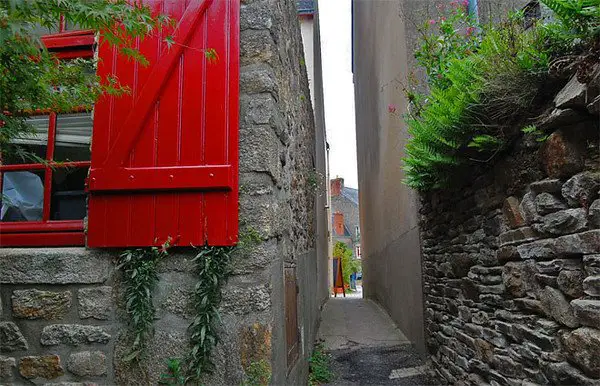 La Roche-Bernard was settled by the Normans in the late 1st century. La Roche, or "the rock" towering above the Vilaine River, was a strategic location for the settlement during this tumultuous time. The town prospered as a port for much of its history. It was occupied by Germany during World War II, and attacked by Allied forces following the Invasion of Normandy.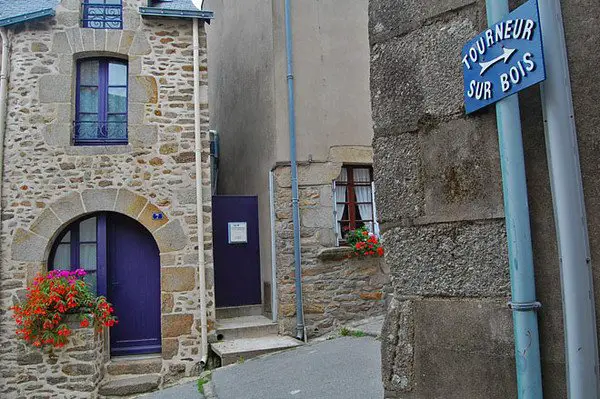 The village's long maritime history is recounted at Musée de la Vilaine Maritime where tours are available in English. In the 16th century La Roche-Bernard was one of only four protestant towns in Brittany.  In most recent history, the town is known for L'Auberge Bretonne, its highly regarded Michelin-starred restaurant and inn. I didn't go there; thankfully, it wasn't even an option because it was after lunch time and closed. I did stop and eat at a traditional creperie in the town's old quarter, Creperie Gatin.
I suspect that as a water recreation area, the activity level is kicked up a notch in the summer.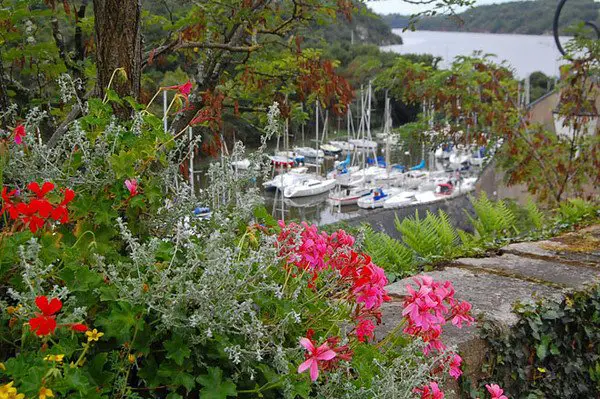 Hikers visiting this part of France may be interested to know that the GR39 path which connects Brière National Park with Mont St. Michel passes right through La Roche-Bernard. Locally there is the Sentier des Ponts (bridge trail), a 3.5 mile trail that passes across the Vilaine River's bridges in the vicinity.
I knew from the parking lot, it definitely wasn't going to be your average restroom break.
* All photos by Margo Millure
For another lovely village in Brittany you may want to also read this post about Guerande. Or you may enjoy reading about colorful Provence, another one of our favorite regions in France.
La Roche Bernard, Bretagne (Brittany)
Header Photo by skeeze
Pin For Later