There is nothing better than reading a good book in an exotic location, but even if you are stuck at home, a well-written work of  historical fiction has the power to transport us to distant places and times.
It can also inspire our own real-life adventures, as I know first-hand!
You may also like: Escargot Farm Visit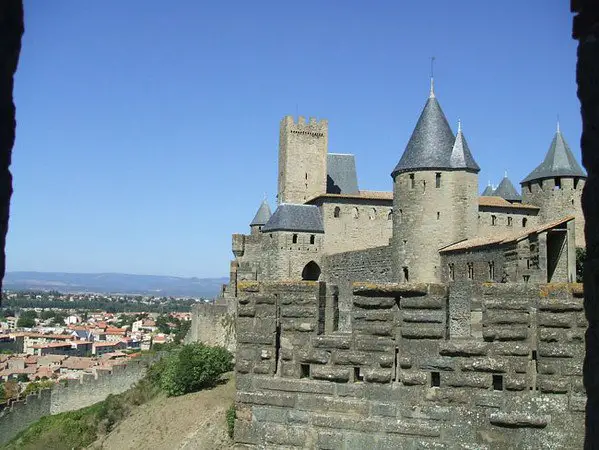 Labyrinth, by Kate Mosse, was the book that led me to Carcassonne, a town in the South of France. In simple terms, this is a time-slip, grail-quest novel, but this does it would be a disservice to say this book is just like The Da Vinci Code.
Labyrinth is not merely a holiday read, jumping on the Grail bandwagon; it is well-researched and rich in historical fact, combined with a touch of magic.
You may also like: A Guide to the Other South of France
This book certainly fired my curiosity and I could not resist a visit to Carcassonne to see the medieval cité for myself.
Perhaps at this point, I should admit that I am something of a medieval geek. I have even been known to write essays on French medieval literature and history (don't ask me why!), so I am a harsh critic when reading this kind of book.
However, Mosse is writing about a place and time she clearly knows and loves; it is historically accurate, but more than that, it is a powerful and engaging story.
What really makes it stand out from the other works in its genre is that all the main characters – good and evil – are women. It's about time that women got some of the starring roles in genres other than chick-lit!
Alaïs is the medieval heroine, plunged into a world of danger and intrigue, with the task to protect the secrets of the grail held within the pages of three strange books. She must do this as war rages and her beloved city falls to the crusaders.
You may also like: Prehistoric Europe in Tautavel, France
In the modern-day, her counterpart, Dr. Alice Tanner, stumbles across a cave containing two skeletons and suddenly finds herself at the center of a murderous web. She becomes drawn into the past and into Alaïs's world, whilst trying to avoid the people trying to pursue her.
The only person she can rely on is the mysterious Audric Baillard, an old writer who still speaks Occitan, the language of the Cathars, and who has his own interests in the medieval past. The present and past intertwine as the quest for the grail intensifies, all in the shadow of the timeless Pyrenees.
Now, I don't blame you if you think that all sounds a bit far-fetched – you will have to suspend your disbelief somewhat. However, that is not hard to do.
Mosse writes so passionately and with such a deep understanding of this region of France that you get drawn into the story. Equally, a good deal of the novel is chillingly real – the scenes of Cathars (the 'heretics' besieged and killed by the French crusaders) singing on the way to their death, the massacre at Beziers – are historical fact.
Real events and figures from the time of the Albigensian Crusade waged against the Cathars, such as Raymond-Roger Trencavel, are blended seamlessly with the fictional characters and plot to give this novel authenticity and complexity not often found in this genre.
Above all, it is a tribute to Carcassonne, a town that has witnessed all of this history, and Mosse writes with a deep love for this place.
Nowadays it is a major tourist site and much of it has been rebuilt or restored since Raymond-Roger lived there, but it has been done faithfully. It is not hard to see how this place inspired such a story – the stone towers and winding streets practically beg for mystery and intrigue.
Mosse combines historical research with a vivid imagination to create a gripping read and a sincere homage to the region and its people.
You may also like: Favourite Bed and Breakfasts in France
Whether you are planning to visit the South of France or merely need an escape from daily life and can't get away just now, this book is a perfect read. While relaxing in your armchair or beach lounger, you will be swept up and taken on an incredible journey.
Maybe you too will be unable to resist the call to Carcassonne. After all, Labyrinth does more to bring this incredible place to live than a guide-book ever could.
[amazon_image id="0425213978″ link="true" target="_blank" size="medium" ]Labyrinth[/amazon_image] (clicking on photo directs to Amazon affiliate link)
Pin for Later