Safari Session III 
A safari is like a meditation.  That might sound like a strange simile, but I swear it's an apt one.  To get the most out of your game drive, it doesn't suffice to have a stellar pair of binoculars, the latest Animals of Africa I-phone app, and a khaki safari suit.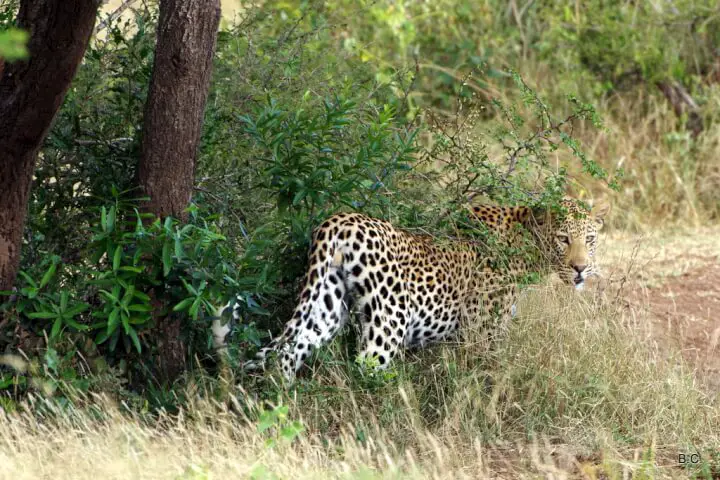 Nope.  To get the most out of your independent game drive, you're going to have to channel the patience, mindfulness, and stillness of a Buddhist monk.
Don't believe me?  Read on for personal proof that these three virtues are more important than any gadget or gear you could ever bring on safari.
Be patient. 
We were sat inside a covered hide at a water hole in a South African game reserve.  I'd decided to spend the day at this spot, watching whatever came my way.  I had brought snacks, my book, and my journal to pass the time when there was nothing to watch at the water hole.  At first, it was excitingly busy – rhinos, giraffes, antelope, warthogs, zebras.  But then, the action at the water hole died down.  Not a single living creature showed up for hours.  Most people would have packed it in, but I stayed.
And that is when I spotted a female leopard.  This svelte spotted creature crept silently to the water, looked suspiciously at the hide, and then began to daintily drink.  Several private minutes passed, and when her thirst was finally quenched, she glanced directly into my eyes and wandered off.
It was patience – not luck – that gave me my first leopard spotting of all-time.
Advice: When you feel like driving off or turning your attention elsewhere, force yourself to wait and watch just ten minutes more.  You will be surprised at the amazing things the Ten-Minute Rule will allow you to see.
Be mindful. 
I was ultra-alert in Zambia's South Luangwa National Park, because I was dying to see lions.  I scanned the horizon and really searched.  I forced myself to be mindful of every discoloration, every strange shape, every movement, and every noise, on the chance that it would be a lion.
I didn't come face to face with any felines that day, but I did spot several rare, hard-to-see mammals and birds.  More than that, being fully present in my environment gave me a satisfaction that even spotting a lion couldn't have given me.  I'd watched the pale sun rising over the horizon and tinting everything pink.  I'd listened to the clockwork cooing of the doves, the humming of the flies, and the unnerving silence of danger.  I'd smelled earthy elephant dung and felt the smoldering afternoon heat on my skin.  My senses had never been so alive – I still remember this moment, in fact, as much as my close encounters with any Big Five animal – and it's all because I was mindful.
Advice: Just as you feel yourself nodding off – and becoming one of the many sleeping safari-goers I've seen on the back of safari vehicles – remind yourself that you're in the African savanna, for crying out loud!  Forget your List of Animals to Spot for a moment and wake your senses to this truly amazing setting.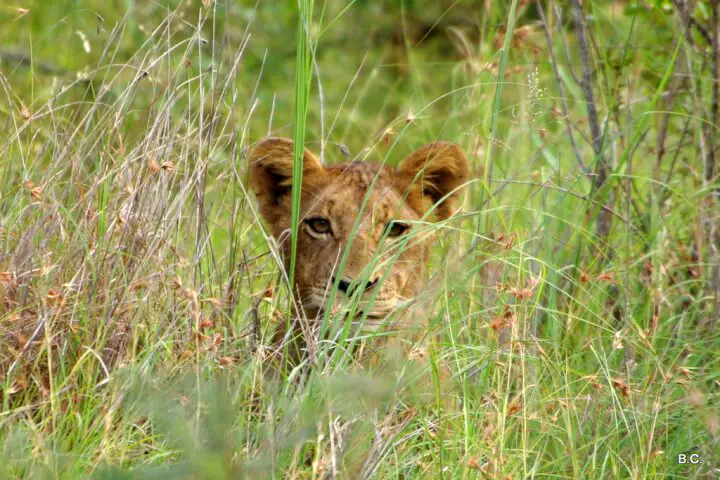 Be still.
On safari in Kenya, I spotted a leopard sitting on a red rock.  Annoyed at our arrival, he disappeared.  The other safari vehicles around us drove off after a few minutes, perhaps to search for the leopard, but we decided to stay put.
We waited, unmoving, by that rock, on the off-chance that he might return.  It took almost an hour, but eventually we had so blended into the scenery that the leopard forgot we were around.  He hopped from his hiding place back onto the rock – and this time, he wasn't alone.  What followed was a stunning hour-long leopard mating dance that remains one of my best safari moments ever.  I have stillness to thank for it.
Advice: Park your car in the shade, stop the engine, and simply watch.  Being still is a great safari tactic – far-off elephants eventually cross right in front of you; zebras standing under acacia trees inevitably gallop gracefully across the horizon; or, as happened to us one afternoon, a distant rhino will scratch an itch against your vehicle, thinking you a tree!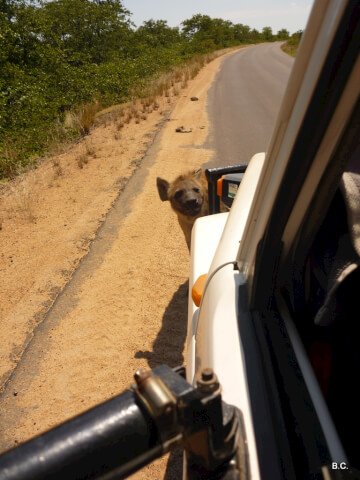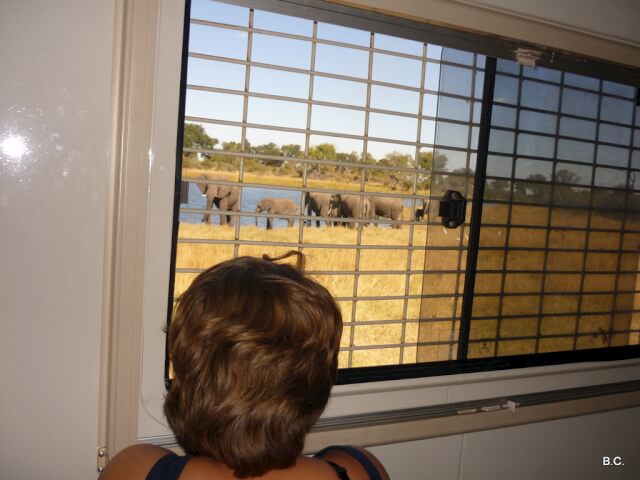 ***
The temptation to drive as many kilometers in as little time as possible is great.  This approach, however, doesn't necessarily result in good game drives – you may see more, but you'll be exhausted, and you won't have had the time to appreciate the small stuff.  Staying put, being alert, and waiting patiently – in other words, bringing a touch of meditation into the safari – is the surefire way to get to the most out of your game drive.
I guess you could call it the Zen of Safari.
That concludes the Safari Sessions.  If you missed the first two, click to choose offbeat safari destinations or to plan a budget safari.  Otherwise, it's time to get safariing!