Siargao Island is one of the fastest-rising tourist destinations in the Philippines, both for locals and international visitors. Named "The Surfing Capital of the Philippines," this paradise island offers pristine beaches, lush greenery, fresh air, and many more. 
Located on the northeastern coast of Mindanao, Siargao Island is a teardrop-shaped mass of land. It has also been dubbed as one of the best islands in the world by Conde Nast Traveler – a popular luxury travel magazine. So, have I piqued your attention with the beautiful island of Siargao? If the island seems to be an ideal place to have a vacation (it is), then you best know-how and what to do over there. 
In this article, I will guide you through the many activities you can do besides surfing. Read on to learn more about this newly found paradise gem in the Philippines. 
How to Get to Siargao Island?
Fortunately, reaching Siargao Island is considerably easier than, say, Batanes. There are several direct flights to Siargao from Manila and other major airports such as Cebu. Also, it is best to book your flight a couple of months in advance as ticket prices tend to jack up if you have a closer departure date. 
You will need to first travel to either of the three major airports that connect to Siargao for international tourists. These are in Manila (NAIA Terminal Airport), Cebu (Mactan-Cebu International Airport), Surigao Airport in the Visayas, or Davao (Davao International Airport). 
You can also take a ferry from Surigao City Port to Siargao Island, a cheaper alternative but takes longer.
When is the Best Time to Visit Siargao Island?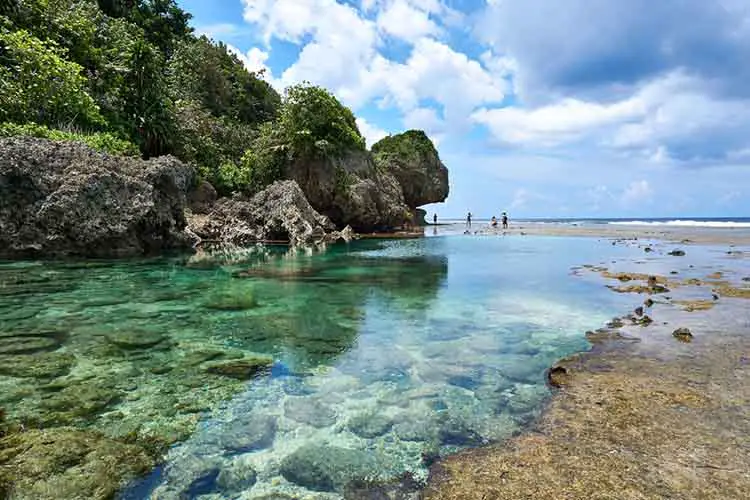 Since the Philippines is a tropical country and is among the most typhoon-hit areas globally, it is best to plan when you should visit the country. For Siargao, it is best to determine your primary purpose for visiting. For example, are you planning to crash the waves with your surfboard or enjoy a relaxing stay on its stunning beaches? 
Surfing Season on Siargao Island
If you plan to take advantage of the Philippines' Surfing Capital, you should book your stay in Siargao from July to November. These months are when the weather is just windy enough, and the swells on the beaches will deliver the best surfing waves for you to ride. 
It is also between these months when the annual Siargao International Surfing Cup is held. It is a wonderful event for surfers looking to watch some of the best in the world to see who is the best in the sport. 
Beach Season on Siargao Island
Suppose you prefer to mostly bask alongside the beach and enjoy a pretty relaxed swimming experience. In that case, I recommend you visit the island during the calmer months of March to September. These months experience the least rainfall and generally offer pretty good and clear weather throughout.
What to do When on Siargao Island?
Now, I will be enumerating what you can do when you stay in Siargao. This place certainly earns its reputation as a paradise. The life on this picturesque island is close to that of the countryside. People are friendly, and the day goes on at a pretty relaxed pace. So, here is the stuff you can do here during your vacation. 
1. Surfing, Of Course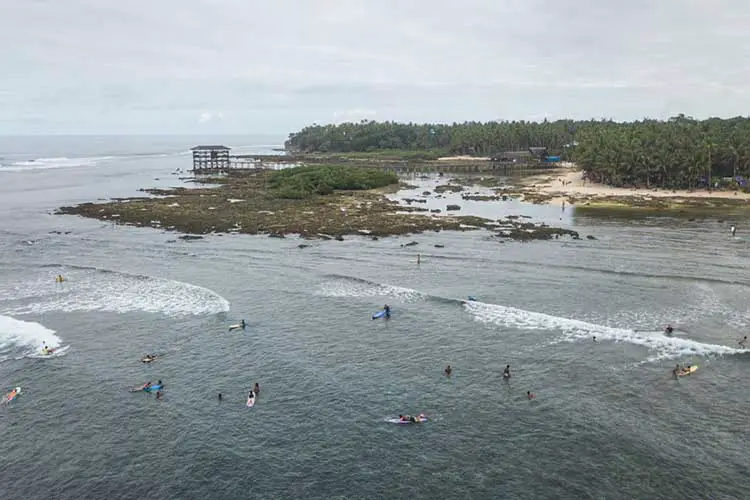 Of course, with a place dubbed as the "Surfing Capital," it is pretty apparent that surfing is one of the top activities in Siargao. This is the main reason for most visitors who come to Siargao Island. The tremendous rolling waves and the breathtaking beaches made Siargao's beaches a hit with tourists worldwide. 
As for where the best surfing spots are in Siargao, here are the beaches that I highly recommend:
You can also get some private surfing lessons there if you want to try out this popular and exhilarating sport.
 2. Visit the Surrounding Islands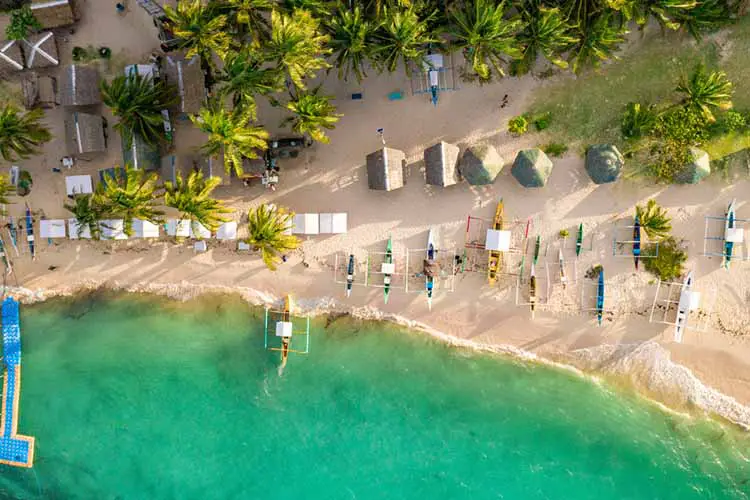 Besides surfing, those who prefer something a bit more laidback can go on an island-hopping adventure. For example, you can walk around and see fishermen who will offer to bring you to three of the best island beaches in Siargao. I highly recommend you do so as these islands, namely Guyam, Daku, and Naked Island, are some of the most stunning places on Siargao Island. 
3. Go Swimming in Siargao's Hidden Gem Spots
Besides the beaches, there are also several other swimming spots you can go to on the island. These hidden gems in Siargao offer crystal clear waters and Instagram-worthy snapshots. One such destination is the Magpupungko Rock Pools, about a 45-minute ride from General Luna. During low tide, the rock pools are fully exposed, so time your visit. This spot is also a great place to do some cliff diving, and the crystal clear waters are something to behold. 
Another fantastic spot for the more adventurous tourist is the Tayangban Cave Pools. Swimming in the cave's pools can be a bit daunting at first due to the pitch darkness, but with a calm mind and torch in hand, this is undoubtedly one of the unique swimming spots in Siargao. 
It will take about 15 minutes to reach the open cave pool from the cave entrance. It can be nerve-wracking for those with nyctophobia (fear of darkness), and the sound of bats flying over your head is also a bit creepy. Nonetheless, once you reach your destination, the beauty of the cave pool makes the journey well worth it.
4. Go on a Delicious Food Trip
While it is true that Siargao Island isn't explicitly known for its distinct local cuisine, the island does offer a pretty versatile menu that caters to pretty much every palate. Siargao has one local delicacy called the Sayongsong, a violet-colored rice cake. Sayongsong is an excellent and filling snack made from glutinous rice, coconut milk, calamansi juice, brown sugar, and roasted peanuts. 
Dozens of fabulous restaurants around Siargao Island offer fan favorites such as a variety of grilled food, pizzas, desserts, and cafés. At night, some bars offer alcoholic beverages and cocktails. Speaking of bars at night…
5. Enjoy the Night Life
While Siargao Island may have that rustic ambiance, it still has a pretty good nightlife. The fun doesn't end when the sun sets as numerous bars will start opening up, showing a whole different side to the island. You can party the night away at some of the island's trendiest bars, such as RumBar, Loose Keys, and White Banana Beach Club, to name a few. 
6. Help Maintain the Beauty of the Island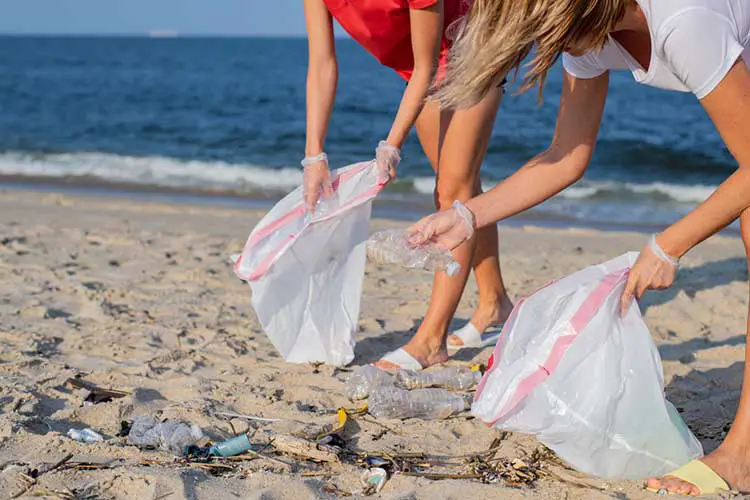 The best way to show gratitude for the fantastic experience that Siargao gave you is to return the favor by participating in their beach cleanup drives. Siargao Island holds cleanup drives that are open for everyone to join in. 
Tourists can help pick up garbage at the beach and help keep Siargao a pristine paradise. Sure, it may not be your idea of fun, but it is quite a rewarding experience to know that you did your part in keeping a place clean. 
Siargao Island Travel Tips
Before you pack your stuff and head on to Siargao Island, here are some tips I'd like to impart to you to ensure you will have the best experience there: 
Be friendly. The locals on the island are all pretty hospitable and will even go out of their way to help you. Return the positive vibes.

Try out new things. Siargao has several fun activities, so maximize your stay, thereby joining in on the fun. 

Do as the Romans do. When you visit Siargao, make sure to stay there with the mindset of the locals. Think of the island as one big happy community. 

Bring extra cash with you as only a handful of ATMs are on the island. 
Keep these tips in mind, and you are sure to fully enjoy and appreciate the island's beauty and its people. 
How to Get Around Siargao Island?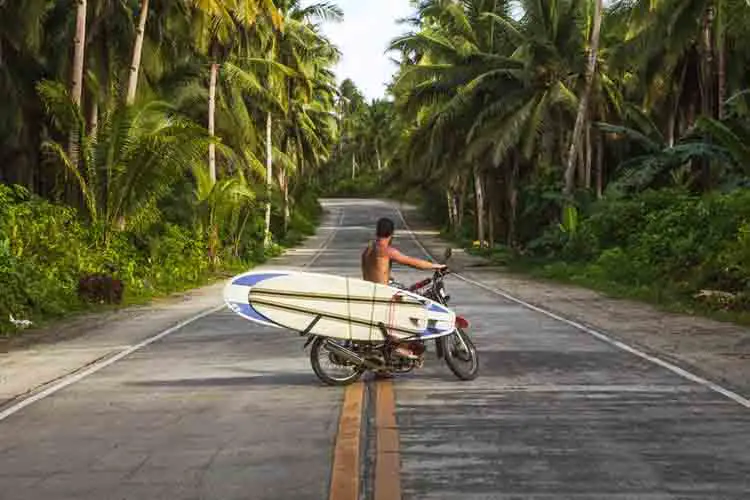 There are several ways to move around Siargao Island. Here is the available mode of transportation that you can choose from: 
Motorcycle Rent – This is the most popular option and is the cheapest one. There are several motorcycle rental services on the island. You only need to show a valid ID and driver's license to rent one of their motorbikes. 
Tricycle – This is the general mode of transportation on the island if you wish to commute. It is also relatively cheap, and tricycles there are pretty much everywhere. 
Van – If you wish for more convenience, you can rent a van to tour you around the island's best tourist destinations. Of course, this option is more expensive, but it is significantly more comfortable and convenient. 
Where to Stay on Siargao Island? 
Another good news for would-be travelers on a budget, Siargao Island has a slew of affordable hotels that you can check in at. Additionally, most of the hotels around Siargao are located in scenic locations, which is a massive plus for those looking to add to their Instagram account.
For your convenience, you can also check out this excellent island day tour that will pretty much handle all the planning and route to optimize your stay in Siargao Island.