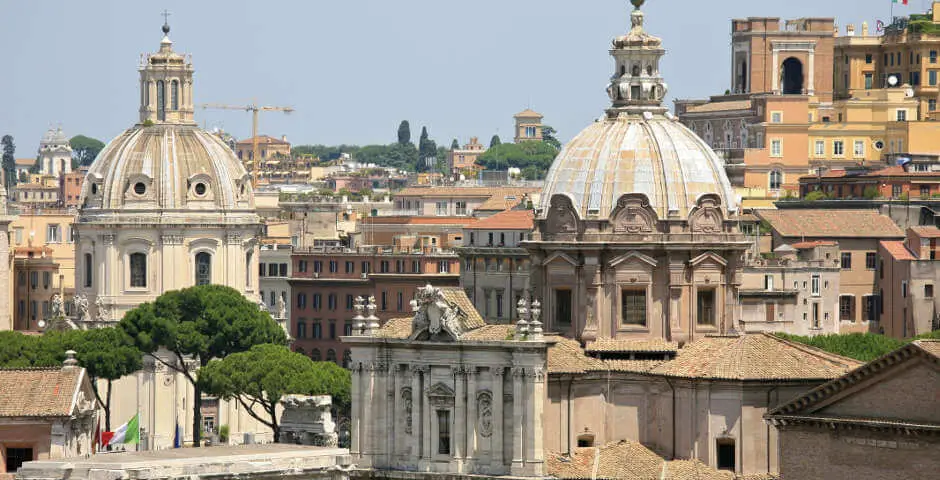 Best Things To Do In Rome
Capital of the Roman Empire and today one of the most visited cities on earth, Rome is a metropolis of archaeology, churches, winding alleys and gelato.
Packed with tourist attractions and world heritage sites, the Eternal City cannot be seen in a day. To avoid disappointment, make sure to give yourself plenty of time to explore (we recommend at least 4 days) all the fascinating monuments, galleries and archaeological sites.
To make it a little easier to choose among the plethora of sites on offer, we have put together what we believe are the best things to do in Rome. For those travelling from Europe or further afield to Rome we recommend checking out this helpful article on getting to Italy. We also highly recommend [easyazon_link keywords="Lonely Planet's guide to Rome" locale="US" tag="tbelles-20″]Lonely Planet's guide to Rome[/easyazon_link].
1. Capitoline Museums
Located on the opposite side of the Michelangelo-designed Piazza del Campidoglio, the Capitoline Museums are spread over several Palazzi and house works of art collected by many of the Popes over the years. Both modern and old works are on display and the collection has been going since the early 1500s and is now one of the supreme highlights within the city. Among the highlights is the second century AD equestrian statue of Marcus Aurelius, Bernini's incredible statue of Pope Urban VIII and a picture gallery containing works by Caravaggio, Tintoretto and Titian among others. Make sure to pay the extra €1 upon entry as this will gain you access to the beautiful Centrale Montemartini which is highly worth visiting. Give yourself at least half a day to visit the museums.
2. Coliseum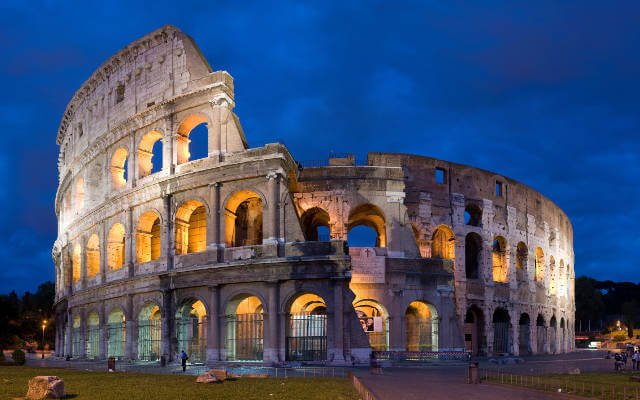 No one can visit Rome without visiting the incredible Roman Coliseum. The enormous stadium – officially called the Amphiteatrum Flavium – was inaugurated in 80 AD and was used as a circus and sports arena. Now is a particularly good time to visit the monument as the city has just recently allowed public access to the underfloor passageways in which the gladiators and wild creatures would have entered the arena before battle. The Coliseum in its peak housed over 50,000 spectators. Queues can be very long however, particularly in high season and we always recommend booking ahead online. If this is not an option then use the less crowded Palatine entrance Via San Gregorio 30. A full morning (3 hours) is required to really appreciate the Coliseum.
More Rome Articles! The Best Pizza in Rome!
3. Palatino
Located between the Roman Forum and the Circo Massimo, the Palatino or 'Palatine Hill' as it is more commonly known, is one of the most ancient parts of the city and is the centre most hill of the capital's seven hills. It is believed that Palatine Hill is where Romulus supposedly founded the city in 753 BC. Legend has it that Romulus established Rome on the Palatino after he killed his twin brother Remus in a fit of rage. Whatever the history, the hill is a remarkably atmospheric site with stunning views and archaeological ruins. Make sure to visit the mosaic-covered vaulted cavern that was discovered 15 meters under the ground in 2007. The cave is supposedly the site where Romulus and Remus were suckled by a Shewolf.
4. Roman Forum
The centre of ancient Rome is a place unlike any other archaeological site. Towering pillars, flowing mosaics and enormous temples greet every tourist who enters the complex. Buildings were built on the site for a millennia and the site is a warren of ancient buildings, temples and houses. Make sure to come armed with a map to get your bearings before you begin. An excellent idea is to hire a tour guide as the site really comes alive when you have an expert explaining how the buildings fit together and their functions in relation to each other. The Palantino and Roman Forum can be completed in one tour, but budget at least a day to do them justice.
More Rome Articles! 6 Must See Literary Spots in Rome!
6. Chiesa di San Luigi dei Francesi
One of the lesser known sites in Rome, but none the less beautiful. This opulent Chiesa has been the Rome's French community church since 1589 and the glorious building homes 3 exquisite works by Caravaggio. The Martirio di San Matteo (The Martyrdom of Saint Matthew), the Vocazione di San Matteo (The Calling of Saint Matthew) and San Matteo e l'angelo (Saint Matthew and the Angel). All three paintings are known collectively as the 'St Matthew cycle'. These are three of Caravaggio's earliest religious paintings and feature his characteristics style of bold contrasts. A large faded work by Domenichino is also housed in the church on the second chapel on the right – well worth seeing. The Chiesa is not far from the Navona Piazza and the Pantheon, both of which we recommend visiting.
More Rome Articles! 5 Best Picnic Locations in Rome (and where to buy the food)
7. Vatican City (Sistine Chapel and St Peter's Basilica)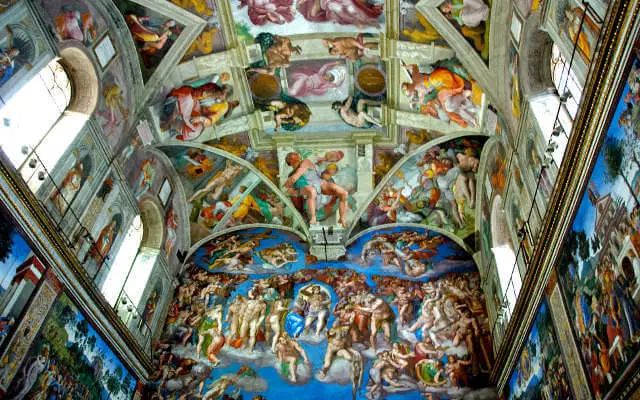 Two of the most famous sites on earth located within a stone's throw of each other. Vatican City is on everyone's itinerary, however, because of this queues can be extremely long. Sadly, the Sistine Chapel often turns into a hive of activity that can be anything but peaceful. If you're first in the door at 9am and rush through the museum then you may have a chance of experiencing the chapel in peace, otherwise, prepare for crowds. Please book tickets online. There is still a queue but it is nowhere near as long. Like the Sistine Chapel, St Peter's Basilica attracts thousands a day and you may have a long wait to get in. Please note that St Peter's has a strict dress code – no bare shoulders, very short skirts/shorts or bare midriff. Make sure to stop and witness Michelangelo's Pietà, one of his most notable and stunning sculptures. Budget a full day to visit the Vatican City.
More Rome Articles! Best Books to Read Before Or During Your Visit to Rome
8. Trevi Fountain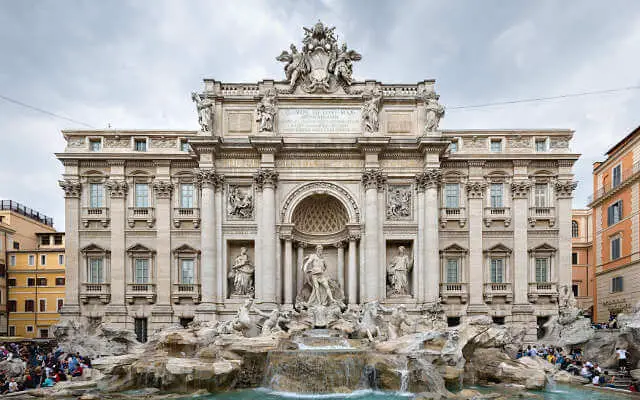 Probably the most famous fountain on earth, the Trevi Fountain is a stunning work of art designed by Nicola Salvi and completed by Pietro Bracci in 1762. The fountain is a flamboyant baroque ensemble of wild horses and mythical figures. It essentially takes up the entire side of the beautiful 17th-century Palazzo Poli and crowds gather around it on mass each day. Legend has it that if you chuck a coin in the fountain you will definitely return to the Eternal city. In fact, over £2,000 (€3,000) is tossed into the Trevi Fountain every day! Visit very early or late to avoid the crowds. No ticket is required.
9. The Spanish Steps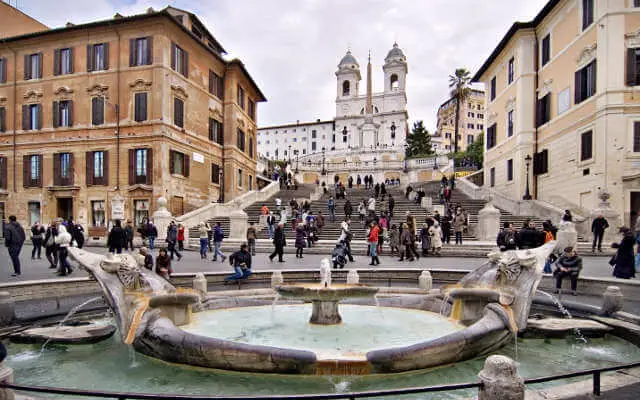 One of Rome's most popular tourist attractions, the Spanish Steps is a grand staircase of 138 steps that lead down to the Piazza di Spagna. Designed and built by Italian architect, Francesco de Sanctis, in the 1720s, the Spanish Steps were named so because the Spanish Embassy was located just next to them. The steps these days are a hive of activity and leads to Rome's most upmarket shopping area.
10. Villa Borghese (Borghese Gallery)
Without doubt one of the greatest collections of art on earth. The Borghese Gallery is located in the Villa Borghese where Cardinal Scipione lived in the early 1600s. He amassed a collection of artwork that includes Titian's Sacred and Profane Love, a number of works by Caravaggio and Bernini's stunning sculpture Apollo and Daphne. Flanking the villa is a stunning series of secret gardens and an exceptionally large and magnificent 17th century aviary. Please note that visits to the gallery must be booked (unless you get very lucky) and you will need to turn up early to pick up your tickets.
We hope our article on the best things to do in Rome has inspired you to visit!