When I first moved to France, one of the first questions people would ask me was, "Why?" To me it seemed an odd question – "Why not?" I always wanted to answer. But I didn't. Instead, I came up with a flippant answer, far from the full truth, but definitely an influential and attractive aspect of the country:
"For the cheese."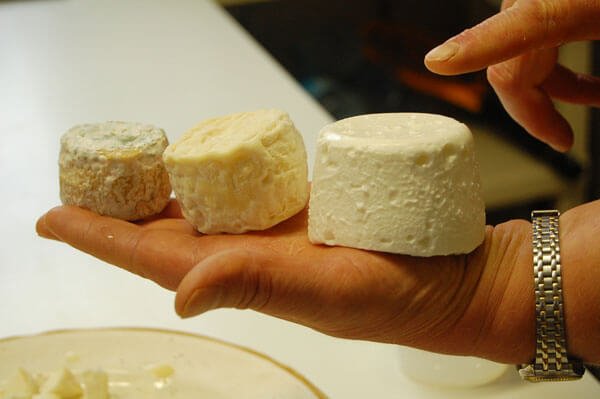 Categories of Cheese
As a lover of cheese, I've made it my mission to learn as much about it as possible. There are many different ways to categorize cheese here in France. You have your fromages frais, like those soft and dewy goat's cheeses that are easily spreadable on toasts. You've got soft, bloomy-rind cheeses like Camembert, Brie and Coulommiers. There are washed-rind cheeses (the stinky ones), blue cheeses and hard cheeses. And just when you think you've seen them all, there are specialty cheeses to be found in many fromageries, cheeses that have been stuffed with figs, wrapped in bacon, or rolled in fresh chives.
It's no surprise that Charles de Gaulle posed that infamous rhetorical question, "How can anyone be expected to govern a country with 246 kinds of cheese?" And that number has only grown in the last 50 years.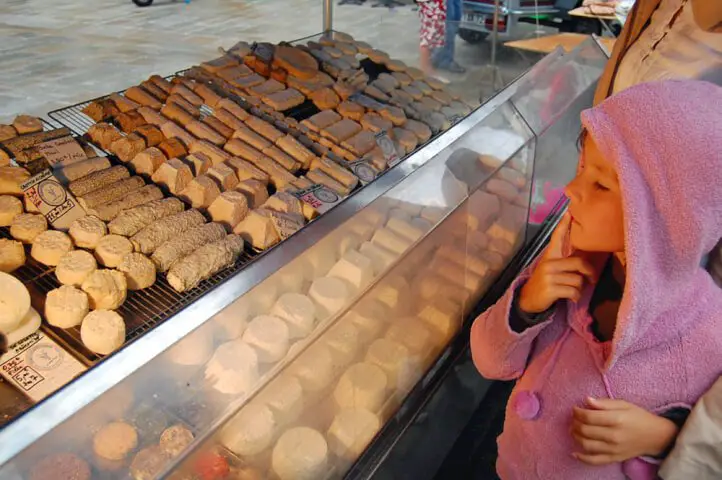 Cheeses are often categorized based on their milk of origin: cow, sheep or goat. In French grocery stores, you can even get a tasting platter that has three cheeses made the same way from the three principal kinds of milk, which allows you taste the differences in flavor. All in all, it's a good way of categorizing them, except that within these broad categories, cheesemaking styles – especially those used for making cow's milk cheeses – are so varied.
Another method of cheese organization is based on their AOC, or place of origin, which also makes a lot of sense, but we'd be here all day before we made it to the end of the list. For the sake of simplicity, I've organized cheeses based on several categories that make sense to me. As you get to know the world of French cheese, I'm sure you'll do the same.
Fresh Cheeses
Fresh cheeses are often labeled frais, and you'll see them everywhere, from the supermarket to the cheese counter. These delicate white cheeses are creamy, spreadable and mild in flavor. The most common fresh cheese is goat's cheese, which is in season in the spring, though it's available all year long. Those who are just putting a toe into the waters of cheese may be interested in trying out a fresh cow's milk cheese, which is very mild.
Conseil d'Emily
If you happen to be in France in the spring, be sure to pick up a fresh goat's milk cheese. At any time of year, go to a reputed fromager and pick up a house-made chèvre frais, which can be flavored with all variety of herbs and spices. My favorite (and the one I suggest to you) is the one stuffed with fig jam. The combination of the sweet, perfumed jam and the tangy cheese is perfection.
Bloomy Rind Cheeses
Perhaps the most famous bloomy-rind cheese is Brie, thought he world does not begin and end with this famous member of the family. These cheeses are creamy inside with an edible white rind on the outside. They vary from very mild to strong and nutty or mushroomy, depending on how long they have been aged.
Conseil d'Emily
If you try only one bloomy rind cheese in France, your best bet is to make it a Brie de Meaux. This Brie, which gets its name from the market that used to sell it, is widely seen as one of the best Bries in France. However, if you're willing to venture a bit from the norm, try a Neufchatel. This cheese is nothing like the low-fat cream cheese marketed under this name in the States. It's a mild, extremely creamy, heart-shaped cheese with a white rind and a delicate flavor.
Washed-Rind Cheeses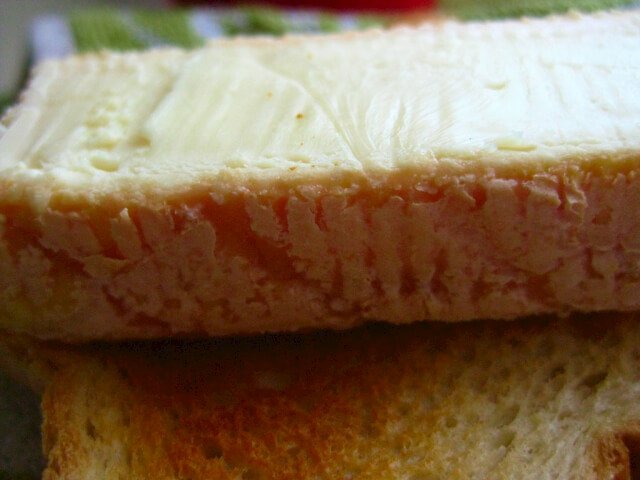 Ah, the washed-rind cheese. If I could have just one cheese for the rest of my life, a washed-rind cheese would most definitely be it. Washed-rind cheeses are often orange in color, with a sticky, smelly, edible rind. The most famous is perhaps Époisses, which is so stinky that it's illegal to carry it on the Paris metro. Don't be turned off by their odor, however; the interior of these cheeses is often surprisingly mild, and they offer a great variety of flavors.
Conseil d'Emily
My personal favorite of the washed-rind cheeses is Maroilles, a specialty from the North of France so strong that it's often eaten with coffee, to help tone down the flavor. For beginners, consider instead the Trou du Cru, which packs a hefty punch of its own. This tiny washed-rind cheese is, for all intents and purposes, a mini-Époisses, which is washed in Marc de Bourgogne to give it its characteristic flavor. It sports the sticky, orange coating associated with other washed-rind cheeses, but because of its diminutive size, it's perfect for those just starting to venture into the world of stinky cheese.
 Blue Cheeses
Many are completely convinced that they dislike blue cheese, which is high treason in my book; once you've tried blue cheese, feel free not to prefer it, but don't turn up your nose just because the mold on these cheeses is blue instead of white: if it's the mold that bothers you, you may as well swear off all French cheese! Blue cheeses are either made with cow's or sheep's milk, depending on the region and the style. Blue cheeses can range from very strong and almost spicy to mild and sweet.
Conseil d'Emily
I am of the opinion that no one should visit France without trying a good sheepsmilk Roquefort. I first tasted Roquefort on walnut bread, with a thin layer of sweet butter between the crumb and the cheese, and it was a delight. However, I will concede that Roquefort is an acquired taste, and I have met many a Frenchman who isn't a fan. If you're just starting out in the realm of blue cheese, a Bresse Bleu is perfect. It has a bloomed rind like Camembert and a surprisingly mild flavor, with just a few thin, blue veins running through the soft and creamy interior.
Hard Cheeses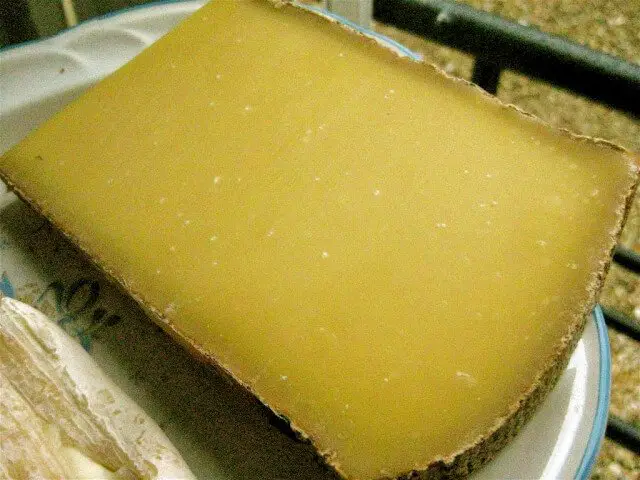 I could go on and on about hard cheeses, so let's just talk about a few facts. Hard cheeses are often sold based on how long they've been aged, often anywhere from 6 to 36 months. The longer a cheese has been aged, the stronger and harder it will become. 6 month-aged cheeses are often considered children's cheeses by fromagers, but some of them are quite delicious. However, you slice it, hard cheeses boast a variety of flavors and are some of the best ones to try when first venturing into the world of French cheese.
Conseil d'Emily
Because there is such a variety of hard cheese – and because I make the rules – I'm going to pick three here, all made from different types of milk.
The first is a cow's milk cheese called Comté. Comté is the highest produced AOC cheese in France, and for good reason. It has a nutty, fruity aroma and a delightful, melt-in-your-mouth texture. A 24-month Comté may seem fairly unassuming on a cheese plate, but it will be the first to go once you've tasted its sweet, salty flavor!
The second is a sheepsmilk cheese that hails from the Pyrenees: Ossau-Iraty. This traditional Basque cheese has been made by local shepherds for centuries and is one of only two sheepsmilk cheeses – along with Roquefort – to be granted its own AOC. The cheese is creamy, smooth and rich, with a slightly sweet-and-sour flavor that comes from the sheep's milk used to make it.
The last is a chèvre sec, or dry goat's cheese. These cheeses are made by drying the chèvre frais until they have become hard and dried, with concentrated, tangy flavors. Not for the weak of heart, these cheeses pack a flavorful punch.
Specialty Cheeses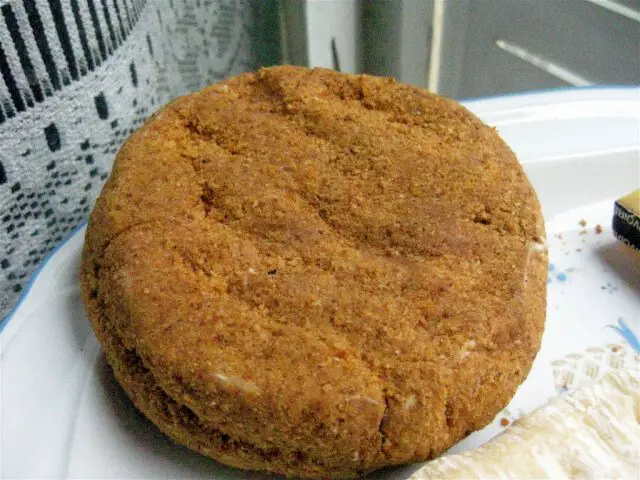 The stuffed goat's cheeses are really only the beginning when it comes to specialty cheeses. Every cheesemaker will have his or her own, and if you ask what is made in-house, you are probably in for a treat.
Conseil d'Emily
My favorite of the bunch is a Camembert de Calva, a Camembert that has been soaked in Calva – the apple liqueur hailing from Calvados – and then rolled in breadcrumbs. The flavor of the alcohol is far from overpowering, and the apple aromas are quite welcome alongside the pungent cheese.
Making a Cheese Plate
When making a cheese plate, pick three or four cheeses to taste. There are several
schools of assembly, none of which is more correct than another. Here are some of
my favorites.
Choose either goat, sheep or cow's milk cheeses and make a plate of only these. You
may pair a Camembert de chèvre, a chèvre frais, a chèvre sec and a specialty chèvre, or
a Roquefort, an Ossau-Iraty and a fromage de brebis frais. Get creative!
Go for variety, and pick one cheese from each of the following categories: fresh,
hard, blue, and soft (either bloomy or washed rind).
Pick several cheeses of the same type – blue, for example – to compare and contrast.
Whatever method you choose, be sure to proceed from the least flavorful – usually
the fresh or the hard cheese – and work your way to the strongest – the washed rind
or blue. Don't pick more than two strong cheeses for a plate, or your palate will be
completely washed out, and you won't be able to taste a thing. Pick a high quality
bread, which will serve not only as a vehicle for cheese but as a palate cleanser
between cheeses. Some sliced apple or pear or a bunch of grapes can do the same
job. And be sure to set out your cheese plate at least an hour before serving, to
allow all of the cheeses to come to room temperature and give off their flavors and
aromas!