Bacolod City is the capital of Negros Occidental, a province in the Western part of the Visayas Islands. For your information, Visayas is one of the three main archipelagos that make up the Philippines. Bacolod City is also known as the City of Smiles due to its famous MassKara Festival, a Mardi-Gras-like festival that features colorful masks, vibrant colors, music, and dance. 
As such, Bacolod City is one of the best tourist spots in the country, especially during the festival season. With such an eclectic collection of beauty that combines history with a modern urban vibe, it is not surprising to learn that The City of Smiles offers some of the most stunning vistas in the Philippines. 
Most Beautiful Instagram-Worthy Spots in Bacolod City
Several stunning landmarks in Bacolod City will undoubtedly offer visitors unique snapshots. In this list, I will be giving you some of the most jaw-dropping spots in Bacolod City where you can expand your photography portfolio or add to your ever-growing collection of Instagram shots. 
1. The Art District 
– An 8,000-square meter Art Gallery
Address: MXV6+X5V, Bacolod, Negros Occidental
If you love checking out colorful and artistic murals, there is no better place to do so than in the Art District of Bacolod City. Located in the town of Madalagan, the Art District is an 8,000-square meter district that features an impressive collection of murals and art galleries. 
The Art District also holds several restaurants and bars, which feature some pretty fascinating aesthetics. Finally, this area is where many local artists in Negros Occidental flex their artistic skills by painting and crafting some pretty unique and wild art pieces. 
While the Art District is open at all times, there isn't much going on during the day. So if you want to experience the untamed beauty of this area, I recommend strolling around in the afternoon and evening. The Art District certainly has a vastly different ambiance once all the restaurants and art galleries open up and are drenched in the colorful neon light. If art is something up your alley, I suggest checking out this Bacolod Contemporary Art Tour. 
2. Century Tree
– A Majestic 1,000+-Year-Old Colossal Tree 
Address: Brgy Lumapao, Dakbayan sa Canlaon, 6223 Negros Occidental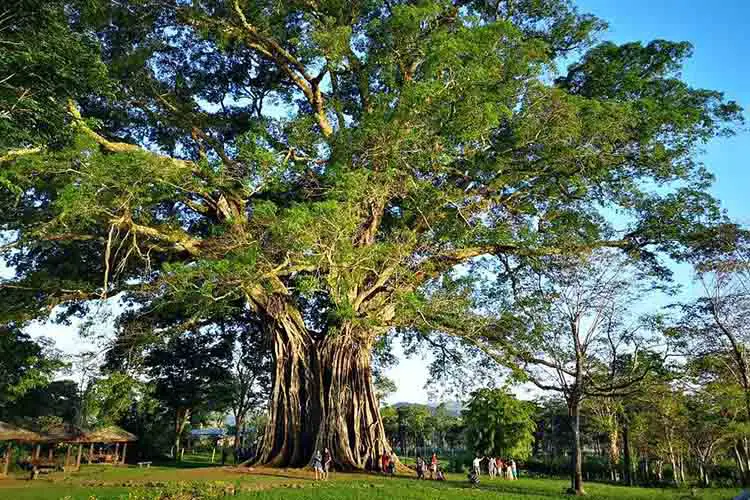 While not precisely in Bacolod City, this thousand-year-old tree is still worth the journey. The Century Tree is about a 2-hour drive away from Bacolod City and is one of the oldest trees in the entirety of Negros Occidental. 
This gigantic Balete tree is around 1,382 years old, and it will take about 42 adults to circle the circumference of this century-old tree. This ancient tree's trunks are cavities where lizards, insects, and bats have settled. 
There is something humbling when you stand in front of a living organism a thousand years old. Nevertheless, the Century Tree is undoubtedly one you should add to your collection of Instagram posts if ever you are in Negros Occidental. 
3. New Government Center
– The Center of the City's Seat of Power and a Landmark Beauty
Address: Bacolod, 6100 Negros Occidental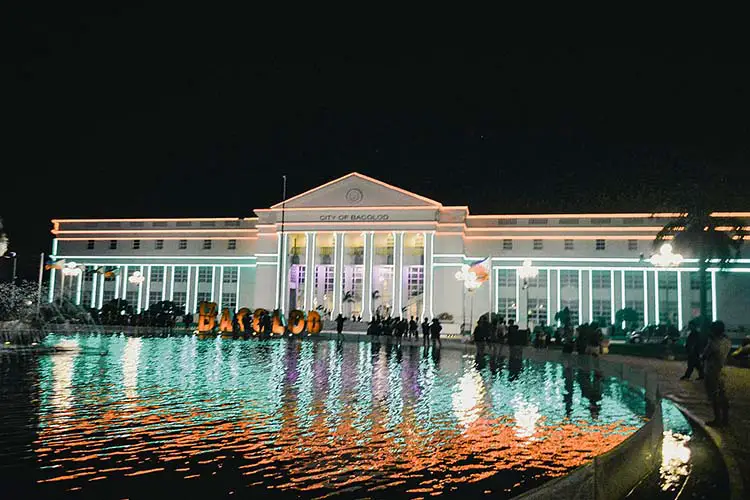 Yes, the city's administrative building is one of the place's attractions. A glance at the New Government Center in Bacolod City will show you why this is the case. With a vast 5-hectare land, the main building's architecture is something to marvel at. Also, the area surrounding the administrative structure is incredibly spacious. 
The front of the New Government Center building is quite large and is a favorite spot for joggers and picnics. You will also find dozens of pet owners walking around with their fur babies in the area. The NGC has a relaxing ambiance, and the impressive main building showcases the city's seat of power with confidence. 
With its open-air location, impressive architecture, and relaxing vibe – it is no wonder why the NGC is among the most visited and photographed tourist spots in Bacolod City. 
4. The Ruins
– A Picturesque Ancestral Home that Still Retains its Exquisite Beauty
Address: Talisay City, Negros Occidental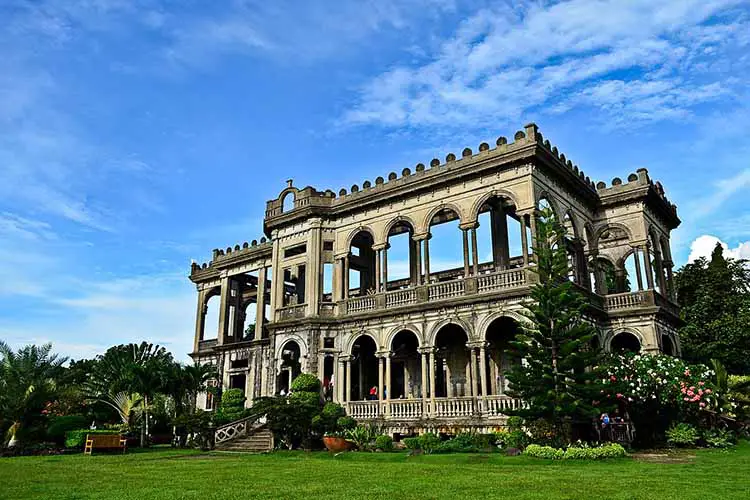 Another one of Bacolod City's iconic vistas is The Ruins. Also known as Nutsberry Garden, it is the remains of a mansion that was built back in 1920 and was owned by Don Mariano Ledesma Lacson. It was a sugar plantation manor before Filipino guerrilla fighters burned it down during World War 2. The reason for that is that the manor owner approved Japanese soldiers to enter the area willingly. As a result, the manor burned down in 1942. 
Today, it is the site of one of Bacolod City's most iconic photo ops. Despite being a shell of its former self, The Ruins still holds a certain elegance and beauty. The place is also best visited during the afternoon, specifically during the "Golden Hour" (5 pm to 6 pm). However, the Ruins are also lit up at night, which gives them a melancholic aura. If you are interested to visit this historic mansion, you can do so with this package tour that involves a visit to other heritage sites. 
5. Pope John Paul II Tower
– A Superb Commemorative Religious Landmark 
Address: Bacolod, 6100 Negros Occidental
The Pope John Paul II Tower was built on February 18, 2010, in commemoration of the historic visit of Pope John Paul II on February 18, 1981. It is a seven-floor tower, with each floor featuring memorabilia of the beloved Catholic Pope. 
The tower is located in the same area where the late Pope John Paul II held a mass in front of a crowd numbered almost a million. There is also a statue of the Pope that greets visitors near the tower entrance. 
The Pope John Paul II Tower is another popular attraction and illustrates the deep religious beliefs of the Filipinos. The tower is an excellent photo op, but it shines best (pun intended) at night when its lights are turned on. 
6. Mambukal Mountain Resort
– Enjoy a Collection of Majestic Waterfalls
Address: Murcia, Minoyan Negros Occidental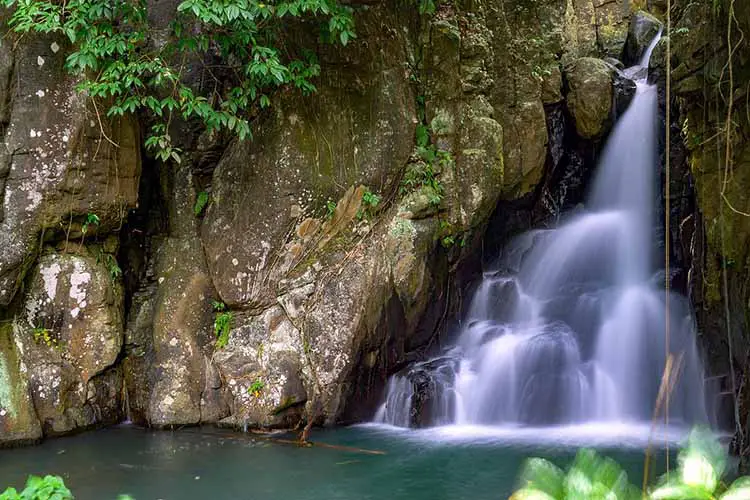 If nature is something you would like to capture on your camera, then the Mambukal Mountain Resort is one of the most breathtaking spots in Bacolod City. With a picturesque collection of seven waterfalls that you can hike to, you can easily make a whole set of stunning snapshots for your Instagram account in one trip. 
Also, this spot is perfect for Bat watching as the trees surrounding the waterfalls are littered with them. The resort itself offers many fun activities that you can access after you have finished your little nature-themed photo shoot on the waterfalls. You can check out this tour package for your convenience.
7. Bean Box Café 
– A Modern and Trendy Café for K-Pop Fans
Address: Lacson Extension, Bacolod, 6100 Negros Occidental
Craving for some cool coffee beverage and a typical café aesthetic won't cut it? How about checking out this small and chic café inspired by the K-Pop phenomenon that is sweeping the world? If you are a bonafide fangirl, this café will cater to your taste. 
The industrial minimalist glass aesthetic of the Bean Box Café is pretty hip, and the assortment of K-Pop memorabilia inside will cause the fangirl in you to scream with glee. However, the entire interior of the Bean Box Café is primarily designed for Instagram. 
While not exactly a well-known spot, the Bean Box Café's unique aesthetic makes it worth the visit if you find yourself strolling around in Bacolod City. 
8. Campuestohan Highland Resort
– A Lovely Resort and Jaw-Dropping Amusement Park Rolled into One
Address: Sitio Campuestohan Barangay, Talisay City, 6115 Negros Occidental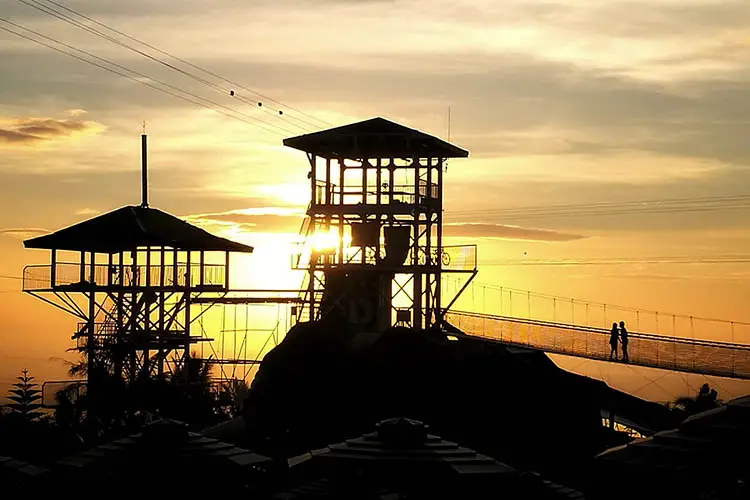 If you are staying in Bacolod City over the weekend, I highly recommend saving one day for the Campuestohan Highland Resort. This resort and amusement park feature world-class services and facilities and a fantastic and relaxing ambiance. 
The 5-hectare resort takes full advantage of the nearby Mt. Makawili's awe-inspiring splendor. You will have many photo opportunities here with a collection of fascinating attractions such as statues of prehistoric animals. There are also replicas of other famous landmarks such as Stonehenge, Hobbiton, and Native American teepees. 
The attractions in Campuestohan Highland Resort are so varied and random that you will find giant statues of dinosaurs in one area on one area. You will be in a futuristic setting with robots galore on the other end. Random? Very. Fun? Absolutely. Go ahead and book yourself  here. 
9. The MassKara Festival 
– A Vibrant Celebration of Color and Positivity
 Address: Bacolod City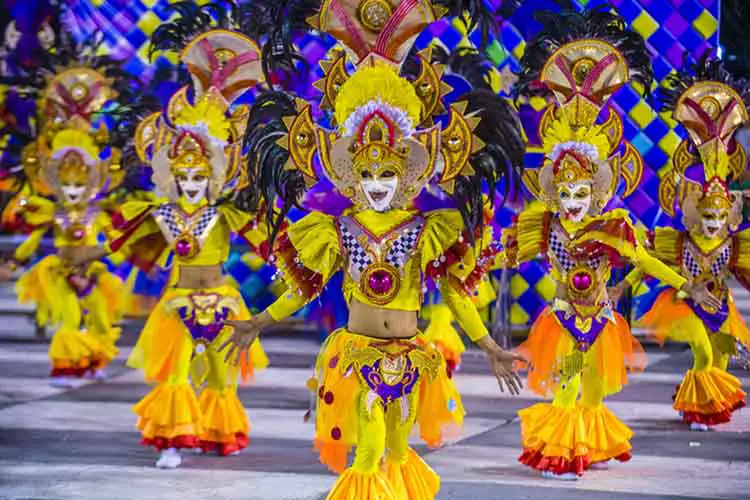 With the Covid-19 restrictions easing up, Bacolod City's MassKara Festival is gearing up for a huge return this year. This festival is quite similar to the Mardi Gras celebration in New Orleans but on a grander scale. The festival is filled with people celebrating and dancing on the streets alongside performers wearing intricate and colorful garbs. Of course, everyone is wearing a flamboyant mask, hence the name, which is derived from the word mask. 
The festival is held every last Sunday of October, so book your vacation around that time and bring colorful attire for the huge festivity. You really can't tour Bacolod City without joining in on the fun that the MassKara Festival brings. Plus, you will have tons of new Instagram-worthy pictures as a souvenir.