The Visayas region is among the top tourist destinations in the Philippines thanks to its tropical weather, fantastic cuisine, breathtaking beaches such as Boracay, and fun festivals such as the MassKara Festival. But, if nature tripping is more your cup of tea, Visayas also offers that in spades. 
With pandemic restrictions easing worldwide and in the Philippines, those with wanderlust have been aching to go on a trip finally. However, if you prefer a more tranquil and cozy nature experience, glamping is one of the best options that you can take today. 
Glamping is short for "glamorous camping." It is basically camping, but with the added modern amenities and comforts such as access to a bathroom and restroom, comfortable beds, electricity, and security. There are dozens of fantastic glamping spots in the Philippines, but we will be focusing on the Visayas region for this particular article. 
These spots capture the spirit of glamping to the letter while also adding some unique elements that separate them from the pack. 
Best Glamping Spots in Visayas That You Should Visit
Check out this list of the best glamping sites in Visayas where you can once again connect with nature with the added advantage of modern conveniences. 
1. Minimal Resorts Group
– A Minimalist Eco-Friendly Glamping Site for Couples
The Minimal Resorts Group Resort is located in San Vicente, Visayas, conveniently near San Vicente Airport and is within walking distance from Long Beach. This glamping site is all about being eco-friendly and practical. 
The resort features compact houses within a private property surrounded by coconut trees and a pretty good view of the nearby beach. As the owners call it, each eco-pod can comfortably accommodate two people. Making it a perfect place for couples on a romantic vacation. 
This isn't your typical glamping, as the place offers minimalist container-like accommodations rather than a customized large tent. However, it does provide excellent privacy if that is a factor of concern. 
Amenities in this glamping site include a bathroom with a toilet, sink, and shower. Guests will also have a cozy queen-size bed and access to essential toiletries. In addition, the area features tiki torches as its light source at night. Guests can also huddle around a bonfire in the middle of the 1,000 square-meter property. 
Comfort and relaxation are the main focus of this glamping location, and besides the secure and comfortable eco-pods, guests also have access to hammocks and a barbecue grill. Also, all the eco-pods have air-conditioning and free Wi-Fi. 
2. The Acacia Glamping Park
– Luxury Glamping Experience Highlighting the Beauty of Nature
The Acacia Glamping Park is one of the most stunning glamping destinations in Bohol, and it covers around 6.5 hectares of land. The property maintains its pristine environment, with the tents located in a picturesque spot surrounded by trees. There is also a garden and swimming pool where guests can relax and unwind. 
All the tents in Acacia Glamping Park are air-conditioned for optimum comfort. Two tents are of the luxury variety and will have their bathroom, while the standard tents share a bathroom. Besides the relaxing environment and comfortable amenities, the glamping park also has a farm that guests can check out. There is also horseback riding available to take advantage of the vast 6.5-hectare space fully. 
3. Cummings Highland Resort
– A Whimsical Treehouse Surrounded by Flora and Fauna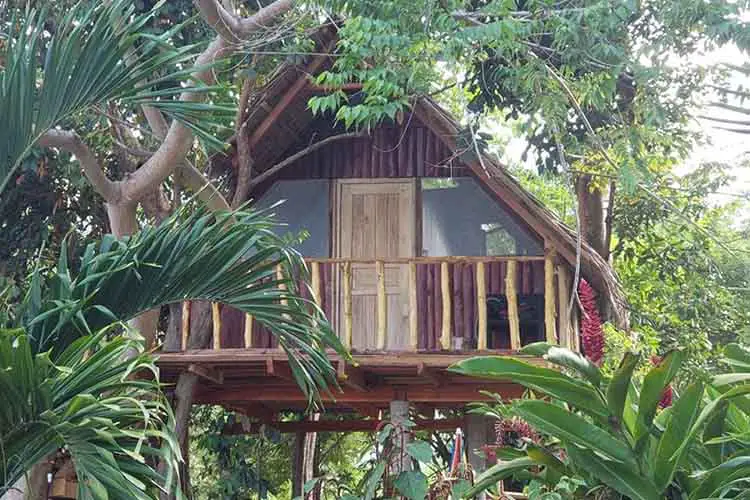 The Cummings Highland Resort is located in Tablas Island, specifically, the jungles of Looc. Due to its somewhat secluded location, the Cumming Highland Resort is one of the Philippines' best and most unique romantic getaways. This island glamping resort features tree houses with a cozy queen-size bed, bathroom, and electricity. 
Each treehouse accommodation also provides guests with a nice view of the onsite swimming pool. The place also has a grotto rooftop bar, kayaking, yoga space, and a giant chessboard. You can also go on nature walks along the surrounding forest and the resort's beautiful, sustainable garden farm. 
The area also has free Wi-Fi so that you can update your social media with pictures taken within this peaceful sanctuary. Furthermore, since the Cumming Highland Resort is situated far from the city, you can fully appreciate the countless stars in a clear night sky. 
4. Gigantes Island North Coast Island Resort
– Stunning and Comfortable Glamping Experience Beside a Picturesque Beach
Quite possibly one of the most breathtaking glamping locations that you can find in the Philippines, the Gigantes Island North Coast Island Resort is simply breathtaking. If you are looking for a relaxing weekend beach getaway, this glamping location in Gigantes Island will satisfy that yearning.  
Being located on a pretty isolated island, this glamping resort is surrounded by pristine and untouched nature. Guests will appreciate the beauty and tranquility of the location. Make sure to book in advance, as the North Coast Island Resort can only accommodate up to 22 guests. 
Additionally, the accommodation here is surprisingly more affordable than other luxury beach resorts in the area while being leagues more beautiful, in my opinion. The site also offers free Wi-Fi, a restaurant with a complete seafood menu, and excellent services. All in all, this is a must-visit for those who love the glamping experience. 
5. 150 Peakway Mountain Resort
– The Perfect Mountain Glamping Getaway
Another secluded and tranquil nature glamping spot, the 150 Peakway Mountain Resort, offers a spectacular view of the mountains surrounding Dalaguete, Cebu. This place is relatively new and features a modern aesthetic with its dome-type large tents accompanied by high-class hotel amenities and services. You can also opt for the old-fashioned tent setup if you prefer a more traditional approach to your glamping experience. 
However, if you are going to stay here, I suggest going for the fantastic dome-style tents that feature glass ceilings and windows. The glass ceiling is a nifty design choice to make it feel like you are sleeping under the stars while still being relatively safe and comfortable. 
Besides the nifty and cozy accommodations, the guest should also take full advantage of the natural surroundings and trek through Osemeña Peak. Reaching the peak is relatively easy and should only take half an hour of walking. If glamping in the mountains is something that you find interesting, 150 Peakway Mountain Resort should be at the top of your list. 
6. Hidden Valley Bar and Resto
– A Nice Glamping Experience with a Mouthwatering Slice of Pizza on the Side
The Hidden Valley Bar and Resto was initially a place where you can dine and is famous for its pizza party events. However, they included glamping into their services, and I have to admit that the combination of glamping and pizzas is a partnership made in heaven. 
Now, guests can stay overnight in one of the glamping tents under the beautiful night sky with a plate of delicious pizza. Besides being a great place to go glamping and grab a slice of pizza, the Hidden Valley Bar and Resto also offer guests snorkeling tours. 
If you are looking for an excellent and fun place to go glamping with your friends, I recommend the Hidden Valley Bar and Resto. Few things can beat a night huddled around a bonfire with friends and a slice of pizza in hand. 
7. Archery-Asia Nipa Huts Moalboal
– Go Glamping in the Jungle
The Archery-Asia Nipa Huts Moalboal is one of the more unique glamping destinations in the Visayas and the Philippines as a whole. Besides being a popular glamping spot in Cebu, the resort also features 3D archery activities for its guests. 
Along with the glamping tents such as The Jungle and Bamboo tents in the resort, guests can also opt to bring their own and set up their tent on designated spots. But, of course, since glamping is the goal, why even choose to carry and set up your own? 
I recommend choosing the Jungle Tent accommodation, though, as it is pitched in the middle of the Moalboal jungle. Don't worry, you are still well within the resort's confines, but if you want the whole nature experience, that's the accommodation you should book. 
Overall, the Archery-Asia Nipa Huts offer a nature-centric stay while providing guests with security and comfort that can rival that of a modern hotel.  
8. Glamping Alona
– A Budget-Friendly Glamping Destination that Does Not Skimp on its Amenities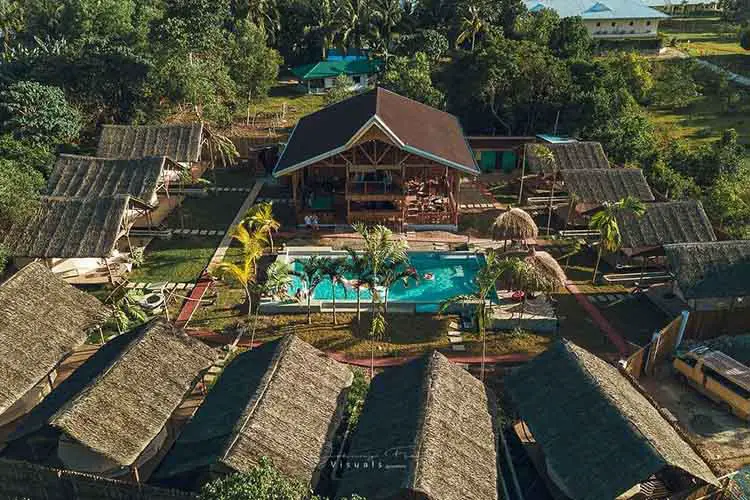 If budget is a factor, but you still have one of the best glamping experiences possible, the Glamping Alona checks out all those pre-requisites. The glamping resort focuses on creating a classic glamping experience with a simpler and nature-focused aesthetic.
Of course, there are also other activities in the resort. There is an onsite swimming pool where you can take a refreshing dip. There is also a playroom with a pool table and a table for card games. One unique aspect about Glamping Alona that made me include it in this list is the live band that the resort invites on Saturday night.