The whole of Paris stretched out before me. The golden dome of Les Invalides glittered in the sunlight, and if I craned my neck, I could just glimpse the Eiffel Tower.
Other tourists buzzed around me, up and down the steps, flashes of bright colour. The clouds drifted across the sky. Like one of those time-lapse videos. I heard a girl say: "I feel like I'm in a dream!"
Then a harpist began to play, a mellifluous, wordless version of Leonard Cohen's Hallelujah drifting across the city.
And, right there, surrounded by hundreds of people on the steps of the Sacre-Coeur, I started to cry.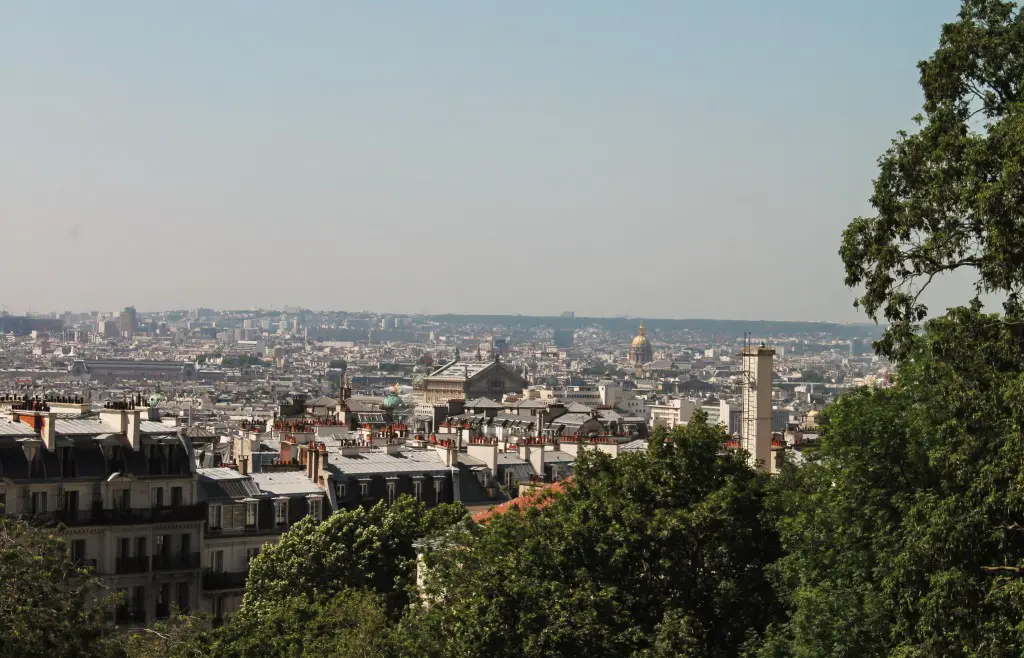 I've always been a bit blasé about Paris. I visited several times as a child because my cousins lived there, so I'd roller-bladed around the Eiffel Tower, played in the city's grand gardens and been dragged up the Champs-Elysées plenty. Once, our car broke down at the Arc de Triomphe – If you've ever defied death to join the impatient hordes of French drivers all converging at speed on that particular spot, you can imagine what that was like.
I also visited as a naïve 17-year-old, on a French exchange trip, and had been rather put off by the touts, caricature artists, impatient locals trying to get on with their day amongst streams of chattering tourists. In particular, I remember disliking the crowds and hassle in Montmartre.
I've spent a good deal of time in France since, but I've never been back to Paris. However, it was a convenient place in which to end my European trip – so I'd decided to give it another chance.
This time, Paris enchanted me. From my base in a glorious Belleville apartment, with real parquet floors and large sash windows, I spent two days wandering the streets, seeing old sights in a new light. The Notre Dame cathedral no longer underwhelmed (aged 8, I'd fully expected to see the Hunchback and Esmeralda appear, and for the gargoyles to come to life, so it was something of a disappointment).
Instead, it caught me by surprise as I walked along the Seine, appearing suddenly in golden gothic splendour. I admired the grandeur of the Louvre, and soaked up the elegance of the Tuileries Gardens, pausing to rest on one of the chairs thoughtfully set out, with a view of the Eiffel Tower.
I also found a quirky side to Paris I'd never seen before. 'My' quartier, Belleville, was a hubbub of Asian markets, hipster cafes and street art, which felt a lot like parts of Shoreditch in London, a place I love. A short walk led me to the Canal St. Martin, where couples picnicked on wine and cheese along the side of the canal, and little gondolas punted by. But it was mainly a locals' area, with after-work crowds enjoying drinks in the sunshine, and fashionistas stocking up on bargains in the eclectic vintage shops.
I was beginning to realise why people love Paris. So it was with some trepidation, that on the very last day of my trip, I climbed the winding hill in Montmartre up to the Sacre-Coeur.
I didn't want to spoil the new enthusiasm I had for Paris, but I also had to find out what it was like through adult eyes.
There were undeniably a lot of tourists there, and several people selling Eiffel Tower key-rings. But what I noticed most of all, standing on the steps and watching people climb towards the basilica, was the utter joy and wonder in their expressions.
For many people, Paris is the culmination of a lifetime's dreaming, and the Sacre-Coeur is, quite literally, the high point. It is a beautiful thing to see someone's dream come true.
As I descended one set of steps, towards a viewpoint, a man took hold of my wrist and looped some thread around my finger, beginning to wind a bracelet. Aged 17, the same thing had happened, and I had pulled it off angrily, running off to find my friends. This time, I just smiled. As he wound the bracelet, he kept up a constant patter of conversation – what was my name, what did I do – a writer? He wrote songs, hip-hop, and performed in Montmartre in the evenings. He'd love to come to London, because the hip-hop scene was better there.
He loved Emile Sande and Professor Green, but his hero was Dr. Dre, because he was a producer too. Had I ever tried writing songs? It's not difficult; if you can write poetry, you can write a song. He'd been to Lisbon, and knew Almada. In fact, he'd spent a month living in Cais do Sodre, just across the river.
By this time, the bracelet was complete. A black band crisscrossed with yellow and green – the Kenyan flag. "Or Jamaican, if you prefer!" He grinned.
I asked him how much I owed him for it.
"Nothing," he said, "consider it a gift from a friend."
The harpist played, and I looked out over Paris, overwhelmed by the sense of ending, by memories of a catalogue of experiences in Portugal, Spain and France, by a deep thankfulness for rediscovering Paris. I turned to see that people had gathered around the harpist, sitting on the steps and listening to him play. I joined them, trying to hide my tears behind my sunglasses. Around us, tourists flitted, cameras clicked. Hallelujah ended, people clapped, money was dropped into his hat.
Then the harpist started to play 'Time to Say Goodbye.' It was, but this time, I would be leaving with fond memories of Paris and a strong desire to return.
More about Paris: