Without doubt, El Born is one of Barcelona's best neighborhoods, so it would be a pity to limit yourself to just a quick stop. There's plenty of boutiques of local artists and designers, romantic wine bars and fancy restaurants, but it's also home to some of Barcelona's most popular highlights. Travelling with little ones? El Born has enough to offer for children as well. This guide helps you to get the best out of El Born within 24 hours.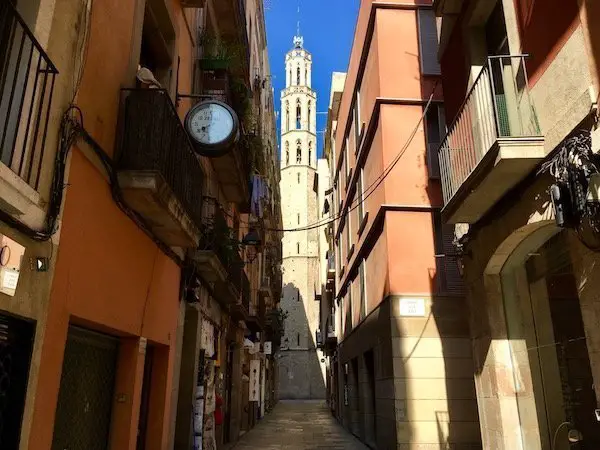 Morning
If your bank account allows you to, make sure to book a room in one of the prettiest hotels in town. The new Edition Hotel may not be the cheapest option, but offers a good sleep on an even better location: next to the Santa Catarina food market. (The fancy rooftop terrace is a great spot for a cocktail, by the way.) Another newbie in town is the Scandi style Hotel Rec, just next to the beautiful Arc de Triomf.
Time for breakfast – or desayuno as they say in Spain. For Spaniards it's common to have a quick coffee and a croissant in one of the many bars before starting their day, but when your body screams for some real food, head to Flax & Kale (C/Sant Pere Mes Alt 31-33) for avocado toast, healthy juice, yogurt and granola – or a well-deserved piece of homemade pie.
Turn left when you leave the restaurant and go left again on C/Rec Comtal to end up at Arc de Triomf. When Barcelona organized the World Expo of 1888, this was the main entrance to the Ciutadella Park, where the expo was held. The park nowadays is used by locals as if it's their backyard. It's where they throw birthday parties for their kids, dance salsa on sunny afternoons, organize pick nicks with family and friends and walk their dogs. Don't forget to have a look – and take a cheesy picture – at the fountain.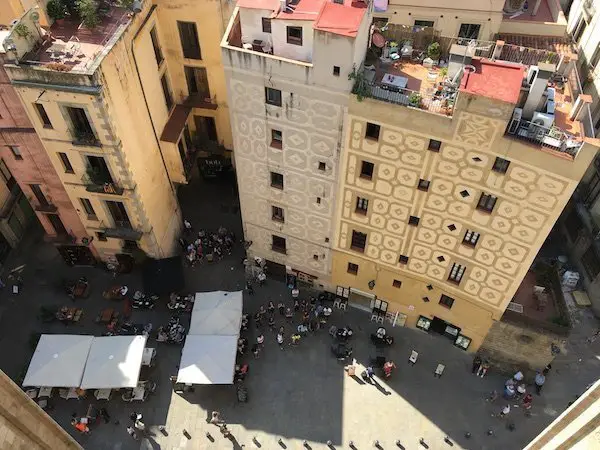 Ultimate chocolate lovers or parents with children shouldn't miss out on the Chocolate Museum (C/Comerç 36, close to the park. Your entrance ticket is a small chocolate bar and inside the museum you'll learn everything you need to know about the product, while surrounded by famous figures made out of chocolate.
Leave the Ciutadella park on the side of Passeig de Picasso. The old market hall, today home of cultural center El Born CC, can't be missed. It's free to go in and take a look at the excavations of the 18th century inside (closed on Mondays). On the same square, La Taverna del Born knows how to serve a good coffee. Walk via the idyllic Passeig del Born to the church of Santa Maria del Mar, which you may know from the book (and fantastic Netflix series) Cathedral of the Sea.
Afterward, drop down at the terrace of La Vinya del Senyor (Plaça Santa Maria 5). This romantic wine and tapas bar is a perfect stop for lunch. When it's cold or rainy, ask for a table upstairs, where you have great views on the church.
Afternoon
Time for some shopping. Don't expect big Spanish chains like Zara or Corte Inglés in this part of Barcelona, but instead – and much better – many cute little shops, boutiques and art galleries. Strolling around in streets like Mirallers, Banys Vells and Vigatans probably means bad news for your bank account, but guarantees the most original Barcelona souvenirs you could wish for.
In this labyrinth of little streets, you can also find the famous Picasso museum, one of the most visited museums in town. During your visit, you'll get to know the Spanish maestro and his work, and even the building itself is impressive. The museum is closed on Monday and entrance is free on Sunday afternoon (it's not rare to face a long waiting line).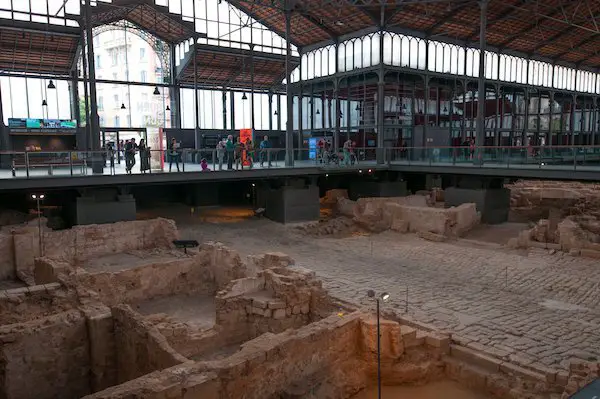 From the museum, it's five minutes walk to the fresh food market Santa Catarina. Most neighborhoods in Barcelona have their own market, but this one is worth a special mention because of its roof amazing which is often described as a huge fruit basket. Feeling like an afternoon bite? Inside the market, there are several tapas bars where you can order whatever you want, just by pointing to what seems good.
Another not-to-miss highlight in El Born is the Palau de la Música Catalana, a concert hall in Catalan modernista style. It's designed by Lluís Domenech i Montaner, a contemporary of Antoni Gaudí. Booking a tour is recommendable, but even by just looking at the building from outside, you will be impressed by all those details and colors.
Night
Where to go for dinner? That's a question difficult to answer in El Born since the options are endless. Elsa y Fred (Rec Comtal 11) is cozy and the tapas and platillos (small platters) are classics with a twist. The kitchen of the brand-new and beautiful Casa Rafols (Ronda Sant Pere 74) is open all day. Fish lovers head to La Paradeta (Comerç 7), close to the El Born CC, where you pick your favorites at the market stall inside the restaurant.
When there's some space left for a dessert, the ice cream of Gocce di Latte is absolutely recommendable. Besides the classics, they also have flavors like ginger and datils, figs, chocolate and red pepper (!).
For a good party, you don't have to leave El Born either. The Passeig del Born – which you crossed earlier today on your way to the church of Santa Maria del Mar – is a street full of approachable bars, like Bar El Born, Crepes del Born and Sauvage. For some latin vibes, you should go to El Copetin, where one of the best mojitos of Barcelona is served.
Most bars at Passeig Del Born close at 3 am in the weekends. If you're not feeling to go back to the hotel yet, the party goes on in clubs like Magic (Passeig de Picasso 40, mainly rock music) and Mix (Comerç 21). Also guaranteed fun can be found in Bar Dio, in the shelter of the Greek restaurant Dionisos (Av. Del Marquès de l'Argentina 27).
Pin For Later