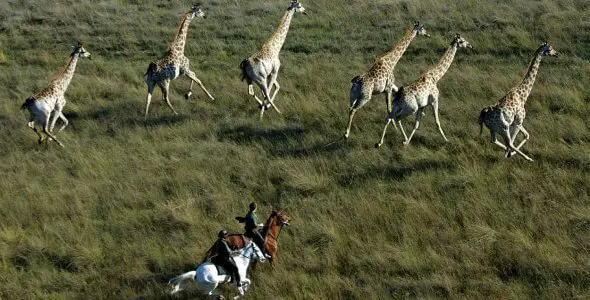 Riding safaris in Africa are becoming more and more popular as they offer an unrivaled chance to get out into remote parts of the wilderness, in a peaceful and tranquil way. You really do feel like the first great explorers must have felt, and get to be around and amongst wildlife in a natural and authentic way. There are many different options when it comes to riding safaris whether you want a full week's mobile safari or a few nights in a luxury lodge with quality horses at your disposal.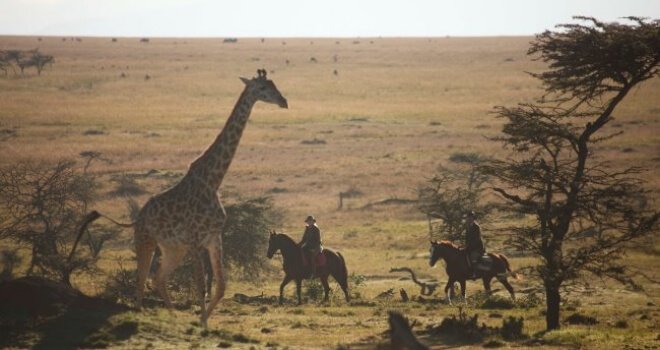 Safaris Unlimited (Masai Mara, Kenya): The original pioneers of horseback riding safaris across Masailand; Safaris Unlimited is the most experienced riding holiday operator in Kenya. As you journey through the plains of Kenya on strong crossbred horses you are provided with a wonderful opportunity to see the Kenyan wildlife and their habitats, in incredibly remote areas.
You will travel down narrow gorges to and magnificent valleys, and of course across the plains. The sense of space is overwhelming and the fresh air with the sun shining just makes the whole trip even better!

Ol Donyo Lodge riding safaris (Chyulu Hills, Kenya): this lodge has Mount Kilimanjaro as the backdrop and over 1.4 million acres, including 2 national parks making it a brilliant destination to take a horseback safari! This lodge offers to ride through a large range of ecosystems from the savannah to thick acacia forests. You will see some unique wildlife including rhinos, lions, elephants, buffalo and leopard.
Not only that but you will see the youngest range of volcanic hills in Africa; the Chyulu Hills with the last volcanic activity happening 6000 years ago. As if all that isn't enough, the 10 suites situated within 6 stand-alone villas even offer free WiFi, although you may need to use a fast VPN to speed up the connection if you are connecting back home.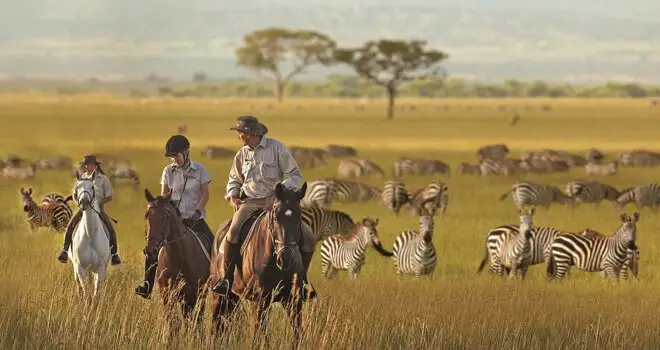 Singita Grumeti Riding Safaris (Serengeti, Tanzania): Enjoy the thrill of cantering across plains of the Serengeti, led by experienced guides, the safaris operate between Singita Sasakwa Lodge and Singita Faru Faru Lodge. You can choose from 18 well-schooled horses and this is a safari to suit all as Singita can easily have non-riding partners accompany the ride by a game drive. These lodges are some of the most luxurious in Africa so you'll be truly spoilt.

Ride Botswana (Makgadikgadi Pans, Botswana): This is a land where wildlife spills out everywhere and is virtually untouched; the true wilderness. There are two main exclusive rides; the Makgadikgadi Pans Ride and the Thamalakane River Ride, however, they are happy to organize a safari to suit you and can tailor make anything you like. All the safaris are guided by David Foot who has over 25 years of experience of taking safaris in southern and central Africa and who's character really adds to the joy of this ride.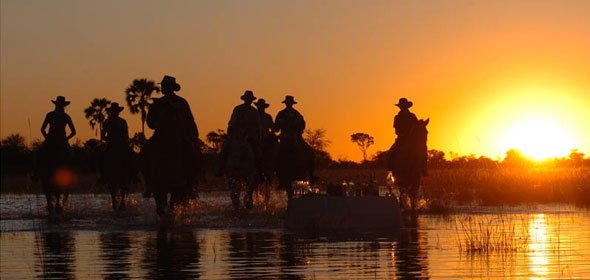 Okavango Horse Safaris (Okavango Delta, Botswana): with over 60 horses from 14-17hh to choose from Okavango Horse Safaris has the largest choice when it comes to picking your horse. The safaris are led by qualified guides and use English leather saddles and three different camps set over 2500 sq kilometers; Okavango provides sightings of abundant wildlife and birds every day when on a riding safari with them. Groups are a maximum of 8 and usually, guests will ride from 4-6 hours per day.
Learn more here about African horseback riding safaris and holidays offered by The Luxury Safari Co.