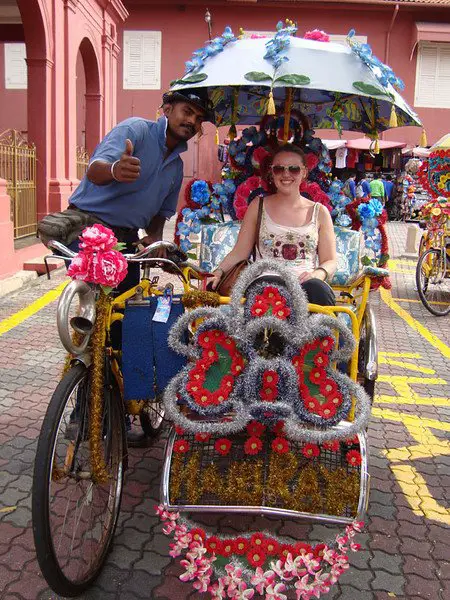 'Hello miss! Where you from?'
Within an hour of arriving in Melaka, I was highly familiar with this greeting, usually used by rickshaw drivers as the opening line of their attempt to entice you to take a tour of the town. A small city with a long history of colonisation by the Portuguese, Dutch and English, Melaka's cultural heritage puts it firmly on most visitors' itineraries.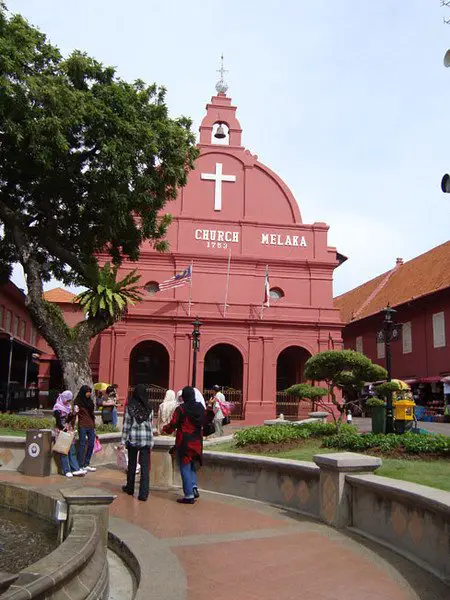 Although classified as a city, the centre of Melaka is compact and easily walkable: sliced in two by the river, Chinatown and the main thoroughfare of Jalan Hang Jebat (or Jonker Walk, as it's often known) lie on one bank, and a number of Dutch-era buildings on the other. Crossing the river from Jonker Walk, I found myself in Town Square; thronged both with tourists and the aforementioned rickshaw drivers.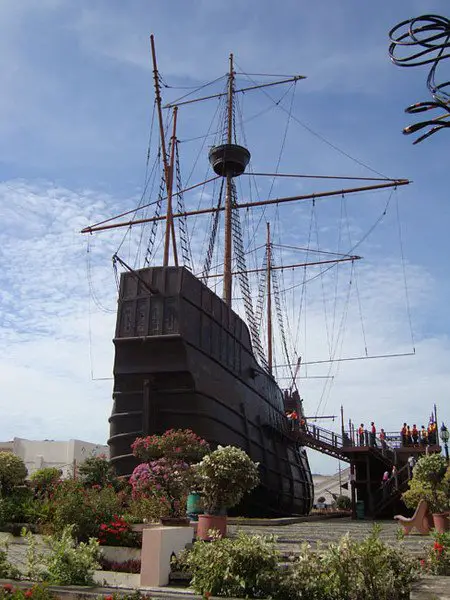 Melaka's rickshaws, or 'trishaws' as they are known there, are no ordinary vehicle: Drivers compete to decorate their trishaws in the most outlandish fashion, using garlands of flowers, fairy lights, tinsel, and even Barbie dolls to create these wacky, tacky cycles. For added effect, some even come equipped with a stereo system, which is turned up full blast as the drivers pedal their passengers around town.
Not ready to submit to a tourist-tastic trishaw just yet, I began my exploration of Melaka in the complex of museums housed in and around the Stadthuys, the former town hall and a strong contender for the title of the oldest Dutch building in the East. For 5 ringgits, visitors can peruse glass-encased displays to their hearts' content, educating themselves about topics as diverse as a colonial rule in Melaka, Malaysian wedding customs and the transition to a 'democratic' government in Malaysia. It may be decidedly low-tech, but there's enough here to keep you occupied for hours.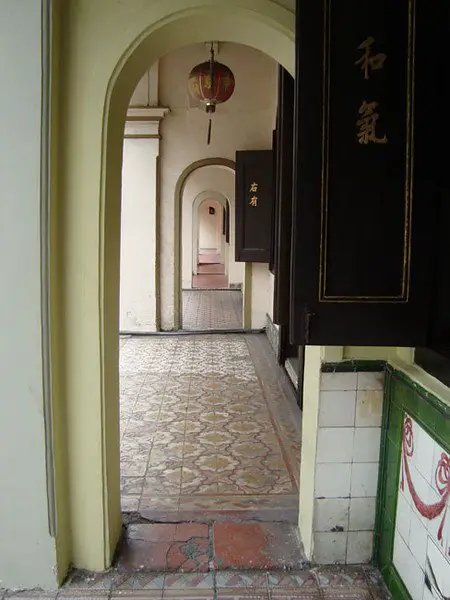 Melaka's certainly big on museums, with some individuals even opening their own homes as museums of Malaysian life. Resisting any temptation to pry, I opted for the National Maritime Museum instead. Situated on a reconstruction of a Portuguese galleon, this little museum tells the story of Melaka's seafaring history, from the arrival of the Portuguese onwards. My visit coincided with a school party, who were just as keen to know where I was from as the rickshaw drivers had been: One little girl's eyes widened when I told her I was from England. 'Very far,' she said.
I was initially daunted by the prospect of traveling alone as a woman on an unfamiliar continent, but I was soon put at ease by the friendly manner of locals and fellow visitors, as well as the 'safe' feeling of the country and the fact that so many of its inhabitants speak good English.
I certainly was very far from home. After visiting my expat friend in Singapore for a week, I decided to make the most of being in South East Asia and spend a few days in Malaysia before flying back to the UK. I was initially daunted by the prospect of traveling alone as a woman on an unfamiliar continent, but I was soon put at ease by the friendly manner of locals and fellow visitors, as well as the 'safe' feeling of the country and the fact that so many of its inhabitants speak good English.
Plenty of signs and menus were available in both English and Malay, and communication was never a problem. I was also reassured by the number of other women of all ages traveling alone and found it easy to strike up conversations with them when I did want company. Most of the time though, I enjoyed following my own itinerary, choosing where I wanted to eat, and retiring to bed early with a good book. OK, so the last part may sound dull in comparison to sharing a bottle of wine with friends and discussing the day's events, but it was definitely relaxing after a day's sightseeing.
Unable to face any more museums, I spent the rest of my time in Melaka wandering its old streets, perusing Chinatown's shops and taking snapshots of this photogenic melting pot of a town. Chinatown's temples and traditional shophouses are interspersed with plenty of watering holes, ideal for a spot of relaxation when the Malaysian heat gets too much. The shady terrace at coffee specialist Calanthe Art Café is a particularly inviting spot for people watching as you sip one of their brews from Malaysia's thirteen states – also available iced or blended.
On the afternoon of day two, I was relaxing in the welcome shade of the trees in Town Square when a rickshaw driver approached me. I turned down a tour, but he sat down and chatted to me all the same; about his work, his family and life in Melaka and asking about my own life. A few minutes later, he disappeared only to return with a greasy paper bag which he handed to me, smiling. 'A fried banana,' he said. 'Traditional.' Grateful, I thanked him and tucked into the tasty treat. 'Delicious,' I told him.
Malaysia has much more to offer on the food front than fried fruit, though.  The country's diverse cultural make-up means that Malay, Chinese and Indian cuisine is widely available, with other Asian and Western foods on offer in bigger towns and cities. While in Melaka, I steered clear of familiar dishes and tried the delicious fried butterfish at Calanthe Art Café (served with rice and vegetables, it only set me back $2.50) and a gorgeously greasy vegetarian fried rice at the Riverside Kopitiam (coffee shop) for around $1.20. Melaka is also the place where my love affair with the dosa began: a savory South Indian pancake served with dipping sauces I just couldn't get enough of for the rest of my stay.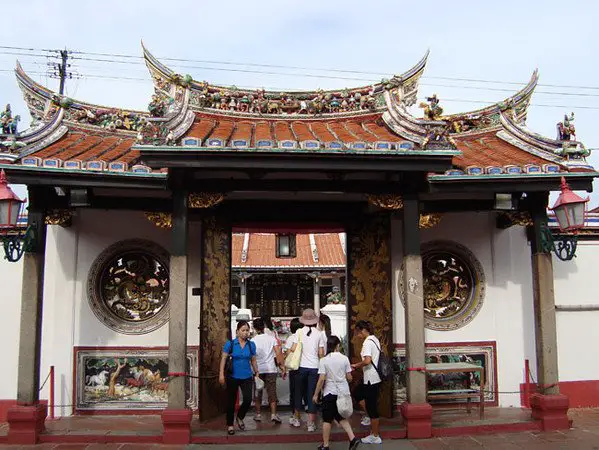 Later that day, I finally decided to indulge in the quintessential Melaka experience and took my own trishaw ride. Choosing the most garish vehicle I could find, I set off on an hour's tour of the town with a friendly guide. Stereo booming with Shaggy's Greatest Hits, I swallowed my embarrassment and sat back in my gaudy carriage.
My driver pointed out important landmarks as we cruised past, stopping off at a Buddhist temple to take me inside, explaining the architecture and key features of the temple to me. The tour also took in an old-fashioned shoemakers' shop, selling tiny bound feet shoes as souvenirs, the main streets of Chinatown and the King's Well, a spring outside the town centre said to have magical properties.
Once I'd got over my initial embarrassment, taking a trishaw ride proved to be a fun and surprisingly informative way to see the sights – and much easier than pounding the streets in the humid heat. It was the perfect way to end my stay in Melaka.
* All photographs by or property of  Kate Turner, all rights reserved ©
Pin for Later