When I mentioned to friends that we were going to Sedona, they said things like:
"Don't forget your crystals."
"Ooooh, are you going there to have your aura cleansed?"
Or most ominously, "Watch out for the psychics!"
I conjured a place teeming with women with long gray hair and gypsy skirts, hawking their new age wares and services. They would relay unwanted messages from their spiritual guides warning me of impending doom. I thought they'd be everywhere.
Turns out the New Age is alive and well in Sedona, but no one is going to make you go there. "I have a friend who runs a new age shop and isn't new age at all. He's an entrepreneur," says Greg Kirkham, a private hiking guide. He quickly adds that in his line of work he regularly sees many people moved on a spiritual level by the area. The fuss boils down to one thing: the sheer, rugged beauty of the unusual red rock formations that dominate the landscape.
I encountered Sedona's clash of natural beauty and new age tourism at our first sunset atop a formation adjacent to Airport Mesa, dubbed a "vortex," or swirling center of energy.  With splayed fingertips pointing downward, a woman decked in Columbia outdoor wear and Tevas gently swayed as she stood with closed eyes and a Buddha-esque smile.
At the moment of the sunset, her equally well-clad husband sitting on the ground looked up at her and asked, "Do you feel it? Do you feel it?" She teetered back and forth, but I didn't hear her answer.
The slick-rock mound bustles with a mass of humanity: Teens chatter on cell phones. People practice yoga, wear hiking boots, wear flip-flops and eat salads from giant bowls. Others meditate and pray. Couples hold hands. Everyone takes photos. Some look directly at the setting sun, while others gaze east at the constantly evolving drama on the iron oxidized rocks, expanding the visual palette almost to a point of incomprehension. After the sun slips behind the mountains, shades of gold, salmon, vermilion, tangerine, and sienna burn deeply brilliant on the windswept buttes and sandstone towers, almost too extravagant to possibly be real.
Views are everywhere. Don't worry about finding them. Which leads to what I found to be the predominant sound of Sedona for the first time visitor: click, click, click. No reason to fear aggressive psychics, but you do need to beware of cars suddenly stopping in the middle of the road. With each curve, visually stricken drivers lean out the windows for one more picture.
Just as I'm feeling a little smug and want to tell them to buy a postcard, we round a corner presenting a new light and angle on one of Sedona's more iconic views, Cathedral Rock. I beg my husband to stop for just one more shot.
Sedona is well prepared to exhibit its red rocks. Over 100 hiking trails lace the surrounding formations and canyons providing everything from vistas to nature to challenge. Kirkham guided us up Schnelby Hill Road via air-conditioned SUV, and then led us on the lesser known "Cow Pies" and "Mitten Ridge" hikes.
Hiring a guide who could assess our fitness level, and evaluate our interests and what we had already done, resulted in one of our best days of hiking ever. Additionally, we learned a great deal about Sedona's history, geology, flora and wildlife.
After several days of hiking, I treated myself to a holistic pedicure with Deb Lovejoy at
Lovejoy's Enchanted Cottage
. Calling her centerpiece treatment a pedicure is to do it a disservice – it's more a pedicure, card reading, and Reiki and talks therapy, all rolled into one.
A visit to Sedona would not be complete without a four-wheel drive tour, especially for those traveling with children. Trust me; kids won't understand why Dad keeps shooting pictures of rocks and bushes. The most well know operator is Pink Jeep Tours. They offer several different outings, the most famous being the two-hour Broken Arrow tour. With custom designed Jeeps, lively and experienced guides confidently plunge into the otherwise inaccessible territory.
At one point during our sunset tour, our driver, Paul, stopped the vehicle. He grandly gestured around the stunning panorama. "I've got the best job in the world. Look at my office." He recommends either a first or last tour of the day for the best light (and in the summer, the lowest temperatures), but adds that all times of day are great.
In general, the people action is concentrated in Uptown Sedona while the Village of Oak Creek hums more sedate.
Even though the area welcomes four million tourists a year, the vast landscape along with the sprawling, low slung nature of the architecture, allows you to be as unaware of them as you choose.
The paradox of Sedona lies in that you can experience its harsh, craggy nature, then retreat to your cozy bed and breakfast or luxury resort. Then you can indulge in a spa treatment – or yes, get your chakras aligned or do a past life regression – and then wine and dine incredibly well, with a view of course, at a fine restaurant. You'll feel something. I promise.
---
Planning Your Trip:
–Sedona is 100 miles north of Phoenix, 110 miles south of the Grand Canyon and 30 miles south of Flagstaff. Phoenix Sky Harbor is the closest airport and approximately a two-hour drive.
Sedona is a year-round destination, but the high desert location can get hot in the summer.
Peak tourist seasons are March-May and September – October.
The area has almost 3000 motel, hotel, resort, and B & B rooms and 200 RV camping sites.
It is the second most visited site in the state after the Grand Canyon.
---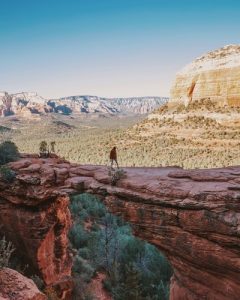 Accommodations and Dining:
Enchantment Resort
Located on 70 acres in the sublime Boynton Canyon, this tucked-away resort features the highly lauded Mii Amo destination spa and programs in keeping with Native American culture.
Adobe Village Graham Inn
This delightful bed and breakfast have a well-deserved reputation of being one of the most romantic places to stay.
L'Auberge de Sedona
Nestled under a canopy of Arizona sycamores, L'Auberge offers creekside lodging and dining. The award-winning restaurant features French-inspired cuisine and boasts an extensive wine list.
El Portal
Intimate 12 room luxury hacienda set around the perfect courtyard for open-air breakfasts. Located in the near Tlaquepaque Arts & Crafts Village, home of Sedona's thriving arts community.
The Rose Tree Inn
A central location and large rooms with kitchens make this no-nonsense, five-room inn an excellent value. Bonuses include a friendly innkeeper, fireplaces, and a charming garden patio.
---
Visit Sedona, Arizona, U.S.A.: Things to do in Sedona – The Red Rock Country
Header Photo: Angel Origgi
Pin For Later