If you're still obsessed with the romance of Meghan Markle and Prince Harry, the city of love is the place to be. But not everyone wants to head to the main tourist spots of France's capital city. That's why our guide to fun and unusual sightseeing for Paris is one you won't read anywhere else.
1. Take a trip to Paris' hidden villages
Paris isn't all the Louvre and Arc de Triomphe. There's a whole lot more to see, including the hidden villages within the city. Our personal favourite is La Butte aux Cailles – a beautifully quaint little corner of Paris. It's not known by most tourists, but has just as much art as the Louvre. Hence why it's one of our top sightseeing for Paris picks.
In this untouched village, you'll find independent and authentic Parisian shops. There are art deco townhouses littered throughout and gorgeous little restaurants. We're a big fan of the street art and the quiet escape Paris' hidden villages provide.
2. Take a trip to an iconic Paris cinema
Where better to watch a film than one of Paris' old and iconic cinemas? It brings back those golden memories of Old Hollywood. And an era that everyone wishes they could've dressed up in.
Cinema and film geeks among you will enjoy a trip to the Cinematheque film centre. It takes you back to Paris' cinematic history and tells you just how seriously Parisians take their film. We love the vintage feel to the centre and love how it provides a quiet detour afternoon from Paris' busy streets.
Plus, who doesn't love a good film?
You may also like: Unique Attractions to See in Paris
3. Visit the Catacombs of Paris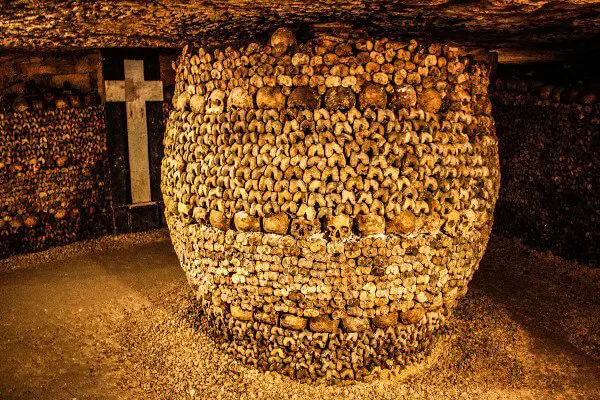 Everyone knows Paris for its sparkle and its theme of love. But the city hasn't always been so squeaky clean – and the Catacombs of Paris will show you just that.
Located underground are the remains of six to seven million Parisians due to the overcrowding of burial sights in the city's past. The large undergound tunnels and caverns have existed in Paris since Roman times, but they have become part of public tourism only recently. Even now, large parts of the Catacombs are not open for tourism due to safety concerns.
There is something eerie and mysterious about the Catacombs of Paris, including the fact that the sheer size of them make homes for some organised crime within Paris. They are also hubs of artistic genius and act as a completely different world to the one we all associate with Paris.
4. A hot air balloon ride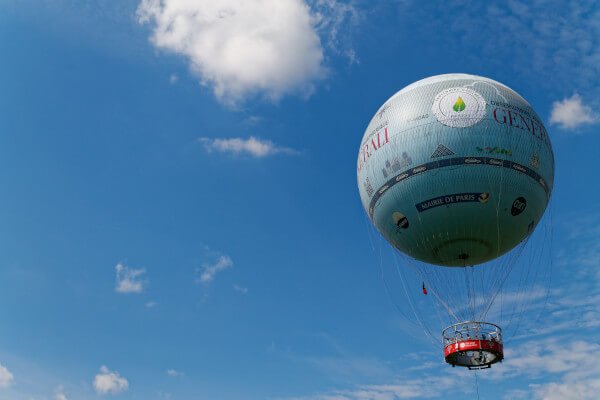 You thought the top romantic pick for sightseeing in Paris is the Eiffel Tower? Wrong. It's definitely a hot air balloon ride above the French capital.
There are quite a few ways of seeing the city, from a Paris shuttle bus to a helicopter ride, but hot air balloon is certainly a road (in the air) less travelled. You can opt for different companies, but the Ballon Generali is the biggest hot air balloon in the world and gives you a view of Paris unlike any other.
We absolutely recommend heading out on a hot air balloon ride in the city of love. Not only is it incredibly romantic, but it's completely thinking outside of the box – and we love that!
You may also like: Rediscovering Paris
5. Head off on a culinary bus tour like no other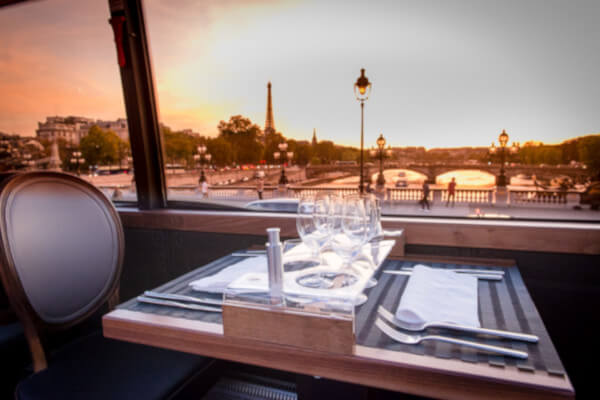 We're all for the quirky and nothing says quirky quite like Bustronome. The double decker bus with a glass ceiling takes you on a whistle-stop tour of Paris while serving you up a real treat of the city's famous cuisine.
Heading on La Bustronome at lunchtime in the glorious Paris sun is truly wonderful. Taking two hours and fifteen minutes in total, the bus shows you some of the most astounding French sights. And a four-course meal absolutely doesn't go amiss either.
Bon voyage!