Do you have a  hotel in your hometown where you were always a little jealous of the guests? I do: The Jefferson Hotel in Richmond, Virginia. The seeds of  my hotel obsession can be traced to this very establishment even though until recently I had never stayed there.  Sure as a Richmond resident, I'd get to go wallow in its luxury and grandness for the occasional wedding reception or rehearsal dinner, including Dave's and my own, but spend the night? Even though we only visit Richmond on occasion these days, that had never happened. That is until this past Thanksgiving when we were in town to visit my extended family over Thanksgiving.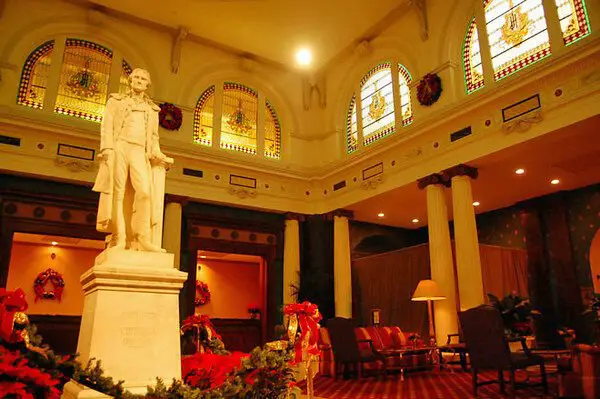 Since my parents downsized a few years back, when we go to Richmond for Thanksgiving, my children usually stay with my parents, while Dave and I have dutifully stayed at a nearby, most definitely, non-Jeffersonian hotel. We'd tell ourselves that after all, we were only going be sleeping there. The challenge has been that Dave's and my anniversary and my birthday always fall over, or in the vicinity of Thanksgiving weekend.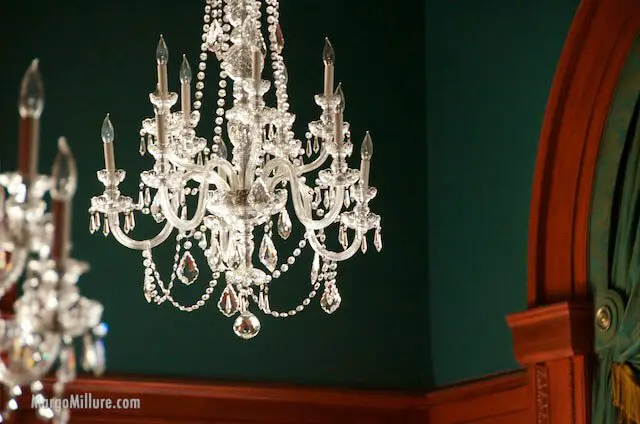 With multipurpose celebrations, in this case three, one occasion always gets neglected. Here this occasion has often been our anniversary. Instead of  memories of champagne and strawberries, those things of romance that a girl gets in her head,  my memories of anniversaries in Virginia are of different things: They are of  raising mugs of mediocre coffee between bites of cold eggs and pancakes to our years together, after nights spent awake over bad pillows and noisy neighbors. To varying degrees my thoughts in these moments would wander logically and longingly down the street, to The Jefferson.
The better late than never 26th anniversary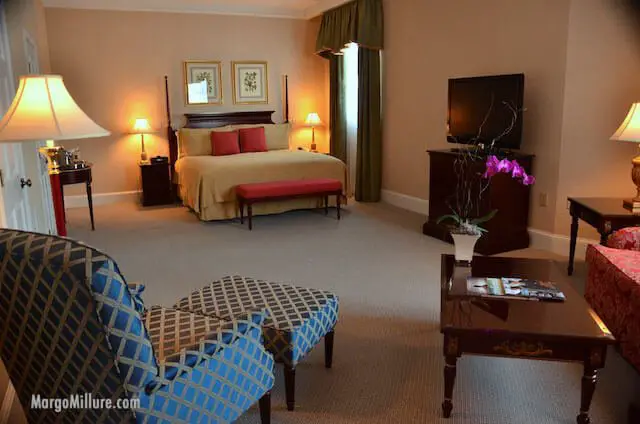 This past Thanksgiving finally we established a personal anniversary tradition I can get behind: Dave and I stayed at The Jefferson Hotel. Yes, I'm calling it a "personal tradition" because  I fully intend to participate in it again some day. Dave doesn't know this yet, but I think he'll agree.
I finally experienced walking into the grand lobby of The Jefferson Hotel and instead of heading for TJs (the casual bar and restaurant) or to a wedding reception, I got to waltz up to the reception desk and check in as a guest. Riding the wood paneled elevator up, venturing beyond The Jefferson's restaurants and public areas, we were whisked above the realm of mere locals and mortals to our suite.  At last I was a member of the "guest club," an important membership, even though it exists only in my mind.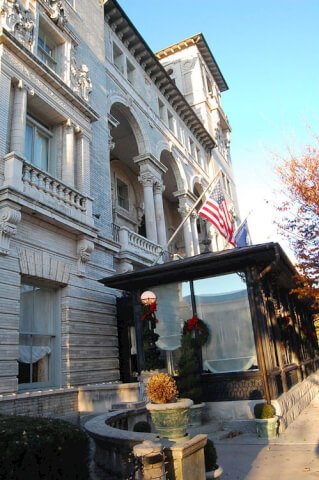 Of course doing something you have built up in your mind for years and years sometimes can be a letdown. Fortunately staying at The Jefferson Hotel was anything but. As one would expect at a five diamond hotel, the service went far beyond a friendly reception. Everyone from the waitstaff at the hotel's two restaurants, to the employees at the gift shop, to the turn back service maid, was to me, in my giddiness, perfection.
Additionally expectations sometimes have to be adjusted when staying at an "historic" hotel. "Historic" can sometimes be used as a kind word for "old," "in need of renovation," or "stuffy."  It can mean uncomfortable beds and inadequate and small bathrooms for those with modern tastes. Getting specifically peevish, lamp switches can be odd and power outlets are often tucked in places where one needs to employ a furniture mover to reach them. For four days we were the Belle and Beau of the ball, where modern perks consistently showed up just where needed.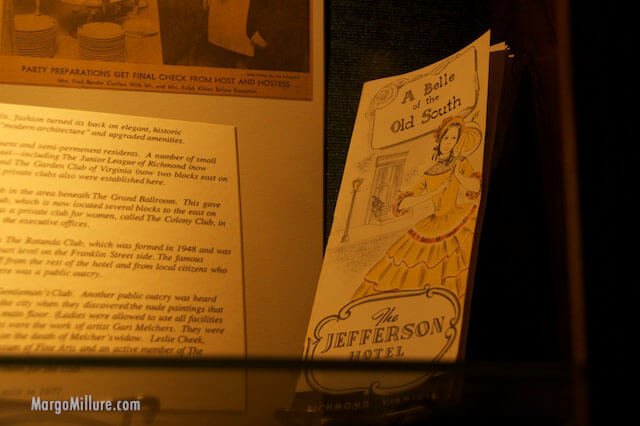 Our suite, grand yet refined and unfussy, had everything I wanted, plus just a little more. The bed, antique looking and king sized, which if you don't know didn't exist as a bed size in 1895, the year The Jefferson was opened, was made complete with bedding that would suit any sleepy debutante. The bathroom was large and spa like luscious. It included a "TV in the mirror," which for us was a nice novelty for viewing a bit of the Macy's Day Parade, but I imagine for the business people who frequent the Jefferson during the week, a useful amenity for watching the morning news.
Our first night in town, Dave and I went to the hotel's highly regarded restaurant best known for feting, Lemaire, to officially celebrate our marriage milestone. In the capable hands of Richmond native, Chef Walter Bundy, and our professional, yet relaxed waitress/sommelier, we rediscovered our love, not just for each other, but for intimate three hour dinners.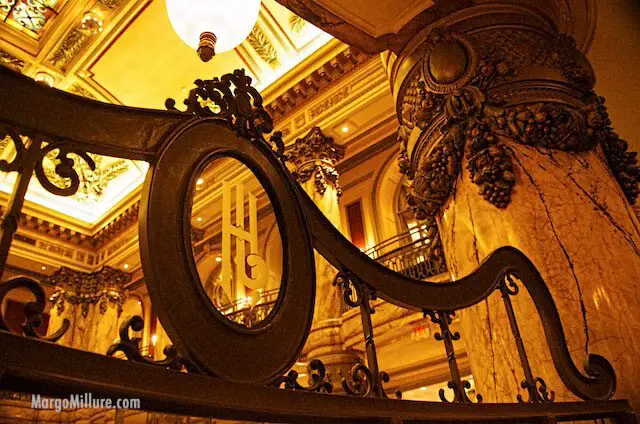 Our daughters, being fellow lovers of all things "hotel," were invited into our anniversary realm, albeit briefly and during the day to get a look at things. We took them to TJ's, the hotel's less formal bar and restaurant to enjoy some divine hot blue crab dip while watching the hotel staff put up The Jefferson's famous Christmas tree. We all agreed that said crab dip didn't need chips, but rather could be served as soup and eaten with a spoon.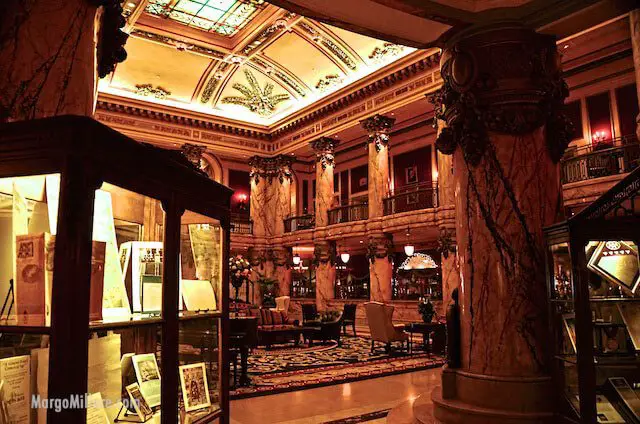 The best grand old hotels have a touch of the past rolled up together with whimsy and dreams. This touch of magic is easy to find throughout The Jefferson. In addition to being named after one, the hotel has hosted a dozen presidents and many other luminaries and celebrities, everyone from Margaret Thatcher to Elvis over the years.  Children in particular will love the stories about how real alligators used live in the lobby fountain. The alligators are memorialized with statues scattered around the hotel, which I've noticed have a mysterious way of moving around every so often.
Whether you are staying at The Jefferson Hotel for the night or just for cocktails, lunch or dinner, The Jefferson's history and whimsy can be experienced everywhere you look. I, for one, choose staying for the night.
Location/Amenities: Located on the outskirts of Richmond's downtown business district, The Jefferson Hotel is convenient for those visiting Richmond on business and for those wanting to experience the Virginia capital city.  There are 262 guest rooms in many shapes and styles, as is often the case with historic hotels that have been renovated more than once or twice, so be sure to get specific when trying to decide what room to book as far as size and amenities. Packages depending on events in the area, such as at the Virginia Museum of Fine Arts are available. The hotel has a large fitness center on a lower level and I was surprised to discover a tucked away indoor pool and sun deck, located almost directly above the hotel's entrance. A florist/gift shop is a great place for buying unique gifts.
Be Sure to Eat and Drink: Dining at Lemaire is highly recommended for a special occasion, even if not staying at the hotel. Farm to table dinners of  local food specialties feature a touch of tradition with a modern twist. The menu changes, catering to a wide variety of culinary tastes, but I think it's hard to go wrong with anything featuring crabmeat or oysters. Let the staff guide you.  If you like Champagne cocktails, try the Franklin Street Sparkler, a mix of elderflower liqueur, lemon juice, and sparkling wine. And don't forget the crab dip at TJ's that we think should be soup.
I received a media rate for my stay, but as always,  my opinions are my own.