You can visit the stars' favorite winter vacation spot, even without a celebrity salary
You might think a visit to Aspen is outside your budget – but that just isn't true. There are ways to visit the celebrity-spotted ski town without dipping into your 401K.
And I'm not talking about a scrimping, bumming and camping kind of trip either.
Downtown Aspen Seen from Red Mountain – Photo Credit Jeremy Swanson
First things first, you're probably going to have to make this trip a priority. After all, Aspen's seclusion means that you might only get the chance to visit it once, if at all, in your lifetime.
So if you have to scale back and put a little money aside every month, do it – it'll be worth it. Its very seclusion (together with its geographic locale) means the city is surrounded by pristine forests, is free from shoulder-to-shoulder crowds, and has that certain allure.
Besides, even armed with the tips outlined in this article, it's likely that you'll still spend more money than you would in most American cities.
While you're planning your trip, don't forget to think about your stylish travel wardrobe. If you look nice, you're going to feel good and you'll be less likely to worry about whether you belong. From what I've seen, Aspen style is a lot like L.A. style, but the vibe is more mountain than beach. Even though it's casual, it's definitely not sloppy.
Now let's look at the second-most important thing: lodging. We all know that hotels are where the majority of our travel budgets go. Luckily, Aspen has plenty of sweet little motels that recall its past as a 60s-era, Swiss-style ski town. The two most frequented are the Tyrolean Lodge and Saint Moritz.
According to the City of Aspen Community Development Department, these kinds of "chalet"-style buildings are part of the city's rich architectural history, so unless you love luxury hotels, you won't be missing a thing. And if you fall into the second category? The Stay Aspen Snowmass website lists last-minute deals on more elegant accommodations.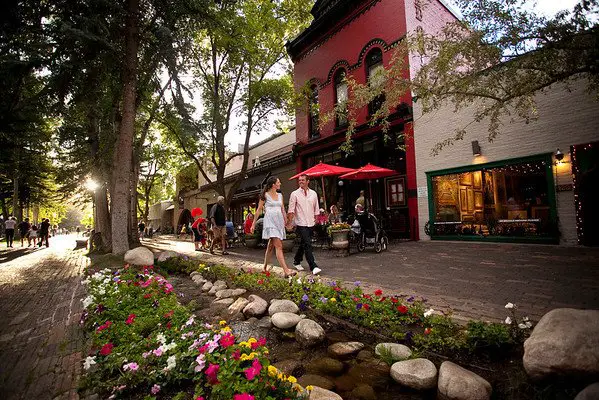 Strolling Through Downtown Aspen – Photo Credit Jeremy Swanson
Perhaps counter-intuitively, there a multitude of free or nearly free things to do in Aspen. In the summertime, you can get an ice cream cone after dinner and stroll around downtown. If it's winter, just substitute hot chocolate for ice cream. After your evening walk, you can treat yourself to a nightcap at one of the area's many bars. Next down on the expensive scale is dining. Here you can use the same tricks you'd use in any city when you're trying to save a dime. You can always eat at the bar, relieving you of the expectation to work up a big tab.
Two people can easily fill up on two appetizers or an appetizer and an entrée. You can also hit happy hour, making sure to eat enough to last throughout the night. Another plus: you probably won't give in to that vacation habit of over-indulging, unless you want to!
The next day, consider starting your morning with coffee and a newspaper. Aspen has a lot of cozy coffee shops that serve great varieties, and what better way to take in the local scene? Once you're fully caffeinated, you'll be ready to start your day. There are so many ways to pass a day in Aspen. The thrift store shopping is great, of course. They don't give the clothes away, but you'll have direct access to designer duds.
On the other hand, perusing art galleries like the Aspen Art Museum and window-shopping are free activities. Even if you're not planning on buying artwork or a designer dress on this trip, there's no reason to feel like you can't browse the selection in a high-end store. Just think of it as doing research for when you will be in the market to make such an investment.
Hiking West Side Trail Aspen Mountain – Photo Credit Jason Dewey
Let's not forget about hiking, biking, and snow shoeing, depending on the season. All are completely free except for the equipment, which you can rent from places like REI in Denver. Some favorites are Grottos, Ute Trail, Conundrum Hot Springs and various trails around Maroon Bells. And while we're on the subject of being active, why not take a yoga class while there? Places like the O2 Gallery have daily classes, and it could be a relaxing and affordable way to spend your day while getting a good feel for the city.
Aspen is a truly spectacular city. If you get a chance to visit the stunning 3.5 square miles, you should definitely take it – even if it requires a little planning.
Best Motocycle Trips in The USA
Pin for Later