I didn't know it would take over 20 years, but I always knew I'd go back to The Beaumont Inn in Kentucky.
When I think the quintessential Kentucky inn, I think of its uncloying Southern hospitality. I think of its yellow legged fried chicken served with ham cured on premises, and its casually elegant farm to table dinners; I think of its bourbon cocktails even a priss pot like me could like.
With extra tall four poster beds, I feel childlike here, like the Princess and the Pea. I feel as if I am visiting a Victorian Era grandmother's home, but one without too many doilies or rules beyond minding your manners, and with a better bathroom. This place that I think of is Beaumont Inn in Harrodsburg.
Last but not least  when I think of Beaumont, I  think of breakfast, which in my mind falls into the camp of being not just the most important, but the best meal of the day. Specifically I think of Beaumont Inn's corncakes. 
I consumed  these corn cakes for three mornings in a row over 20 years ago. When I finally returned this past March and told the innkeepers that I remembered the corn cakes in all their crispy edged magnificence so well, they didn't look at me as if I were crazy. My guess is they get this a lot.
Built in 1845, Beaumont Inn Kentucky's main building was originally one of the South's leading women's colleges. Annie Bell Goddard, who had been a student at the school, and her husband purchased the building in 1917 as their residence. In those early years it was not unusual for the Goddards to welcome former students who were visiting Harrodsburg as guests into their home. A few years later they made it official and opened the Beaumont Inn.
Almost a century later the inn is still run by Annie Bell Goddard's descendants. Currently the fourth and fifth generations of the family are in charge, making it the longest running family run inn in the  Commonwealth. Two additional accommodation buildings make up the inn, including the luxurious Greystone, an adjacent home built by the Eli Lily pharmaceutical family, which was more recently acquired as part of Beaumont.
There are plenty of those other things you probably associate with Kentucky Inns and will want to experience while you're in the area. Located in the middle of horse and bourbon country, there are sprawling horse farms, gracefully framed with white fences that curve with the rolling landscape. Behemoth yet friendly bourbon distilleries such as Maker's Mark, Woodruff Reserve and Bartons, as well as some smaller boutique distillers are within easy reach and welcome visitors.
Or if you prefer, experience bourbon from a comfy bar stool at the Beaumont's Owl Tavern. In the capable hands of 5th generation innkeeper, Dixon Dedman, you will be introduced to the subtleties and history of this favorite southern spirit. Be sure to ask about the area's love/hate relationship with bourbon and how the inn didn't even acquire a liquor license until 2003.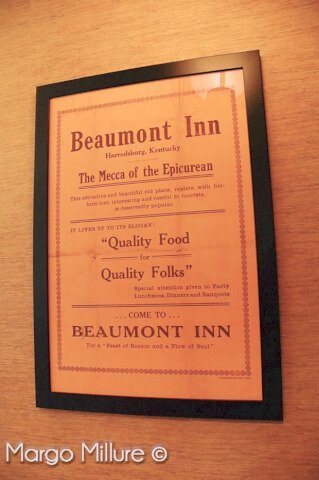 Beaumont's expansive grounds dotted with old trees give you the feeling of being in the middle of nowhere. Harrodsburg, Kentucky, the Bluegrass State's oldest town, clearly is no metropolis, but there is plenty of historic small town charm within walking distance. (Here's a pdf of Harrodsburg walking tour.) Be sure to stop in Dedman's Drugstore, now a fudge and ice cream shop for a treat and admire the cherry paneling.
Perhaps spend an afternoon at Shaker Village of Pleasantville, located just outside of town. You can wander the site of the once thriving Shaker village and learn about the inhabitants' austere lifestyle.
Be Sure to Eat and Drink: Cornmeal Batter Cakes and Yellow legged fried chicken and ham dinner (ham cured on premises),and of course one of Beaumont's specialty bourbon cocktails.
Price/Location/Amenties: Beaumont Inn has 31 rooms. Depending on room and season, rooms in Goddard Hall and Main Inn are $99 – $178, including full Southern breakfast; In Greystone House, $120 – $230, also with breakfast.
Other amenities include Old Owl Tavern, Owl's Nest Lounge and formal dining room. Pool open in summer months and spa services available in adjacent Bell Cottage.
Getting there: Located in Harrodsburg, Kentucky, approximately 30 miles/45 minutes from Lexington, between Lexington and Louisville (Lousiville to Harrodsburg, 1 hour 20 minute drive.)
Pin For Later