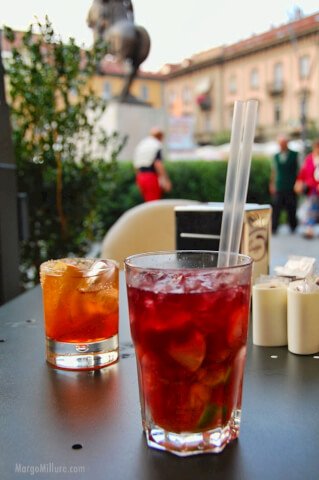 The theme for #FriFotos on Twitter this week is "Cocktails." One of my favorite rituals in Italy is Aperitivo hour or taking a pre-dinner drink, either at home or at a bar to wet the appetite. Aperitivo is  often accompanied with some food, but the traditional intent is not to spoil the appetite before the meal to follow. The word "aperitivo" can refer to both the drink itself and to the ritual. Aperitivo can be either alcoholic or non-alcoholic.
Pictured above are two traditional aperitivo that were happily consumed at a bar on the Piazza Savona in Alba, Italy, on a lovely September evening in 2011. I was in Alba on our first Travel Belles' trip with Krista Bjorn of Rambling Tart and Kathy Ayer of Food Lover's Odyssey.  Campari (a dark red fruit and herb based bitters) and Aperol (an orange based bitters) are two aperitivo ingredients of choice for many Italians.
Aperitivio hour is only similar to our "happy hour" in time of day. Drink specials are not part of aperitivo. As a matter of fact Aperitivo may be more expensive that drinks at other times of day.
The cocktail on the left with an orange slice is a Spritz, which is made with Aperol, Prosecco and served with an orange slice. On the right is an Americano which is made with Campari, vermouth and varying amounts of seltzer (this one has a lot.) An Americano is basically a lightened up, gin-free version of another well known aperitivo, the Negroni. As the name implies, the Americano was popularized by American tourists back in the 1950s.
Bonus cool fact: Italians when raising their glasses together often say, "Cin, Cin!", which is their interpretation of the sound the glasses make when they are clinked together.