Second hand and vintage shopping from Rome to Brussels, Belgium, for stylish treasure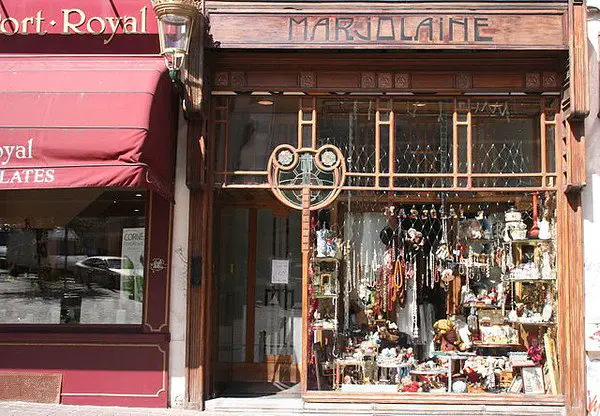 Via Condotti, Via del Corso and Via Cola di Rienzo are the shopping HQ of Rome. Those streets are lined with all the brand names and a few boutiques and some very expensive and exclusive shops. If you are looking for something more unique, you might want to head to the narrow streets of the Monti quarter, where lots of cute new boutiques have been opening up. But if you would like to shop for something second hand or vintage, in Rome there is a veritable slag of options.
Many of the second hand and vintage shops in Rome that do exist are pricey. There are some clustered around the back streets of Piazza Navona and one on the Via Serpenti in Monti, but I would hardly pay their prices for clothes that have already been worn.
More affordable are several stalls of used clothes in the Porta Portese market that is held every Sunday morning in Trastevere. Paw through the piles and admire the array of strange antiques, but go early, because it fills up. And there is also Mercatino near Porta Maggiore on Via Sebastiano Grandis, 7, which is similar to an American Goodwill or Salvation Army.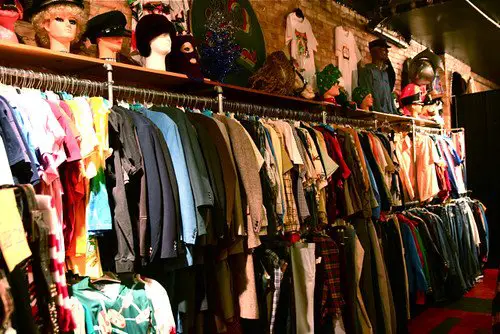 For me, second hand and vintage shopping is a way to save money, but it is also about clothes with character. In a world of increasing globalization, where manufacturers tend to produce more of the same, the sometimes perfect, other times ugly or simply interesting article of used clothing comes with history included. Browsing through racks and shelves becomes a little adventure, where you are always this close to discovering some shoes, a shirt or a soup bowl that suits you.
Second hand and vintage shopping in Brussels
And so it was a delight to discover, on a recent visit to Belgium that second hand and vintage shopping in Brussels is a very serious pursuit. Just walk along the streets near the Grand Place and the city center or in the area of Saint-Gilles, and you will come across at least one shop that smells like the unmistakable insides of someone's closet.
The second hand stand-by of Brussels is the four story building called Les Petits Riens on Rue Américaine, 101. For 70 years Les Petits Riens has been involved in social action, raising money and awareness for poverty and giving jobs to those without. Inside there are always many determined shoppers digging through bins of clothes, shelves of books and climbing stairs to floors of furniture and furnishings. From used crucifixes to desks, to typewriters, tea pots and trash cans, a walk around Les Petits Riens is fascinating, even if you aren't interested in buying anything.
In the same vein, Oxfam shops can be found intermittently around the city. Smaller, less hectic and at a slightly higher price, any money spent there also goes to fighting poverty.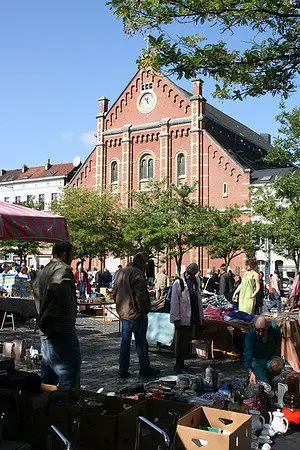 Then there is the flea market, Jeu de Balle, held everyday from 7:00 to 14:00 in the square of the same name. Something for everyone can be found arranged on tables and cobblestones: clothes, coats, hats, bric-a-brac, chairs, mirrors and lots more. Before closing, the vendors mercilessly slash their already low prices and place boxes of free stuff in the center of the square, which creates a rushing free-for-all.
From now on, I'm saving my second hand and vintage shopping for Brussels. And while in Bella Roma I'll continue to immerse myself along the bustle of the Corso, for the glamor of window shopping and the occasional purchase.
Photos: Top and bottom photos via public domain. Middle photo, stevendepolo
Pin for Later