I don't ski.
And after a trip to The Westin Riverfront Resort and Spa at Beaver Creek Mountain in the middle of winter, I still see little reason to start. In my mind no special skills are required for staying here – except maybe for some in advanced yoga.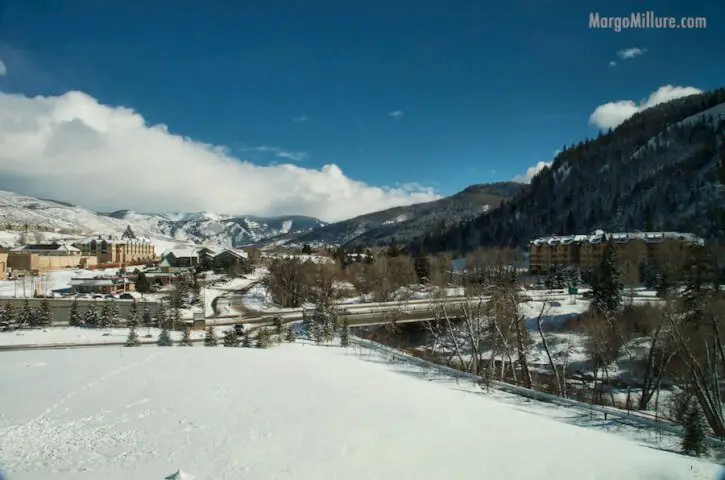 "Up the Mountain"
We drove "up the mountain" as they say around this part of the world following a couple of days in Denver. There was snow, which I know doesn't sound like a huge deal, but there hasn't been much snow lately in Colorado this winter and we sensed a bit of excitement about it among ski enthusiasts and  locals.
As a sea level dwelling South Carolinian, reaching heights of over 11,000 feet as we crossed the Continental Divide through the Eisenhower Tunnel was rather exciting. And witnessing the collective driving skills of those driving "up the mountain" on I-70 West was rather impressive. As  much as I like to drive, I was glad that someone else was behind the wheel.
Après–ski. Otherwise known as what I do best.
We arrived in Avon, at The Westin, at the time of day when the whole bustle of slope dwellers had shed their clacky ski boots and fancy skiwear for après ski, otherwise known to the rest of the world as happy hour. In the grand hotel lobby, people of all ages who may or may not have been skiers scattered themselves as equidistant groups about the wide open area. A two-way fireplace and a wine bar at one end still managed  to break up the space into something cozy.
A guitar player and singer duo eased out covers from Allison Krauss and Tom Petty, while waitresses deftly navigated the scene carrying trays of pretty cocktails and spicy smelling appetizers. Couples and friends chatted around tables or seating areas and children with s'more making ingredients were gently ushered to an outside fire pit for some pre-bedtime fun by their parents.
We chose a table by the floor to ceiling windows overlooking the resort's outdoor pool. In a beverage mind meld  that happens in certain settings when traveling companions feel relaxed and celebratory, the three of us, Andy, Julie and I all wanted something "bubbly."
Having been warned about how alcoholic beverages hit you hard and fast at high altitudes, I planned on just sipping one pretty Cava cocktail ahead of dinner. It indeed went down smoothly with our small plates of crispy shrimp and chicken wings. The live entertainment was present enough to contribute to the atmosphere, yet allow conversation.
However, my one cocktail plan was nixed by my subconscious apparently; Andy ordered a second, which the waitress put directly in front of me. Without thinking I proceeded to drink it myself and it was half gone by the time I noticed and admitted my faux pas. None too soon it was time for dinner.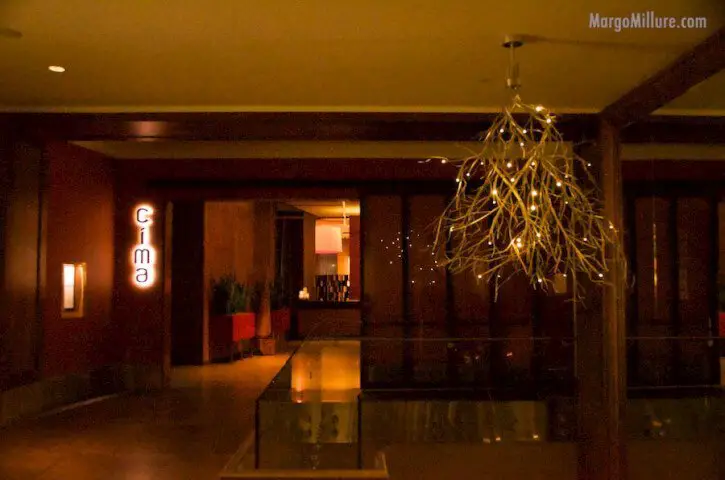 The Westin's fine dining restaurant, Cima,  features modern interpretations of Latin cuisine, with an emphasis on locally produced meats and sustainable seafood. "Cima" means "peak" in Spanish and this restaurant, developed and run by star chef/restaurateur Richard Sandoval, aims to deliver a peak experience in both food and setting. South American and Spanish wines figure heavily on the wine list, which given my happy hour over-indulgence, I sipped conservatively. My Thai shrimp risotto proved to be a sublime choice.
Ski Resort Hotel Rooms for Non-Skiers because I love hotel rooms (well, nice ones, anyway)
If you're a regular visitor here at Travel Belles, you probably know I love good quality time spent in a nice hotel room. Fortunately Julie and Andy felt the same way. Instead of lingering over dinner or searching for lively nightlife, we were all fine with heading back to our respective rooms.
A snowy night in Beavercreek calls for a hot bath and some mindless television in front of the gas fireplace. One of my favorite things about my hotel room was that the fireplace had a timer. As you can imagine, we rarely get to turn ours on in South Carolina and you bet I fell asleep with this one on!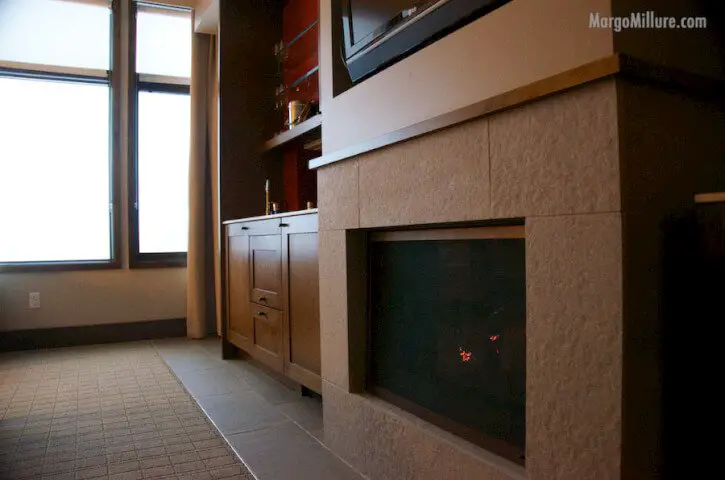 Spa Anjali and the Athletic Club
The next morning started only slightly off kilter, thanks to my over-do the previous night, but was straightened out immediately thanks to a yoga class at the Athletic Club that was way above my skill level.  Julie and I had waltzed into the wrong exercise room. We meant to go to the hour long Pilates class for normal people, but  instead entered a 90 minute "authentic" yoga class for advanced yoga people.
At some point during the class, I had found myself at peace, yet unimpressively collapsed against the wall and out of breath. Julie and I looked at each other and there was no doubt that we'd ended up in the "wrong" class.  I had done my best, switching back and forth as needed between child's pose and a  semi-spastic attempt at whatever the class was doing; even so I learned a lot in both the general sense (I want to be able to do some of these poses someday) and the individual sense (instructor, Suzanne Oliver, gave me a couple of great personal tips.) Suzanne was from South Carolina  – of course it was meant to be!
That afternoon we visited the resort's Spa Anjali, voted the number four resort spa in the US in 2012 by Conde Nast Traveler. With an extensive menu of spa services, it would have been very easy for me to get hung up on choosing the one I wanted. I was very thankful that the spa director chose a treatment for us: The Ponderosa Pine treatment is one of the spa's most popular, providing an experience that is at the intersection of a traditional massage and a more therapeutic treatment. I highly recommended this for anyone who spends a fair amount of time not just on the slopes, but at a computer. A week later, my neck and my hips still feel practically childlike.
Dinner that evening was "off campus," at the oft recommended Vin48. Located in the center of Avon in a rather nondescript setting, this stylish eatery is only about a 10 minute walk from The Westin, but because of the snow we opted to hitch a ride. Inventive small plates and main courses that change seasonally entice on the menu along with a large selection of wine by the glass. Among the several dishes we tried, my favorite small plate was the seared scallops with braised oxtail.
The next morning I finally got to check out the Pilates studio. Instructor Elizabeth Sullivan met me bright and early for a private introduction to the Reformer. Even though I'm a mat Pilates enthusiast, I'd never had a chance to try the Pilates Reformer. Elizabeth totally inspired me: First of all, she is a contagiously enthusiastic and knowledgeable ambassador for Pilates and other forms of dance related exercise, and second, she is exactly my age! I returned home with renewed enthusiasm for exercise and a few new fitness goals.
 Boo! Time to Go "Down the Mountain"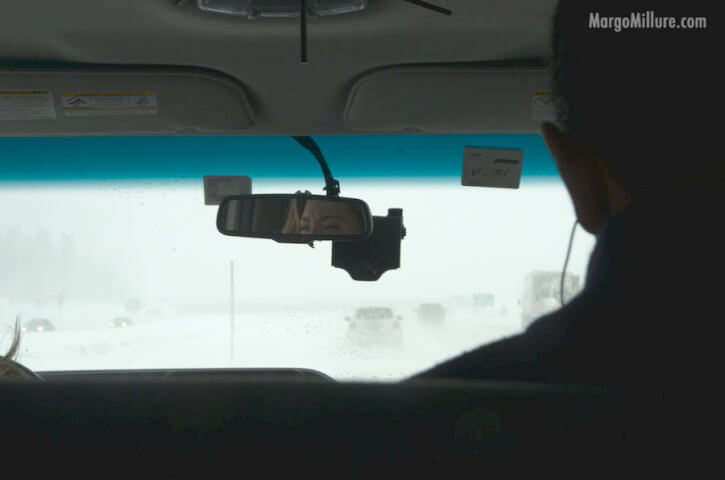 The backside of the same storm that had dumped ten or so inches of snow on our way "up the mountain," decided it was a good time to strike again on our way "down the mountain." I imagine Andy and I weren't the first visitors here who wished we'd get snowed in and have to stay another day. Alas, no such luck. Here, this snowstorm that would have shut down South Carolina for days, was considered a mere blip on the radar screen.
We couldn't have felt safer than we did with Colorado Mountain Express, the shuttle service that makes a business out of this whole up and down the mountain business.  As we rode along past Vail, I admit as I watched skiers in the distance gently sway back and forth down the slopes, I felt a bit of longing; indeed skiing looked very appealing from here. Perhaps next time I should consider a lesson? But truthfully, as long as there's The Westin at Beavercreek, I probably won't.
I hear it's beautiful in the summer.
Thank you Westin Beaver Creek for a wonderful two days!
Pin For Later