El Raval is, together with El Born, El Gòtic and Barceloneta, part of Barcelona's Old City (Ciutat Vella in Catalan). Although the Raval-barrio may be considered the 'toughest' of them, due to its history of crime-related problems, it's by far the coolest one, if you ask us.
Compared to the gothic area or El Born, El Raval has way less touristic attractions to offer. The two main sights are food market Boquería (Rambla 91) and the Gaudí palace Palau Güell (c/Nou de la Rambla 3-5) and both are definitely worth a visit! However, most fun to do in El Raval is to stroll from terrace to bar, watch how other people do the same, do some vintage shopping and just 'be there'. Locals in Barcelona even have a verb for spending time in Raval: let's go ravaleando!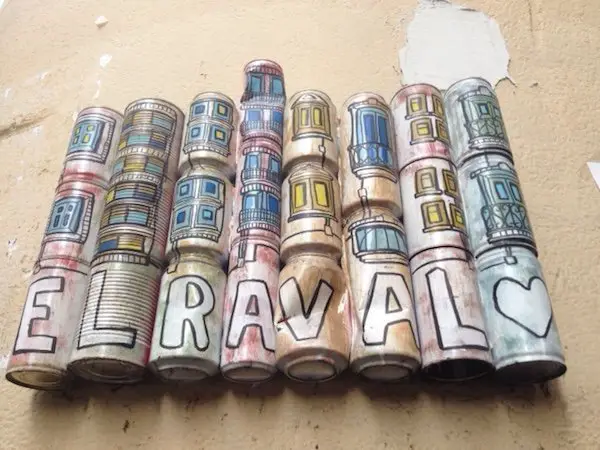 Start discovering El Raval around the MACBA, the museum for contemporary Spanish and Catalan art. The big white building – work of the famous American architect Richard Meier – can't be missed. Visiting the museum is especially recommended for lovers of abstract art. Around the MACBA, skaters from all over the world come together to – thanks to the smooth pavement – practice their tricks, have a chat and drink a beer. In Kino, on the same square, they serve good cocktails, (veggie)burgers and finger food for a friendly price.
Nowadays it's very hard to imagine this part of El Raval once was an area better to avoid as a tourist. Until the late eighties, crime, drugs, and prostitution caused a lot of problems, and it was not until the '92 Olympic Games that the municipality started to invest seriously to solve them. Old buildings were demolished or reformed and criminality was reduced notably. There're still some parts of El Raval where you may feel intimidated, especially as a woman, but in general there's no need to fear.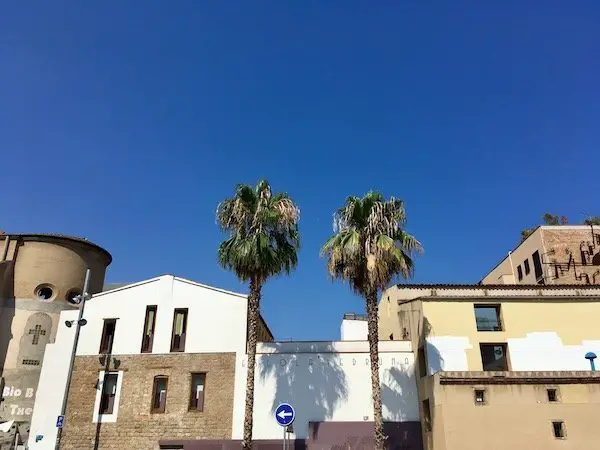 Just behind the MACBA (C/Montalegre 5), you can find the cultural center CCCB, housing interesting exhibitions, like the yearly World Press Photo. But even when you don't feel like going inside, make sure you have a quick view at the center's patio. Look up and see – when the weather allows you to – Barcelona's beautiful skyline reflecting in the wall of glass. Try to spot the cable car, the Mediterranean Sea and the Montjuïc-hill! See other fun things to do in Barcelona.
A street not to miss in El Raval is Joaquin Costa, a melting pot of cultures, smells, colors and flavors. Go to gift store Fantastik (number 62) for an original souvenir with a Mexican twist, have a drink in bar Betty Ford (56) or the unpretentious bar Olimpic (25), have a tasty durum falafel or kebab in Bismilla (22) or some home-made Argentinian empanadas at Muns (37). Coffee lovers make a stop at Nømad (26) for the best coffee in town, according to the fans.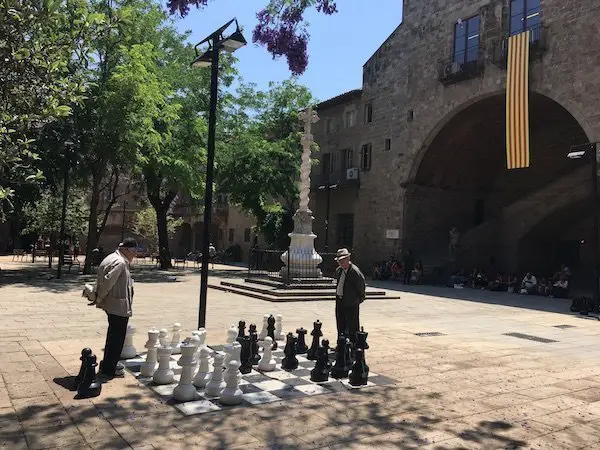 When you plan to do some shopping in El Raval, don't expect big clothing chains like H&M, Zara and Mango – except on the Raval-side of La Rambla. For some original items, you better dive into one of the vintage stores nearby Joaquin Costa streets, like Flamingos Vintage Kilo (Ferlandia 20 and Tallers 31) and Holala! (Valldonzella 2 and Tallers 73). One thing: since El Raval is also known as Barcelona's hipster heaven, most shops know very well what to ask for a vintage Levi's jeans or some old school Vans sneakers.
El Raval has always been a neighborhood of immigrants. There are some authentic, typical Spanish tapas places, like Elisabets (Elisabets 2) and the bars in and around the famous Boquería market. But after eating tapas for a few days in a row, we can imagine something different is welcome.
Thanks to the Indians, Pakistanis, Philippines and Latinos living in Raval there's a wide variety of non-European restaurants – often priced budget-friendly. Keep in mind in Spain it's common that restaurants offer a daily menu on weekdays, including an appetizer, main dish, drink, and dessert, for a price between 10 and 15 euros. Vegetarians and vegans are also pleased. Flax & Kale (Tallers 74) serves breakfast, brunch, lunch, and dinner and is totally Instagram-proof. Veggie Garden (Àngels 3) and Vegetalia (Plaça d'Emili Vendrell 1) may be decorated less fancy, but the food is fresh, mostly healthy and well-priced.
One of our personal favorite spots in El Raval – and even in Barcelona in general – is the peaceful garden of the old hospital of Santa Cruz (c/Hospital 56). Nowadays there's an institute for Catalan studies and a library, but until last century it was the patio of the hospital for the poor. The famous Catalan architect Antoni Gaudí died here in 1926 after an accident with a tram, which makes the place extra special. There's also a bar called El Jardín, which is not necessarily recommendable for food, but fine for a coffee or beer.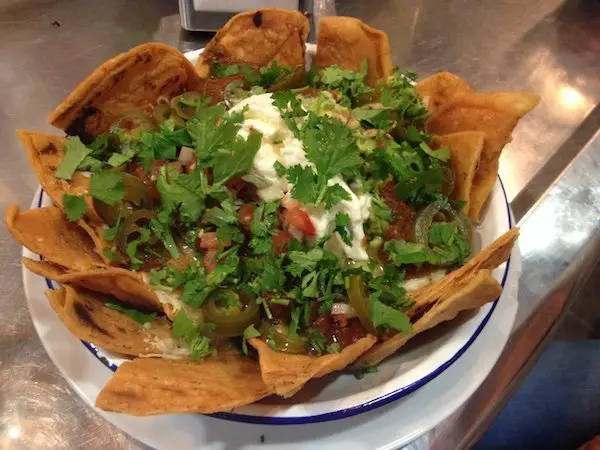 Afterward, walk down the Hospital street until you reach the Rambla del Raval. Also if it's your first time in Barcelona, you've probably heard about La Rambla. What most people don't know, is that there're several Ramblas in town, and this one is definitely worth a watch: beautiful palm trees on both sides of the street, a huge cat called 'El Gato Gordo' in the middle and way fewer tourists than on the 'main' Rambla, just parallel to this one. The cat is a piece of the Colombian artist Botero and is often used to climb on by kids. And by the way: of you take a close look, you can see for yourself it's a male…
To end your Raval experience in local style, head to El Pachuco (C/Sant Pau 110) for some amazing Mexican street food. We dare to say there're no better nachos in town and such big portions are hardly seen in Barcelona. Making a reservation is impossible and when you come around 8 p.m. you will probably face a waiting line, but believe us, it's worth it!
Pin For Later