*Editor's note: This article about Tapas in Seville is a  follow-up to Kate's last article, about  walks and monuments in Seville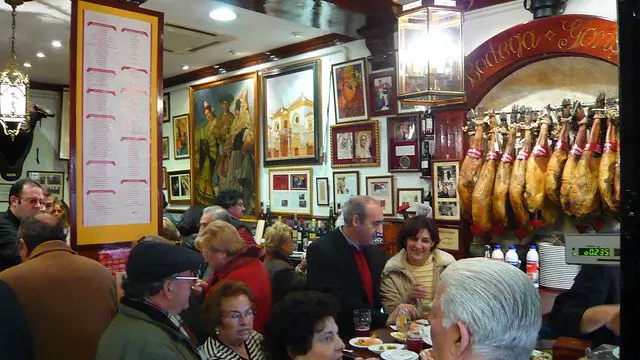 Thanks to the recent global popularity of tapas, foreign conceptions of Spanish cuisine are no longer restricted to that oh-so-famous Valencian rice dish, paella. But where does this custom of eating mini morsels stem from?
As with Spain's most famous dance form, flamenco, there are many hotly-contested theories surrounding the origins of tapas. One popular argument is that several centuries ago, inn-keepers came up with the novel idea of offering their customers an edible tapa ('lid') for their drinks in order to keep pesky flies out of their mugs of cerveza. A rather more fanciful (but less linguistically pleasing) theory features King Alfonso X, whose doctor sensibly advised him of the dangers of drinking on an empty stomach and recommended that the monarch intersperse his tipples with some solid substances.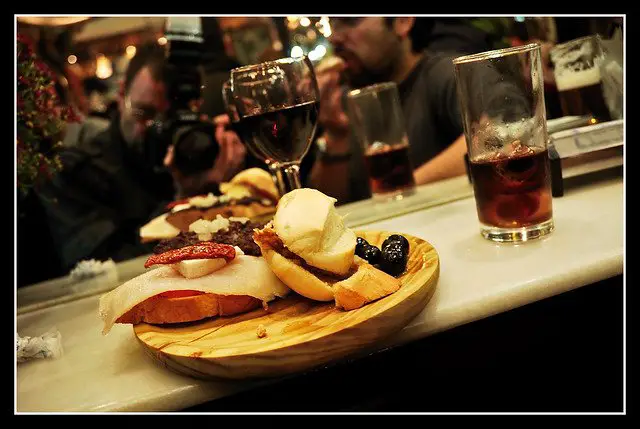 [pullquote]…the more traditional way to tapear (go out for tapas) is to move from bar to bar, sampling a tapa or two in each establishment. This way of dining is highly sociable, involving plenty of peering at fellow customers' plates and jostling for space at the bar.[/pullquote]Whatever their origins may be, tapas are the mainstay of Spain's culinary landscape, and one of my favourite places to enjoy them is in the southern city of Seville, or  Sevilla. Tapas in Sevilla can be very good value (€3 or less per tapa), but keep an eye on your appetite as costs can quickly mount up.
For those accustomed to restaurant-style dining, it's entirely possible to make a sit-down meal of these pint-sized portions: some tapas bars have waiter service, plenty of tables and an extensive menu. However, the more traditional way to tapear (go out for tapas) is to move from bar to bar, sampling a tapa or two in each establishment.
This way of dining is highly sociable, involving plenty of peering at fellow customers' plates and jostling for space at the bar. For those keen to try a tapas crawl but unsure where to start, Seville resident and tapas expert Shawn Hennessy offers customized tours featuring tapas. Whichever way you choose to enjoy them, Seville's tapas bars won't leave you disappointed.
The main concentration of tapas bars is behind the Cathedral, on Calle Mateos Gago and the streets it leads into. Particularly popular is local favourite Bodega Santa Cruz Las Columnas, a rough-and-ready spot with a napkin-strewn floor and cheerful bar staff. With a wide variety of traditional tapas on offer, Las Columnas is a great place to try one of Seville's specialties, fried fish: the cazón en adobo (marinated dogfish) is delicious. Also worth sampling is the montaditos (mini sandwiches) of chorizo or, for the brave, typically Andalusian pringá, roasted meat mixed with beef or pork fat to make a thick paté.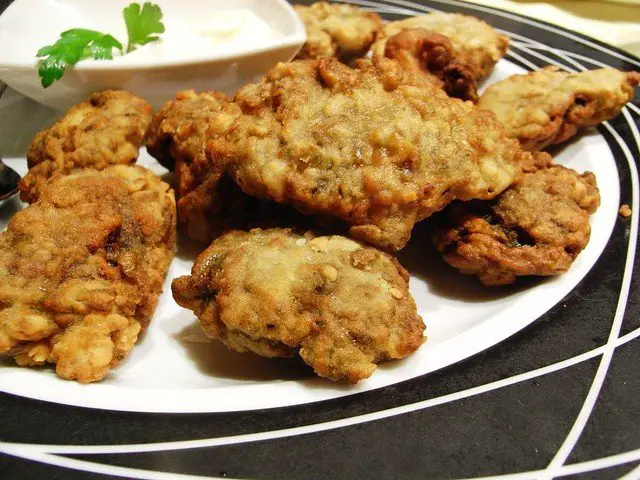 With a branch in the El Arenal area (Calle Fernández y González) and another (with outdoor seating) in Plaza Cristo de Burgos, Taberna Los Coloniales offers hungry diners excellent value. On my first visit, confronted with a giant pavía de merluza (fried hake in batter), I decided that the waiter must have mistakenly thought I ordered a ración (full portion) rather than a tapa.
When the bill came, I couldn't believe this plateful only set me back €2.50. With table service and a wide-ranging menu translated into English, visitors may find Los Coloniales a gentle (and tasty) introduction to tapas, with delights such as spinach croquettes, patatas bravas (roasted potatoes in a spicy tomato sauce) and fried pork loin all on offer at bargain prices. The wine's cheap too: €1.50 for a generously sized glass.
Once you've experienced enough on the fried meat and fish front, head to Bar Alfalfa on the plaza of the same name. With plenty of vegetarian tapas on offer, this tiny but lively bar is a haven for non-meat eaters, while their carnivorous companions will be pleased to note there are plenty of Iberian hams dangling above the bar. The marinated aubergines (€2.50) are moist without being oily, and both the classic and red pesto bruschetta (€2.30 each) are fresh-tasting and light. There are also daily specials on offer, and a couple of cakes to choose from if you can find space in your stomach.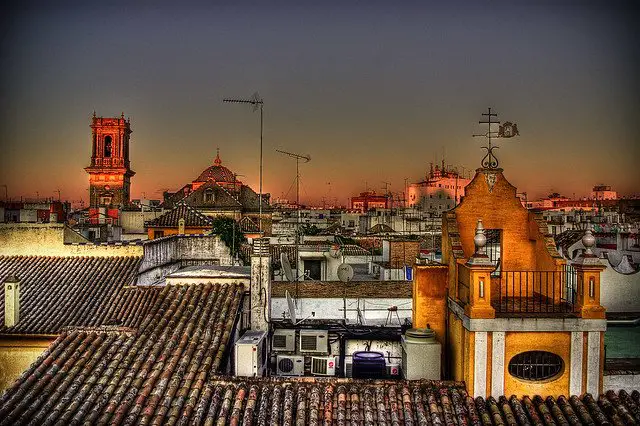 Across the river in Triana, you'll find that the number of tourists diminishes and the number of tapas bars increases as you wander the neighbourhood's backstreets. In the summer months, riverside shack Los Chorritos on Calle Betis may not look particularly promising, but trust me and take a seat on one of its plastic chairs and enjoy the best grilled squid you may ever eat, served with a gorgeously garlicky salsa verde. Other fish options are well worth trying, accompanied with a simple plate of tomatoes with olive oil (tomates aliñados) and washed down with a refreshing glass of tinto de verano (red wine and lemonade – trust me on that one too). Venturing further into Triana, Calle Pagés del Corro has a number of options, including Las Golondrinas at number 76, a busy bar with table service and a menu of tasty classics such as grilled tuna (atún a la plancha) and good quality jamón (ham).
If you need to indulge your sweet tooth post-tapas tour, head to classy café Robles Laredo on Calle Sierpes, a Sevilla institution re-opened in 2008 as a patisserie parlour. Perfectly-crafted cakes sit in glass cases waiting to be enjoyed – and washed down with a glass of cava, should you wish. If you'd rather grab your dessert on the go, try an ice cream from Rayas (branches at Calle Almirante Apodaca 1 and Calle San Pablo 45). With around 20 homemade flavours on offer, from dulce de leche (caramel) to fig, you'll definitely find something to satisfy your tastebuds.
*All photos via flickr creative commons: (in order) Wolfiewolf John Picken Flesh7 jlastras merlune
Pin for Later