The National Cathedral: Architectural  features and details are a nod to the Gothic architecture of the Middle Ages, and for Jessica Orquina, can be found right near home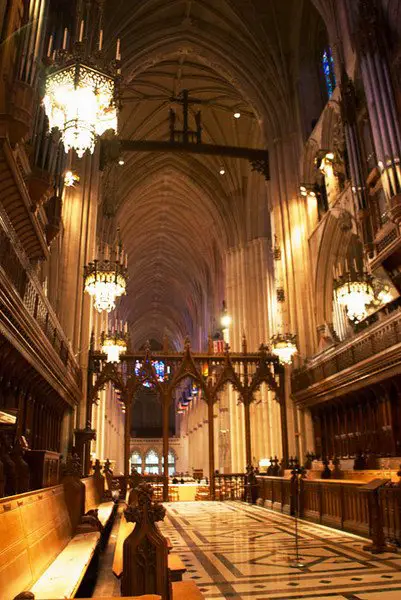 Wherever I travel I often spend hours visiting the churches, cathedrals, and other places of worship.  I enjoy looking at the architecture and experiencing calm of these sacred places. I also find these adventures to be a wonderful antidote to shopping and encountering the bustle of foreign city streets. However, I rarely take the time to enjoy these locations in my own country, or even my own city, Washington DC.
On a recent Sunday my aunt and I went for a walk through Rock Creek Park and ended up near the Washington National Cathedral grounds. Since neither of us had ever been before we decided to visit the Bishop's Garden. That led to a visit inside the cathedral itself which was a serendipitous reprieve from taking our hometown for granted.
Even though I live in Washington DC, this was my first time to visit the National Cathedral. Yes, when I stand on my roof I can see the building in the distance. And I have driven by it many times, but I never stopped and actually looked at the building.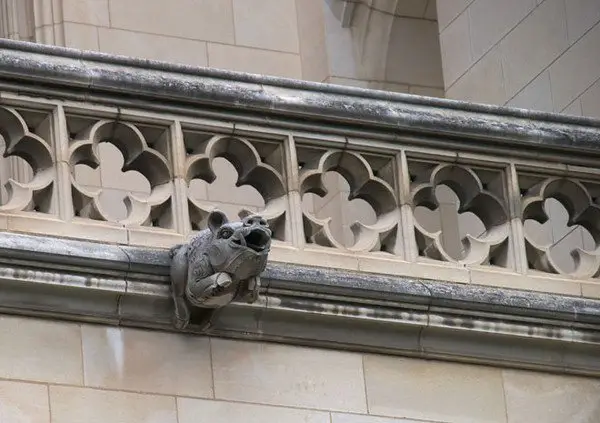 The Washington National Cathedral is an amazing structure built with a greater attention to detail that is often customary in modern times. Each gargoyle around the outside of the church is different and some are very unique. We walked the perimeter of the building to see all the different creatures tasked with protecting the place from evil. My favorites were a pig gargoyle and a frog gargoyle. (The Cathedral staff offer gargoyle guided tours and encourage visitors to bring binoculars and cameras.)
Inside the cathedral, we began our self-guided tour by visiting the bookstore/gift shop and the downstairs chapels. (Shopping should always come first, of course! For individuals interested in gardening and home accessories there is an additional shop by the Bishop's Garden.)
There are five chapels in the crypt level of the church below the nave. Some are large and beautifully decorated, while others are of more simple design. The most adorned chapel is the Resurrection Chapel which is graced with colorful tile mosaics of biblical scenes. To me, this artwork felt very vibrant and alive – like murals or graffiti painted on city buildings.
My favorite place inside the cathedral was the Good Shepherd Chapel. This small, narrow chapel has wooden benches facing a stone sculpture of a shepherd holding a lamb. Windows along one wall let in sunlight making the area brighter than the nearby hallways. It is very simple but has a calming atmosphere and is reserved for private prayer. It is a lovely space to sit and reflect or pray.
After visiting all the chapels in the lower part of the Cathedral we went upstairs to the nave. Here we began by admiring the unique stained glass windows. One window, in particular, caught my eye – one with a scene you would see when peering through a telescope. The glass depicted a dark sky with stars and planets. I learned later that this window is called the Space Window and was created to commemorate the Apollo XI mission. It actually contains a piece of moon rock brought back to earth by the crew of that mission. How cool is that?
There are many other beautiful windows as well – too many to describe individually. However, the light cast through all the windows makes the space warm and welcoming. In addition to beautiful stained glass windows, there are significant carved wooden details and a wonderful pipe organ on the High Alter.
Visiting the Washington National Cathedral reminded me how important local travel can be. Too often in my home city I  am complacent. I have my favorite neighborhoods, cafes, and sights. I often stay in this box. However, when I am traveling I try to experience as much as possible and visit different cafes and cultural sites each day. I should remember to do that at home from time to time. Who knows what I might find next.
For more information:
Washington National Cathedral and Gargoyle Tours
3101 Wisconsin Aveue NW)
Washington, DC 20016-5098
Telephone: (202) 537-6200
Travel Washington, DC – Visiting the National Cathedral
* All photos by Jessica Orquina
Header Photo by Gargoyle
Pin For Later