There are only two roads out of Anchorage: the one that heads north and the one that heads south.
Our van driver who takes us from the Hilton Garden Inn Anchorage to pick up a rental car, asks where we are headed. I tell him that today we are planning to drive up to Flattop Mountain. I sit directly behind him and see his head shake in the negative.
You may also like: Anchorage: Alaska's Best Flat Top Mountain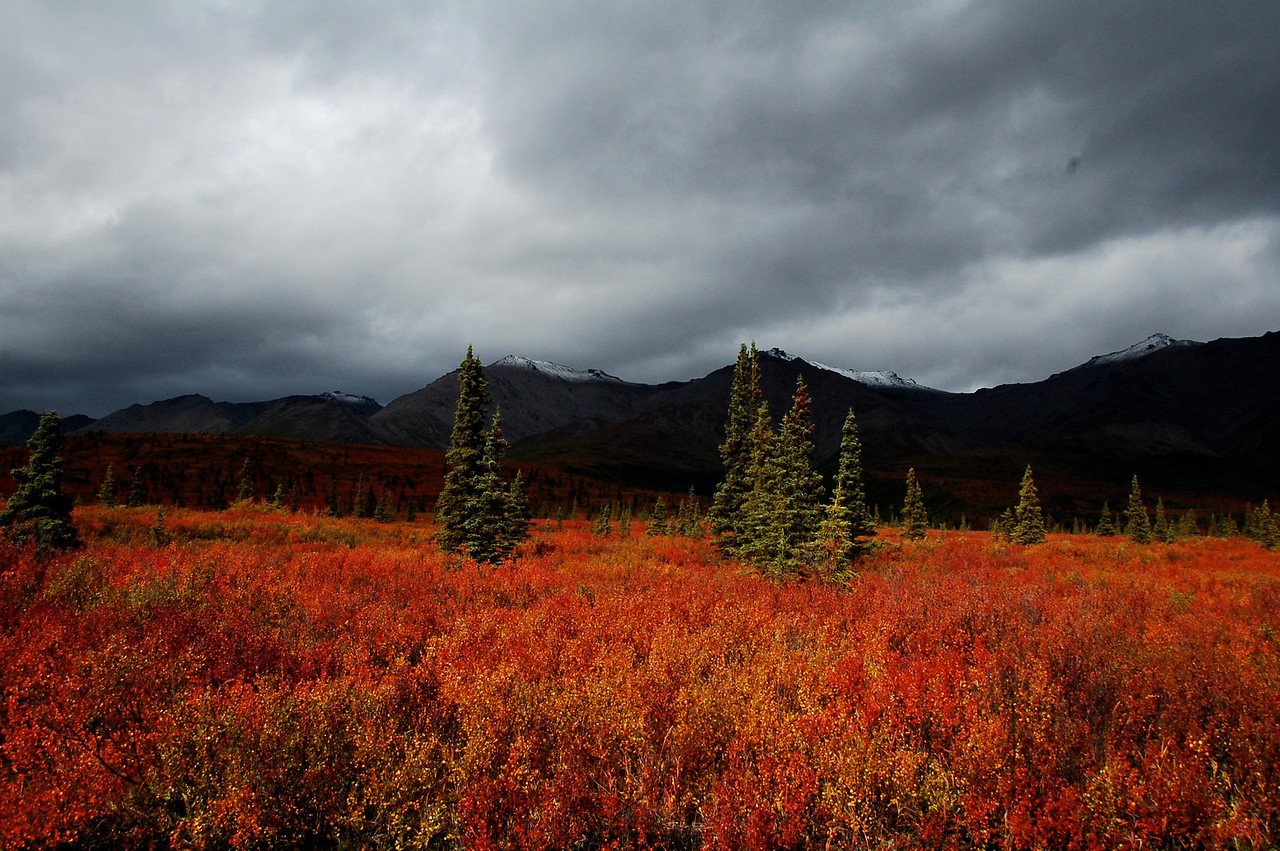 Simultaneously, I have pulled out a notebook as the couple seated behind us is telling an oddly fascinating story about a famous golfer from Chile who owns a restaurant.
I assume this restaurant is in Anchorage, but no, it turns out  – it's in Chile. So now I look at the first notation in my shiny new notebook for documenting a visit to Anchorage: a restaurant suggestion in Chile.
I hear our van driver say, "go north." Wisely, he's probably given up on his van of tourists talking about restaurants in Chile. He now must be addressing someone through his radio.
"Go north," he says again. Keeping his eyes on the road and one hand on the wheel, he reaches behind his seat and taps my leg emphatically. I catch his eye in the rearview and he rolls his eyes. "Go north," he says one last time.  "Look at that over there."
He points towards what I can only assume is south and an ominous-looking cloud bank, the sole blight on Anchorage's morning blue sky. For Pete's sake, I imagine him thinking, shouldn't these people already be grounded in their sense of direction and know the two ways out of town?
Being the kind of people who for better or worse generally follow such definitive directives from locals, we have no difficultly changing our plans here on our first day in Anchorage. Without exchanging more than a few words, Dave and I decide to drive "north."
Getting a bit more specific the van driver suggests driving two hours towards the town of Takeetna, located at the base of Mount McKinley, the tallest mountain in North America.
After hearing the lame story of how Ohio congressmen from President McKinley's district continue to block an official name change of the mountain back to the original Denali, meaning "the high one,"  from this point in the story on, we will do as the Alaskans  do and refer to both mountain and park as Denali.
Alaskan weather lessons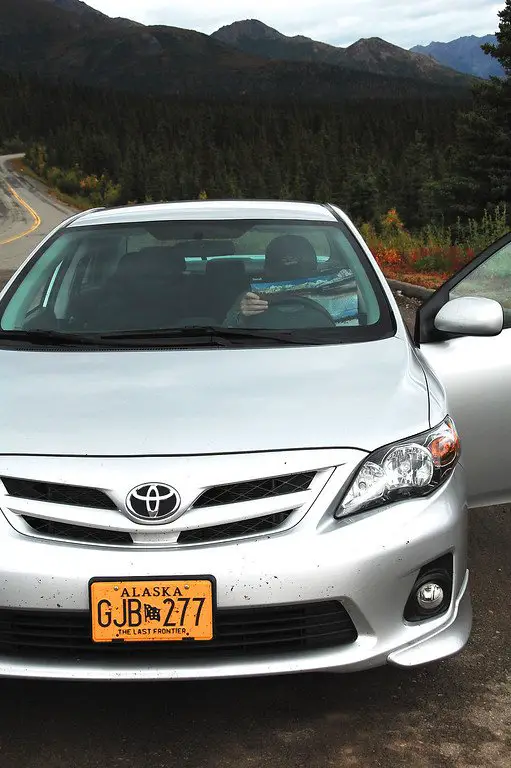 Although I'm still grateful for this mini-adventure the van driver has sent us on, we learn the valuable lesson that Alaska weather isn't always as easy to forecast as looking at the sky.
During our drive "north," each time I blink or even think about something else for a second or two, the weather seems to switch from the sun to rain and back again.
You may also like: Casablanca Wine Valley, Chile
When we arrive in Talkeetna it is drizzling.
We stop at a local grocery store for sandwiches and the lady working behind the counter walks with us out to the parking lot. She points to a thick layer of clouds, and says, "if the mountain were out, you would be able to see it right there."
Denali, formerly known to us as Mt. McKinley, is obscured while directly above us puffy low lying clouds look as if they might break apart at any minute.
In the past hour or so we have learned from our guidebook that Denali the park is huge – as in 6 million acres huge, and that Denali the park entrance is still 200  miles away.
Dave and I had discussed earlier how a day trip to Denali didn't seem feasible for this visit to Anchorage. Nine hours of driving – definitely too much, we decided –  whatever a decision looks like in these circumstances  – but I couldn't miss the glint in Dave's eye.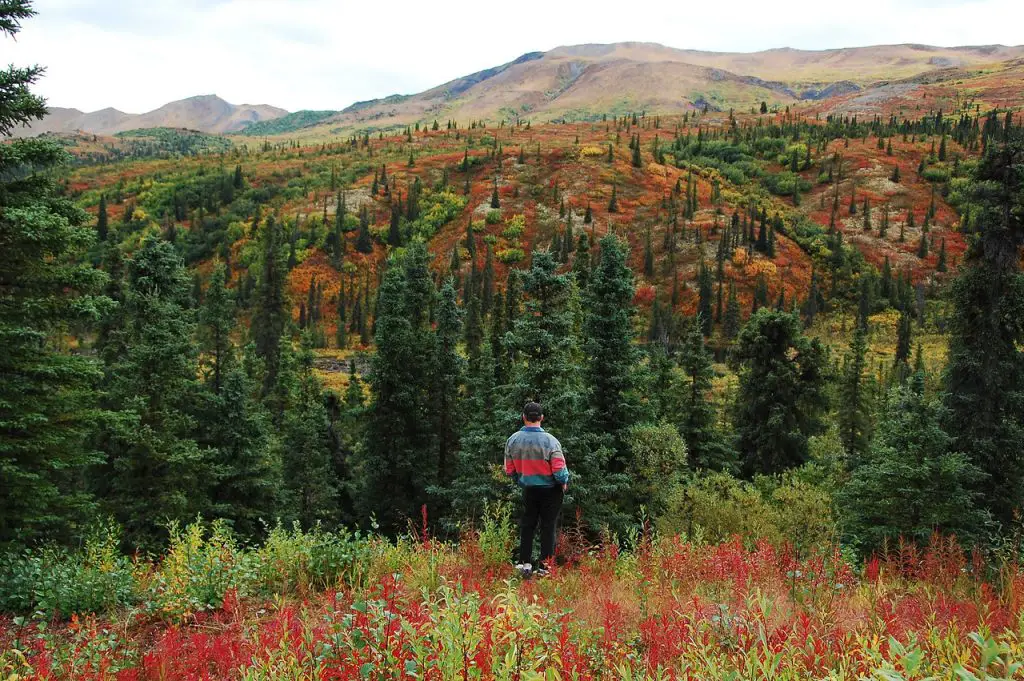 "You've come this far, you might as well go all the way," the lady from the grocery store says.
I think to myself that Alaskans indeed seem to have different ideas about time and space between two destinations – and that I like it.  (Also the reason why 10% of the population holds a pilot's license.)
One person's perfect day trip is another person's day from hell. For us, hitting the road fixes just about everything.
You may also like: A Road Trip Through Bosnia
Over 25 years of marriage has taught us to always move forward once we are committed to doing so, hopeful but not expecting much. The one thing I know for sure is that both low and high points in life, days, weeks or years always come at you better with a dose of cautious optimism.
Once we decide to go all the way to Denali, the park with rangers and the one we'd heard so much about, we let this part of our visit to Alaska unfold as it will.
Besides, what else were we going to do?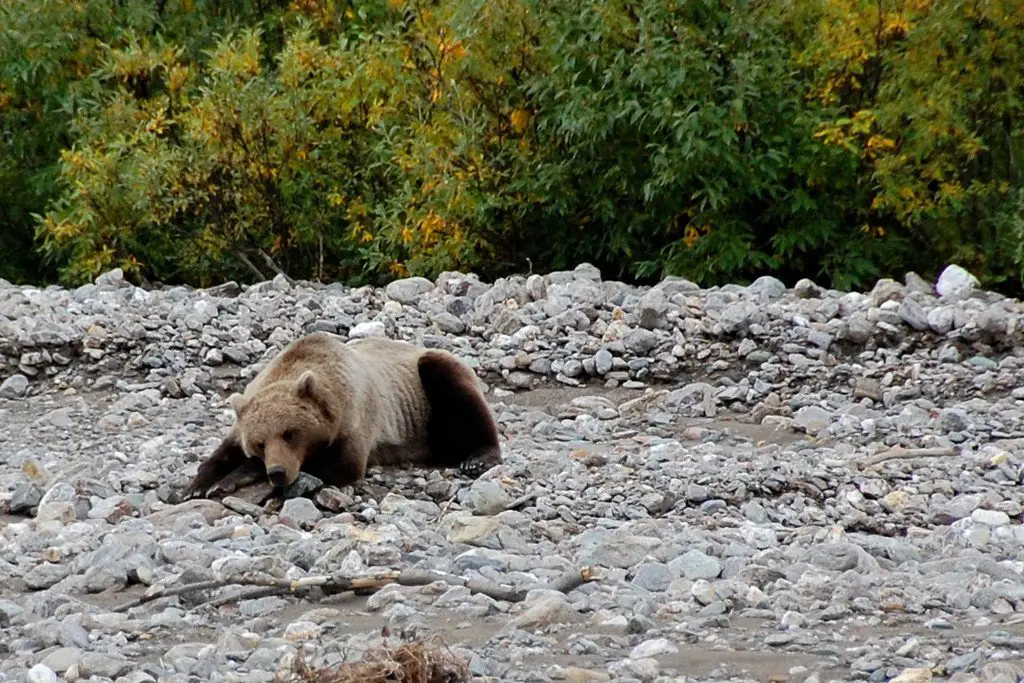 No – the weather wasn't crystal clear perfect on what became our Denali day trip.
No – we never did get much of a look at Denali the mountain (it can stay hidden for weeks at a time apparently.) But we are surprised given there wasn't any fall color yet in Anchorage that we were there during what the park ranger tells us is peak week for fall color in Denali. We saw a moose and two bears – dumb luck according to people we have told.
Dave and I love planes, trains and day trips planned by more sane people; we also love staying in one place.
But sometimes, even though we wouldn't change one of them,  our life choices sometimes begin to feel uncomfortably restrictive. This is not a lament, but I think this past week in Anchorage, we needed to drive.
Whenever we do rent a car and hit the road, we always seem to find something we only think we may have lost.
Only you can decide if this is a day trip you would like to take, or if you would prefer to take a day or two staying in closer proximity to Denali instead. Or maybe another one of Anchorage's other day trips by boat, train, plane or car would suit.
I'm curious though – what is your ideal kind of day trip? Also, have you been to Alaska? What did you think?
I look forward to sharing more about Anchorage and Alaska soon! Happy travels!
Huge thank you to the Hilton Garden Inn Anchorage for putting us up and getting us to Alaska as part of their blogger campaign, #HGIAdventure. What a great place to rest your head after a long drive!  No – I would not rather be camping! 
Pin for Later