When heading anywhere in the majestic Southeast of Asia, you should be prepared for incredible views and delicious food. Culture is rich and varied there. Your senses become hyperaware there too.
And heading to the Philippines, located in the Western Pacific, conforms to all of the above.
7,000 islands make up the Philippines, each one providing something unique for travellers. From Boracay to Mactan to Manila, this stunning country has a world of offers out there.
That's why we've complied this list of the best destinations to visit in the Philippines. Now all you have to do is read and decide where to next!
Before you travel to the Philippines it is always a good idea to check out the UK FCO travel advice website.
1. Visit Manila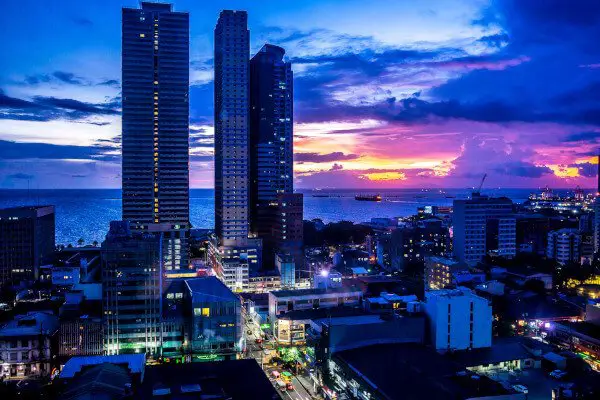 When heading to the Philippines, it would be rude not to visit its capital, Manila. As a city, Manila is vibrant and thoroughly varied. There's so much to soak up there, from its Spanish-influenced colonial architecture to contemporary skyscrapers.
The city is located on the bay of the island of Luzon, which has faced some serious challenges over the years.
Manila has been struck by earthquakes, typhoons, tropical storms, cyclones and depressions, yet still manages to thrive like any other major city. Perhaps there is a particular charm of Manila because of all it has been through. This undoubtedly makes it a place unlike any other.
Manila is certainly one of the best destinations to visit in the Philippines. While there, you can visit Fort Santiago – a deserted and beautiful old fort with bright green shrubbery and grasslands to explore.
There's also San Augustin Church – a must-see for any traveller, religious or not. The Church itself is pretty old, and pretty strong too. It is the only building in Intramuros to have survived the Second World War and was built between 1587 and 1606. San Augustin truly has a wow-factor about it.
You may also like: 15 Things To Do In The Visayas, Philippines
2. Travel to Boracay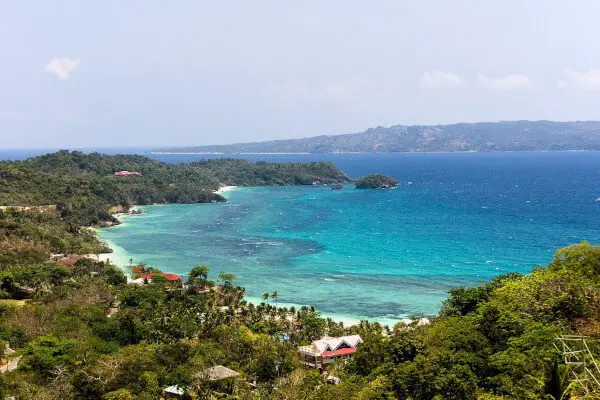 It's important to explore all of the Philippines when travelling there. That's why we've included the central island of Boracay on our list of the best destinations to travel to in the Philippines. Boracay is known for its luxurious and dreamy white sand and bright turquoise waters. And rightfully so – it is heaven there.
There are a lot of good deals everywhere in the Philippines, and in Boracay in particular, with quality hotels if you're after a relaxing time away. This island is also known for its thriving water sport culture. From jet skiing to parasailing to kite surfing, there's something for everyone on the beaches of Boracay. You can even go scuba diving (or snorkelling if you're not as brave)!
3. Bohol is a must-see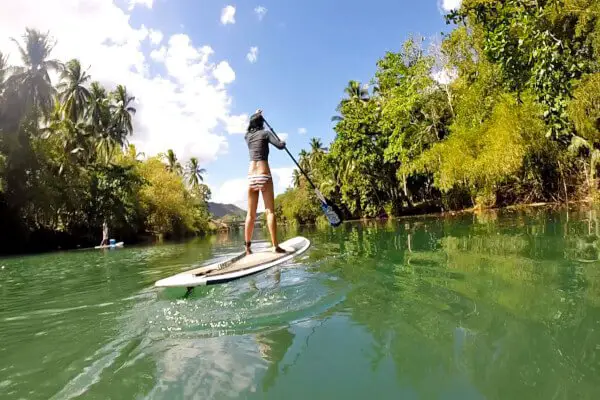 The province of Bohol, comprised of Bohol Island and several other smaller ones, is a must-see. From the picturesque beaches to the mighty jungle to the Chocolate Hills, this island stands out in particular among all the others.
It is possible that Bohol is the best destination to travel to in the Philippines because of its sheer diversity. Its Chocolate Hills, which are basically around 1,200 mounds which turn a special coca colour in the dry season, make for the best stories and photographs. It's not often the colour brown is appreciated, but it is in the Philippines!
Then there's the coral reefs, which Bohol is known for across the country. You can see clownfish (say 'hello' to Nemo!), starfish and a whole lot of sea life under the gentle ocean and you'll be all the richer for it. This, when added alongside exploring the dense jungle, makes for one of the best travel trips ever. We are sure of it.
You may also like: Memories Of The Beaches Of The Philippines
4. Lie on Camiguin's delightful beaches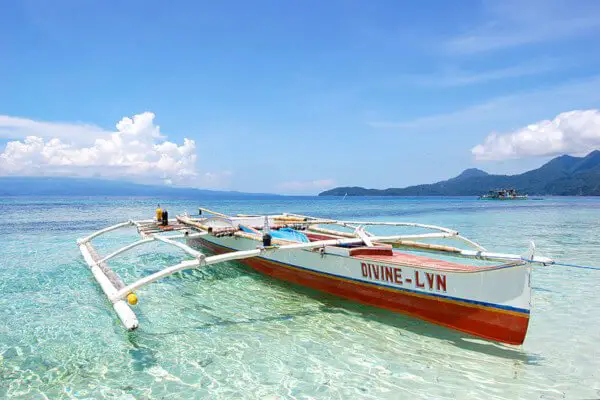 We may have slightly misled you by saying Camiguin's main feature is its beaches. Although truly stunning and certainly Instagram worthy, they are not its only selling point. In fact, this island is home to the most volcanoes on any island in the whole world. Mount Uhay, Mount Vulcan and Mount Mambajao (to name but a few) provide a sharp contrast to the crystal clear waters. And again, this is not all Camiguin has to offer.
This tranquil island is a hub of natural wonders. If Mother Nature had a hotel, it would be Camiguin. Get soaked in one of the waterfalls on the island, heat up in the natural hot springs and cool down in the cold ones before visiting the centuries-old churches adorning Camiguin.
In case you haven't noticed already, we simply can't recommend Camiguin any more. It is one of the best destinations to travel to in the Philippines, of course, but also on the whole planet.
You may also like: Top Places To Visit In Phnom Penh
5. And for that Philippines picture, head to Coron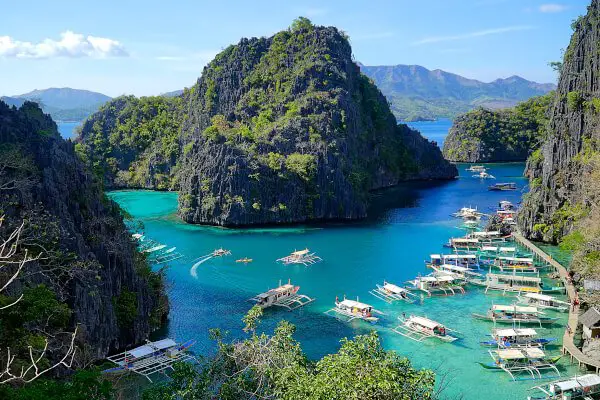 The Philippines is very well known for its picture-perfect scenery. The plentiful limestone cliffs trawling with green in the middle of aquamarine water will make you really feel like you're in the Philippines. The island of Coron, Palawan, is pretty off the beaten track, making for the perfect getaway from bustling cities and civilisation.
And if you're a fan of legends of the past, there's a whole lot to discover beneath the surface in Coron. In fact, there are a large number of wreckages underwater for travellers to discover alongside eccentric-coloured corals. There is nothing to hate and everything to love about Coron. We love how remote and peaceful and majestic it truly is.