Dinner reservations rule in Napa Valley. You best well get them, or you may well starve, is the message I got from everyone from my mother to my chiropractor. Of course, much of this is hype, especially in January, but with a last minute trip last week to the Napa Valley, I knew that scoring a dinner reservation at The French Laundry, Thomas Keller's gastronomical pilgrimage in Yountville, would be difficult. Perhaps we'd luck into a last minute cancellation. Or maybe it just wasn't meant to be.
But out of a need to try, I did as I  do in these situations and went to the restaurant's Twitter feed. Even non-Twitter users can do this when researching a destination – there is no faster way to get current information that may come in handy. In this case, it immediately became apparent The French Laundry was closed for renovations.
Writing it off mentally as a good thing for our waistlines and pocketbook, I consoled myself with this Food and Wine article. If you can't make a reservation at Keller's most famous Napa Valley restaurant, at least go to one of his favorites (along with his less pilgrimage-worthy, yet amazing Bouchon, also in Yountville.)
Then I saw this Tweet:
For a limited time! @adlib_royaloak #AGoodDinner #PopUp pic.twitter.com/V7afcNLrmO

— The French Laundry (@_TFL_) January 12, 2015
A Thomas Keller pop-up restaurant? Called Ad Lib? Created (or 'popped-up'?) by TKRG in effort to retain current employees and keep relationships with their established purveyors, I figured what could be more perfect for a last minute trip that we were ad-libbing ourselves. I immediately went to their website and clicked over to Open Table. I shocked myself when I made a reservation for the last evening of our trip. By that afternoon when I spotted articles in the San Francisco Register and the LA Times about Ad Lib, I felt downright fancy and smug. Ad Lib may not have been The French Laundry, but we would arrive in town with a covetable reservation.
So how was Ad Lib? In a word  – fun. You know the part in The Sting where they set up the long-con, renting an empty basement and assembling a mob? With a din that borders on a roar emanating from the otherwise subdued and traditional Silverado, the Royal Oak dining room clearly is where the fun people go. That the walls have been painted a deep blackish brown and the lights are dim, can't really hide the fact that many club sandwiches have likely been consumed during daylight hours in this spot overlooking the Silverado's putting green. The vibe's got swagger, and despite the large number of waitstaff wearing well-cut suits, feels slightly unbuttoned. Ad Lib, indeed.
According to Keller, Ad Lib features a "simple concept of traditional, straightforward food." Nothing nestled on beds, sous-vided,or scattered about smartly here. Caesar salads and beef tartare are prepared table-side, lending to the country club dining sensibility. The menu features classic items such as salmon filet, rib-eye, and lamb chops.
Dave said the chopped salad was the best salad he'd ever had (if you're listening toThomas Keller chefs – I look forward to his efforts at trying to recreate it, if you can spare any clues. ) For an appetizer, I had a "Carolina Creek" shrimp cocktail. As a child, this was my appetizer of choice when dining out with my grandparents, whose idea of fine dining was indeed the country club. Being a South Carolina, shrimp-loving resident, I wondered at the size of them  – I didn't know shrimp could get that big (3" or so) in the creeks! I asked our waiter, Juan about it; he double checked and assured me they were indeed from a Carolina creek.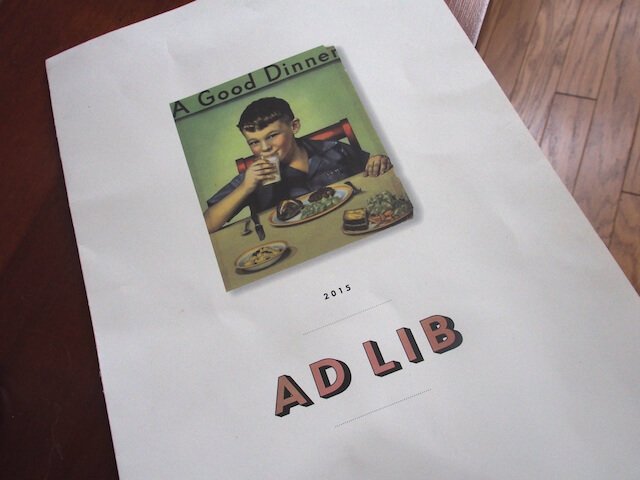 For our main courses, Dave had the Chicken Schnitzel and I had the Lamb Chops with minted apple jelly. Both were good to excellent; nothing to get outrageously excited over, but were as expected from a TKRG restaurant that makes the simple promise to provide "a good dinner." The shrimp along with the amazing Parker House rolls from TKRG's Bouchon Bakery enabled my personal stroll down taste bud memory lane. Although we did manage a few bites of ice cream, I'm still smacking myself for not being hungry enough to try the coconut cake for dessert. For me, watching the Thomas Keller machine at work was part of the 'fun.'
I've heard that Thomas Keller himself can often be seen in and around his dining rooms, greeting regular customers or as he was the week before, preparing a table-side Caesar salad at the Ad Lib opening. We had no such luck, but it turns out Keller and The French Laundry chefs were busy in Lyon, France, winning the silver medal in the Bocuse d'Or. The Bocuse d'Or, held every other year, is often referred to as the "culinary Olympics." This marks the first time that an American team has ever placed this highly.
The good times continue to roll around The French Laundry. They found their wine. For those of you who didn't know it was missing, 76 bottles of wine valued at $300,000 were stolen from their cellar on Christmas Day. Seventy-two of the bottles were recovered in North Carolina, but there have yet to be any arrests. I swear it wasn't me. I actually think this may end up being an interesting story to follow.
Some speculate that TKRG will decide to make Ad Lib a more permanent venture. If they can maintain the service, vibe, and ability to provide "a good dinner," I can't imagine it's anything but a great idea. It certainly would add to the old school appeal of the Silverado. In the meantime, a planned-in-advance return trip to Yountville with reservations at The French Laundry will have to sit atop on my wish list a little longer.
Visit Aspen On A Budget | Colorado Travel Tips
Dream Water: Peace on Earth in a Bottle
Dutch Village Day Trip and a Picnic
Sightseeing in Anchorage Turns into a Day Trip to Denali
Pin For Later