Sometimes a girl just has to getaway.
Our girls' trip to the Napa Valley is an escape from all our daily duties and responsibilities and an opportunity to partake in a few of the things we ladies like best.
At least once a year my friends and I take a long girls weekend in Napa and indulge some in wining, dining, relaxing, and pampering.  Sometimes the weekend resembles a teenage slumber party, and at other times it can feel like life of the rich and famous. These escapes are always about reconnecting with each other and having fun.
You may also like: Wineries In The Napa Valley
Since we live nearby, we drove to the Napa Valley.
Music, some sort of themed soundtrack one of us has made, joined us on our ride and during the entire weekend. A champagne toast and appetizers on Domaine Carneros's terrace was our way of saying goodbye to responsibilities and hello to fun.
We timed this mid-October trip well. The leaves on the vines and some of the trees had turned various shades of yellow, with dots of orange and red sprinkled into the scene. The grape harvest had started and scents of wines being born filled the air.
The terrace at Domaine Carneros Winery was a perfect spot for watching the sunset on the vine-filled hills and beginning our holiday.  A hearty dinner at Farm, across the road from Domaine Carneros, was our next step before turning into our cozy cottage at the Silverado Resort and Spa. (Learn about Thomas Keller pop-up restaurant, Ad Lib at Silverado.)
You may also like: Ad Lib Your Way To The Napa Valley
We spent the next morning lounging around the pool, just steps from our back door, and watching hot air balloons float past us in the sky.
Our hired designated driver arrived, and we headed out for plenty of wining and dining. Some of our winery choices were based on specific wines we like or a cooking/food pairing class. Other winery visits weren't so straightforward.
There were a few that simply had enchanting estates, one had a tram that whisked us up to a hilltop tasting room, one was an Italian castle, a few had lush picnic areas, and one had a great gift shop.  We had packed picnic goodies and took a few food breaks between sips to help keep the wine from going completely to our heads.
We also had a wine and appetizer break at the Auberge du Soleil bar.  The terrace bar has a gorgeous sweeping view of the Napa Valley and gave us an opportunity to sit, relax and chat.
Our driver took us home along the Silverado Trail.
Not as popular as Highway 29, but the Silverado Trail is quintessential wine country with rolling hills, long rows of grapevines that stretch out along both sides of the road and curve over the hills.
Barnyards nestled among vines, tractors parked on roadsides, and overall-clad men working with crates of picked grapes at their sides were all part of the view during our ride.
The long day of wine tasting wore us out. We ate up the leftovers from our picnic bag at the inn. Board games, fashion magazines, music, gossip and giggling in our comfy cottage filled up the rest of our evening.
Sunday was a day for pampering and relaxation. A spa day and time for massages, scrubs, facials, manicures, and pedicures.
Silverado has a package to fit everyone's tastes. After our individual spa treatments, we met back up at the pool. Feeling pampered and thoroughly refreshed, we basked in the warm sun.
We dined at the local favorite, French-inspired Angele along Napa's riverfront. Sucking up oysters on the patio dining area, we relived the weekend and laughed at the great time we had had.
After dinner, we waved goodbye to the Napa Valley and headed home. Sad to leave, but with great memories of our time together, we were already planning for our next girls' getaway.
You may also like: Visit The Napa Valley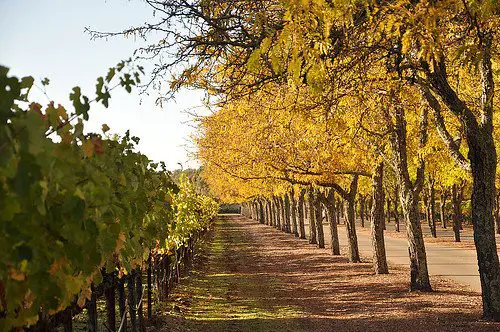 Wineries we visited:
Domaine Carneros – Terrific terrace for sipping champagne and enjoying the views
Grgich Hills Estate – Favorite for Chardonnay wines
Robert Mondavi Winery – Beautiful estate and excellent food and wine tastings/classes
Rubicon Estate – Fabulous estate surrounded by vineyards
Sterling Vineyards – Trams whisk you to the hilltop museum and tasting room
Stags Leap Winery – Relaxing "porch tasting" overlooking the vines (book in advance)
St. Supery Vineyards – Favorite for its reds (Cabernet Sauvignon and "Bordeaux" blends)
Castello di Amorosa – Sip wines in an Italian castle without leaving the U.S.
Clos du Val – Picnic area (must buy wines and/or tasting to picnic on grounds)
V. Sattui Winery – Picnic area (picnic fare must be purchased at winery – no outside food allowed)
Where we ate:
Farm – Elegant wine country fare from surround farms and ranches
Auberge du Soleil – The restaurant has a Michelin star (and equivalent prices), but the bar is a little more affordable with the same outstanding views
Angele Restaurant Bar – A favorite among locals, French cuisine with a bit of Wine Country flavor
For picnic supplies:
Safeway – 3375 Jefferson Street, Napa – (707) 225-3037
Trader Joes – 3654 Bel Aire Plaza, Napa – (707) 256-0806
Genova's Delicatessen – 1550 Trancas Street, Napa – (707) 253-8686
Oakville Grocery – 7856 St. Helena Hwy (Highway 29), Oakville – (707) 944-8802
* All photos by Kathy Ayer © All rights reserved
Pin for Later