When visiting Napa Wineries, Yountville's Maison Fleurie offers Provencal touches.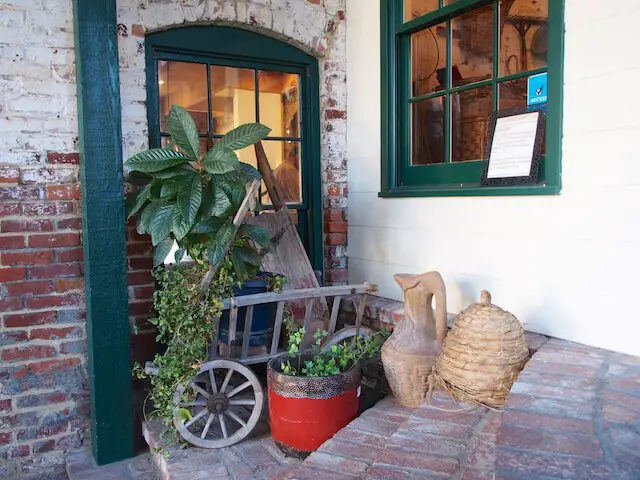 When I was looking for a place to stay near the Napa wineries around Yountville, located in the central Napa Valley, I didn't think I'd be able to find something within our budget. I assumed the small town's accommodation options consisted solely of high end resorts such as the lauded and pricey, Bardessono. I thought we'd end up in Napa. But I checked in Yountville anyway.
So when I stumbled on Maison Fleurie, a Four Sisters Inn, located right in the middle of Yountville (and coincidentally, directly across the street from Bardessono), it felt meant to be. Constructed from local stone in 1873, Maison Fleurie ("flowering house"), offers the "service of a boutique hotel and the architecture of a bed and breakfast." By all accounts we would think we had been plopped down somewhere in the middle of Provence. My idea of perfect.
Since I wanted to save our dollars for wining and dining, I reluctantly opted for one of the smallest rooms at the 13-room inn. Everything from their own promotional materials to reviews on Trip Advisor made it clear that these smaller rooms were indeed small – not Napa Valley "small", but more like New York City or London "small." Then I forgot about it until we got there.
The intimate gathering room (that's Dave, talking with his hands)
When we checked in and were shown our room and saw for ourselves what "small" meant, it was a no-brainer: We upgraded. We were seduced completely by the charming and huge king room they showed us next, located in the inn's Bakery building. To top it off, our new room with its fancy bathtub, fireplace, and patio was still under our $300 a night budget.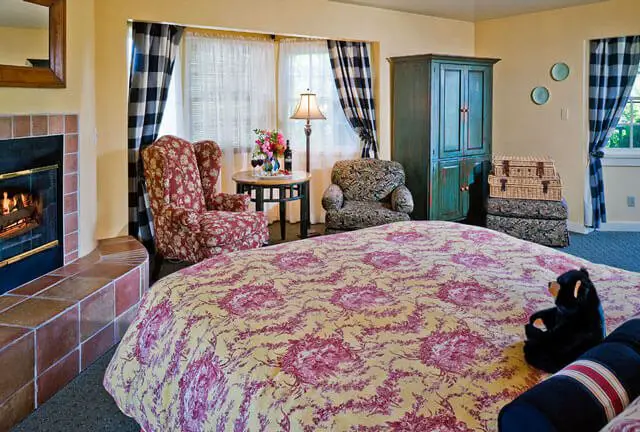 Our bigger room in the Bakery Building
Be sure to eat and drink
An ample breakfast featuring a special entree each day is served buffet style in the atmospheric dining room. Wine and cheese are available in the afternoons in this same spot, offering a nice opportunity to mingle with other guests. Yountville, known as the gastronomic heart of this wine soaked region, abounds in culinary and dining opportunities, including several Michelin starred restaurants.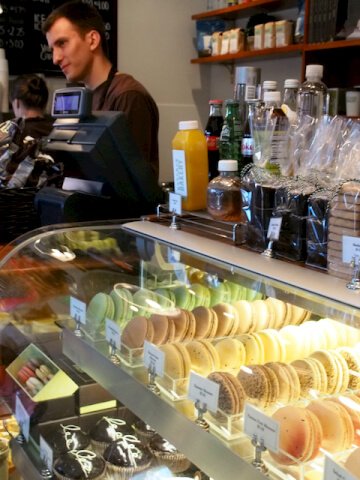 Stopping in Bouchon Bakery for macarons added to the French style appeal
The French Laundry and Redd are both nearby and Bouchon and Bouchon Bakery are located directly behind the inn. We enjoyed peeking over our balcony railing to see the Bouchon staff gathering for pre-dinner hour meetings and being able to pop in to the bakery for midday macarons.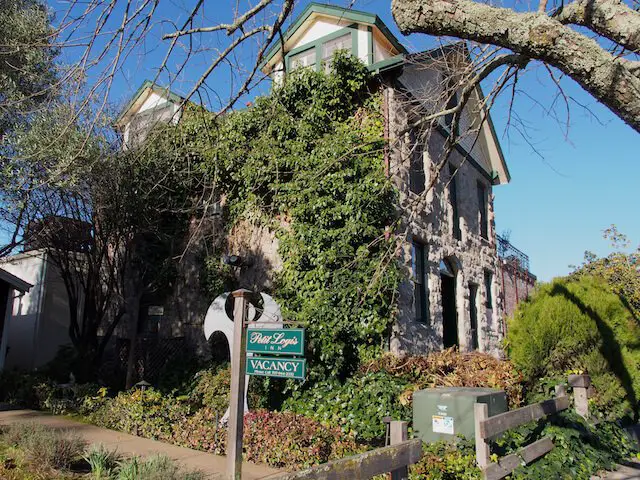 What kind of travelers should consider Maison Fleurie?
Although nothing ]about the Napa Valley is inexpensive, Maison Fleurie offers a touch of luxury, friendly service, and much value.  There is visible damage from the earthquake in August 2014, but the property is well-maintained and clean. Even though our amenity laden room with its king bed, fireplace, robes, and jetted tub was plenty comfortable, it lacked certain amenities one would expect if Maison Fleurie were a true luxury accommodation.
While the sheets were on the scratchy side and turn down service was only available by request, the fussiness that can be part of the luxury hotel experience was lacking. While Maison Fleurie's old world atmosphere definitely skews romantic, it definitely wasn't too precious. No doilies or teddy bears in sight! Several couples we met had spent their honeymoon at the inn and were on a return trip to celebrate an anniversary.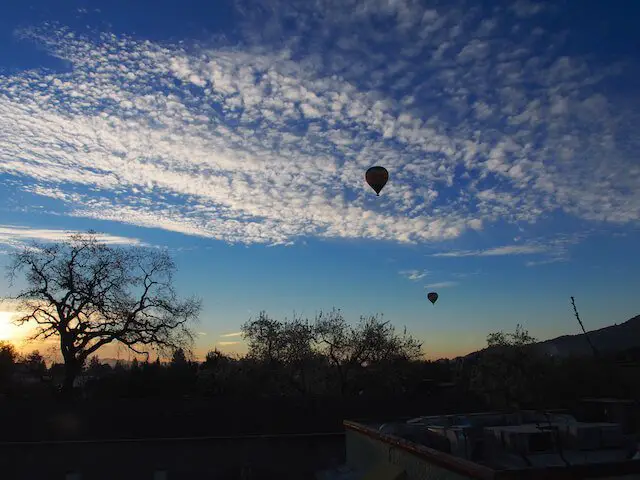 Hot air balloons as seen from our balcony
Rooms/Prices/Amenities
Maison Fleurie has 13 rooms, some with fireplaces. Depending on room and season, prices run $170 – $395 with full signature breakfast included. Afternoon wine and cheese and freshly baked cookies and coffee, tea, hot chocolate are available throughout the day. Wireless internet (which in our Bakery Building room was excellent– maybe less so within the old stone walls of main building.) On-site pool and hot-tub. Bicycles are available to borrow. When we returned to the hotel one evening the small parking lot was almost full, but we noticed there was also parking on the street. Unless you are traveling alone, I would highly recommend not opting for the smallest room option.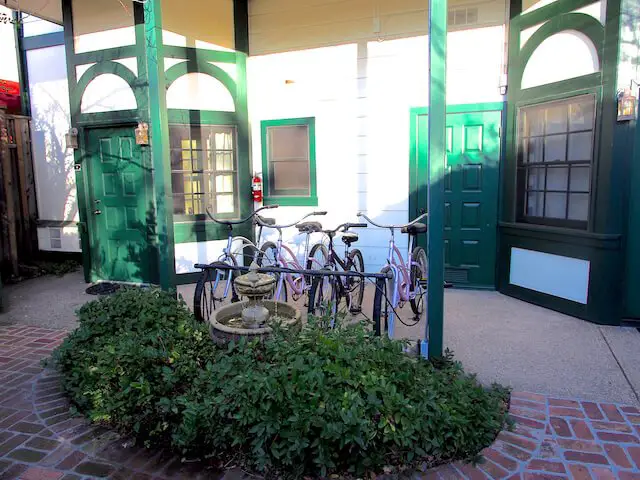 Getting there:
The entire Napa Valley is 29 miles long and the city of Napa is its entry point when coming from San Francisco. Yountville is less than 10 miles from the city of Napa. We found January to be an outstanding time to visit the Napa wineries, which in recent years has become known almost as well for its traffic jams as it is for its wine.