Tour San Francisco in a 1971 VW Bus named Harvey
Going on a city tour first thing in a new place is a great idea, but when time is short, sometimes I would rather not! If you don't either and find yourself in San Francisco, I've got the perfect solution. His name is Harvey.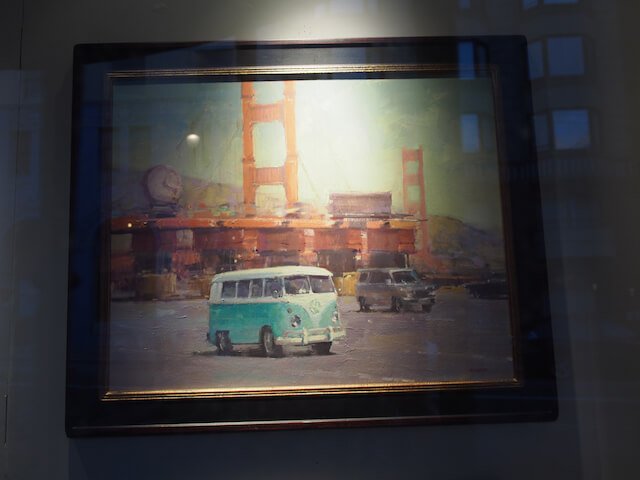 Harvey is a 1971 VW Bus, the Transporter Deluxe model, with the hard-to-find middle bench seat. This means that Vantigo and Harvey's owner, Erik, can take along seven people instead of six, for our San Francisco 7×7 city tour. The "7×7" stands for the fact that San Francisco is seven miles long by seven miles wide.
Harvey is named for San Francisco progressive, Harvey Milk. He's Niagara Blue and White Albaster, according to his bio on the Vantigo website. Vantigo offers tours via Harvey and his sister, the fire engine red, "Lillie," whose namesake is "the Famous Belle of San Francisco, Lillie Hitchcock Coit."
Still on East Coast time we were raring to go on our 8:15am tour. We spotted Harvey with his super cool looks easily among the tour buses in Union Square. Erik, a longtime resident of San Francisco with great enthusiasm for the city he knows so well, jumped out of Harvey to greet us.
Harvey shows off early in our tour. "This is where I get free marketing every morning," Erik says as we approach Mama's, a breakfast hot spot on Washington Square in the North Beach Italian District. He slows down, toots Harvey's horn and waves to the people lined up around the block. Most wave back enthusiastically, a few quick enough on their phones at 8:30am on a Sunday morning to snap a picture of us.
I say "us," but I know it's Harvey, in his baby blue tuxedo, who reigns as prom king. Harvey received random adoration throughout the tour, particularly in Haight Ashbury, where as if on cue the district's pseudo-hippies, gave us  – I mean Harvey  – the peace sign.
Erik played a mix of songs throughout our tour ensuring that we leave San Francisco with a mental soundtrack. Janis Joplin wailed  in Haight Ashbury and Otis Redding crooned as we admired the Golden Gate Bridge and looked beyond towards Sausalito. Thankfully the Full House theme song jangled our nerves only briefly past Alamo Square.
The intimate 4-hour tour with the handsome Harvey and the low-key and informed, Erik, left us well prepared to explore San Francisco's sites in more detail over the next few days. And if we're ever in town again, we would definitely go on one of Vantigo's other tours. Besides the 7×7 city tour, Vantigo offers a City Lights Tour, a Brewery Tour, A Sonoma Wine Tour, and a mysterious, but enticing sounding "Oysters, Mead, and Cheese Tour."