On the outskirts of Paris, a place for expos and exploration
I'll admit I didn't want to live at Porte de Versailles when I first stumbled upon the listing for what would later become my home, at the far end of Paris' 15th arrondissement.
I was a little bit scared by the "Porte de" in the title, a prefix that, in my limited experience thus far in my adopted city, meant a neighborhood that bordered the banlieue and was therefore not the sort of place that one wanted to wander alone at night.
I was, however, pleasantly surprised when I visited the Haussmanien suburban apartment that I ended up renting for several months, in a neighborhood that bordered, not one of the areas to the North of Paris that became famous for car-burnings in the early 2000s, but some of the more affluent areas South of the city, including Versailles and its famed château.
When my French boyfriend and I decided to move in together nearly a year ago, I was quite pleased when we found an apartment just up the block so that I could remain in my little corner of the 15th, an off the beaten path part of Paris, characterized by families and small businesses, and infrequently visited by tourists, save during the professional salons at the Parc des Expositions.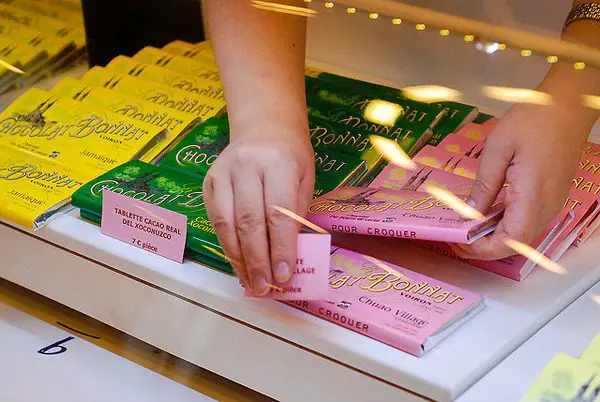 Salon du Chocolat – October
It's strange the way things that occur right under your nose tend to go unnoticed. I lived next to the Parc des Expositions for three months before I realized what it was for, and it was only thanks to a friend that on Halloween – a holiday that is generally ignored by my adopted countrymen – we bought €12 tickets to a chocolate extravaganza.
The true purpose of the Parc des Expositions – or Parc des Expos, as it's called in France, a country that likes slang even more than America – is to host professional salons, so that those in the industry of motorcycles, deep-sea fishing, golf, real estate, hairstyling and more can come together in one place to discover the newest innovations in their chosen milieu. All salons, however, are open to the public for a nominal fee, which is how we found ourselves in a chocolate version of Disney Land.
The pavilions were set up with stands, each devoted to a different company. Some were international conglomerates, like Lindt; others were tiny chocolate-makers, unknown to us, like the company behind the Esperantine de Marseilles, which makes tiny chocolate shaped like an olive leaf, flavored with almonds, orange and olive oil – the flavors of the south of France.
Whether big or small, famous or unknown, what drew us to each of the stands as we perused the aisles was the chocolate; free samples were being offered at every turn, generally as an incentive to purchase, though few were pushy as we sampled a bit from each tray, listening as representatives told us about the particularities of this or that treat.
"No sugar," one woman said as we tasted a delicious sample of dark chocolate. "Perfect as a gift for a diabetic."
"We use olive oil as the fat," another told us. "It gives it a unique flavor, don't you agree?"
I do agree. I agree so much that, even though I'm not a huge chocolate fan, I bought a couple of things to bring home with me and mark the Salon du Chocolat on my calendar for next year.
Salon du Vin – November
The only downside to the Salon du Chocolat was attending on a weekend; naturally, that's the time when everyone is trying to get in, and one generally has the impression of being a sardine. Luckily, I had the opportunity to attend the Salon du Vin with my work, as an intern at a wine-tasting company, which meant that not only was I able to go during the work week, when there were fewer people (it was a work-related event!), but more vendors were willing to give me free samples of their wares.
The two other interns and I attended the Salon; our Americanness (more my fellow intern's than mine – she's better at smiling than I am) had vendors falling in love with us, and so not only were we provided with free samples of several different varieties of wine and Champagne, but we were also treated to an in-depth explanation of wine production from nearly every vendor, explaining the ways in which his products differed from others.
We didn't carry a box of wine out with us, but we did get free Salon du Vin wine glasses, as everyone who attends does. As an added plus, on our way out, we were treated to free, disposable breathalyzer tests. It's lucky I live just across the street.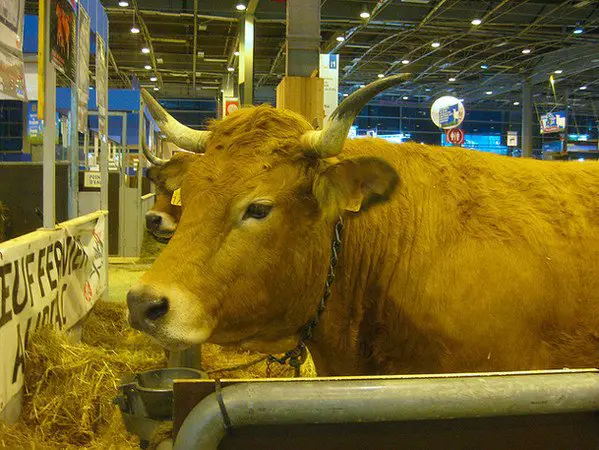 Salon de l'Agriculture – February
The Salon de l'Agriculture is one of the most famous in Paris; in the two years I've been living near Porte de Versailles, I've associated it mainly with traffic jams and tourists in my generally quiet neighborhood. I had no interest in going until a friend proposed that we spend an afternoon there, and as it was a weekday, I crossed my fingers that we wouldn't have to battle crowds and said yes.
I was pleasantly surprised to arrive, pay a €6 student entry fee, and have the whole of the Parc des Expos to wander. Because the Salon de l'Agriculture is so large, even when there are hundreds of people attending, you don't feel nearly as crowded as at its chocolate version.
As far as I knew, the greatest draw to the Salon de l'Agriculture was farm animals, which small Parisian children beg and plead their parents to take them to see. My boyfriend, who hails from a small town in France's Sologne, guffawed when I said I would be going and then proceeded to make fun of the idea of a city kid looking at baby animals for about an hour.
I proved him wrong.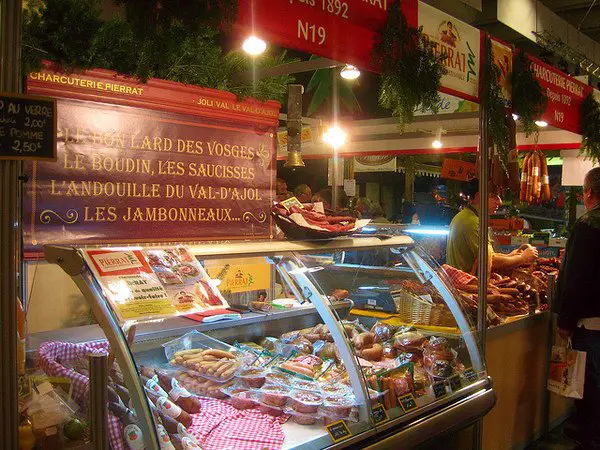 While the Salon de l'Agriculture is home to many, many animals for several days (including some that are born on the premises), it's also a haven for foodies, looking to gorge on regional specialties.
Free samples are the name of the game here, and my friend and I were, once again, treated to blatant flirtation and free food from well-meaning French gentlemen.
After too many samples to count and some very careful deliberation, we each selected the products we liked best from an endless array of cheeses, smoked meats, cookies, cakes, liqueurs, wines and chocolates, and, finally, made some purchases. Next year, I'll be going with a fuller wallet … and a suitcase.
*Salon du Chocolat photo by EverJean. Others by and property of the author. 
Pin for Later