The brewery scene has exploded in the city of Cleveland in recent years.  These days there are over 30 of them in the area, bringing residents and visitors to the city more options than ever with a vast variety of styles and tastes.  A lot of these breweries have chosen quite unique locations for their sites, with many of them restoring old empty warehouse-type spaces or even unused storefronts in historic neighborhoods.
What a lot of people don't realize is that breweries are not just for happy hour, and can actually be a great option for a fun and casual date night.  Many Cleveland breweries serve food and have delicious menu items, and they can actually be pretty nice establishments.  Today I am sharing the 5 best breweries in the Cleveland area for a romantic date night of enjoying good food with locally brewed beer.
Mind you, these are not necessarily the breweries that I think have the best beer in Cleveland.  However, these are the best places after factoring in whether they have a full menu and a unique location to enjoy.  Without further ado, these are the 5 best breweries in Cleveland that I would recommend for date night.
Be sure to also check out our Girls Weekend Guide to Cleveland.
The 5 Best Breweries to Visit in Cleveland for Date Night
Great Lakes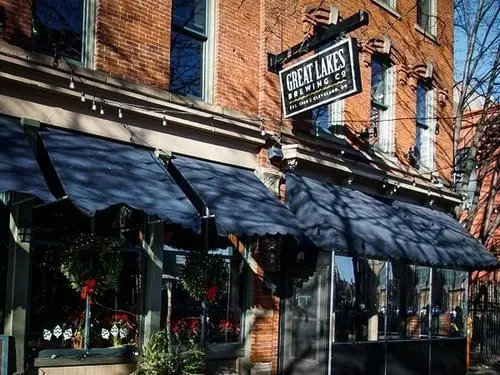 Since opening in the mid-'80s, Great Lakes has become an old Cleveland standby and is by far the most established brewery in the Cleveland area.  They are located in the vibrant Ohio City neighborhood that is known for its bars, quirky shops, and street art.  Their beers are distributed throughout the Midwest, making them quite recognizable to even those who do not live in the Cleveland area.
Great Lakes is the perfect casual date night option, with its rather nice brewpub featuring a full menu of tasty dishes that pair well with their beers.  This would include items such as mac & cheese or bratwurst & pierogi.  By the way, I don't recommend counting calories on a visit to their brewery.  Just kidding!  They have salad options as well for those trying to keep it on the healthier side.
For those who are curious about their history and production facility, you can tour the space across the street where their beer actually gets brewed while sampling a few of them.  The most popular beers at Great Lakes are the mainstream Dortmunder and Christmas Ale, which Clevelanders go wild for when it comes out.  Those favoring darker beers will enjoy blackout stout – especially the bourbon barreled version if you visit in the April timeframe.
Fat Head's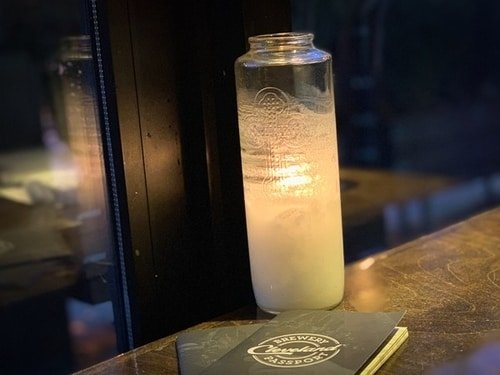 Fat Head's is another very successful brewery in Cleveland, and its popularity has only risen in recent years.  I first heard of them almost 10 years ago, shortly after they opened their medium-sized brewpub outside Cleveland in North Olmsted, Ohio.  They created their space in a building that was once a farmers' market before it became the popular brewpub it is today.
Fat Head's has grown so much, now being distributed even more widely than Great Lakes.  They've recently built a huge beer hall that gives them much-needed extra space for brewing.  However, today I'm recommending their North Olmsted establishment for date night.  The restaurant just has a bit more ambiance than the huge beer hall filled with community tables can offer.
Their North Olmsted brewpub is a spacious, yet cozy place filled with booths that are perfect for snuggling up on date night.  They have a very big menu featuring their famous "headwiches", or sandwiches the size of your head.  They even have a gem of a sandwich called the artery clogger.  You might want to save that one for after you've done some major cardio that day.
If you are skeptical, just wait until you try their wings.  Once you try these smoked beauties you'll be addicted for life.  They are certainly in my top five wings in the city of Cleveland.  They are large and meant to be shared, so why not share them with bae?
Fat Head's is known for many good beers, including Bumbleberry and Headhunter IPA.  My husband is partial to their Hop Juju, while I love the Spooky Tooth pumpkin ale that comes around in the fall.  You may just want to split a tasting paddle and try a bunch of them, as options change seasonally.
Market Garden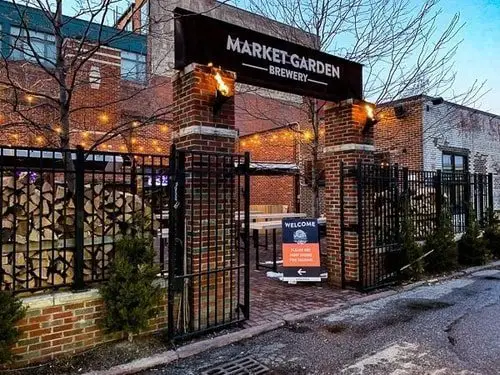 Of all the places I've mentioned, Market Garden is probably the nicest for date night.  The interior is very modern but has the ambiance of low light and candlelit tables.  They also have a lovely patio that would be a perfectly enjoyable spot to sip some brews in the middle of summer.
Their menu is sophisticated with less of the heavier fare than the previous two places had.  They certainly cater to foodies with selections such as their delicious confit chicken wings, which fall right off the bone and basically melt in your mouth.  These wings have even been featured on the Cooking Channel!  I also have to highly recommend the duck confit rigatoni, which is basically fancy comfort food.
Market Garden has also grown, as they recently opened up a very large production facility across the street behind the building.  For $6 a person you can tour this new space while also enjoying 4 beer samples.  For the perfect date night, pair this tour with a delicious dinner in the restaurant afterward, where you can sample even more beer if you so desire.
Nano Brew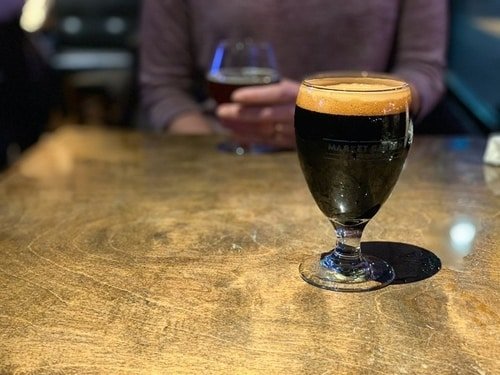 My husband and I actually recently rediscovered Nano after not stepping foot in the place for about 4 or 5 years.  It wasn't for any particular reason, but we were just too busy exploring elsewhere.  If you are not from Cleveland, you probably don't realize that this city has exploded with new places to try over the past 10 years.  It can be very difficult to keep up!
Anyhow, Nano Brew is a great place to enjoy a casual date night with your loved one.  It's a cool dark lit space with exposed brick walls throughout and has a huge patio to enjoy in summer.  One thing to note is that they are actually related to Market Garden, so you will see a lot of Market Garden brews here and maybe just one or two Nano Brew beers on tap.  Nano's production is just done on a smaller scale – hence the name "Nano".
Nano has a small menu with casual dishes such as mac n cheese bites and a selection of five different burgers.  Don't forget the crispy biscuit and ice cream for dessert, which features Mitchell's vanilla bean ice cream topped with caramel apples and little crispy biscuit pieces.  This is definitely the perfect place to come any time you're looking for a date night spot where you can relax and not take things too seriously.
For these Ohio City breweries, I recommend coming early evening (before 9 pm), as after that the bars on W. 25th tend to get rather crowded with folks going bar hopping and getting rowdy.  However, before that time, things are definitely much quieter, and you'll certainly be able to enjoy some conversation with some good brews.
Collision Bend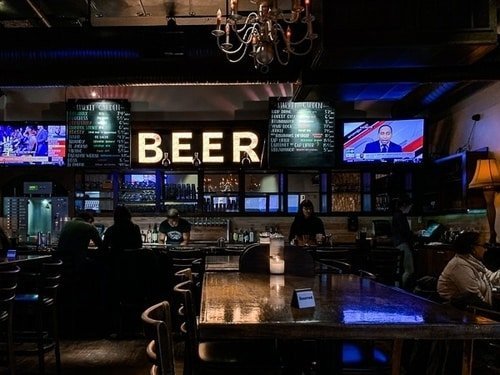 Collision Bend was a fantastic discovery last summer in the Flats.  Located right along the Cuyahoga River, Collision Bend has a great patio with water views, where you can chill with a drink and watch kayakers and boats go by.  In the day time, it makes for a relaxing afternoon, and at night it can make for a romantic place to spend the evening.
Collision Bend's menu is inspired by Chef Zack Bruell, who is responsible for some of Cleveland's most notable restaurants, such as Parallax and Chinato.  Although a brewery, they also feature some very refreshing mixed drinks that are best enjoyed on their patio.  They do not have my favorite beers, but I did still find one or two decent light ones that were great on a summer day.
I really think Collision shines the most as a brewery in summer, as its biggest selling point is its beautiful patio.  In winter, I can't imagine there would be much of a draw to go here for beer rather than some of the more established breweries.
* * *
Now you are all set with the perfect selection of 5 Cleveland breweries to visit for date night.  As you can see, they vary greatly in style and sophistication, with plenty to offer for all tastes.  While breweries are often thought of for a happy hour, many of them have a great deal of ambiance that can definitely be enjoyed for a romantic date night out in the city of Cleveland.
Which of these Cleveland breweries would you like to visit for a night out with your boo?