La ferme aux escargots near Perpignan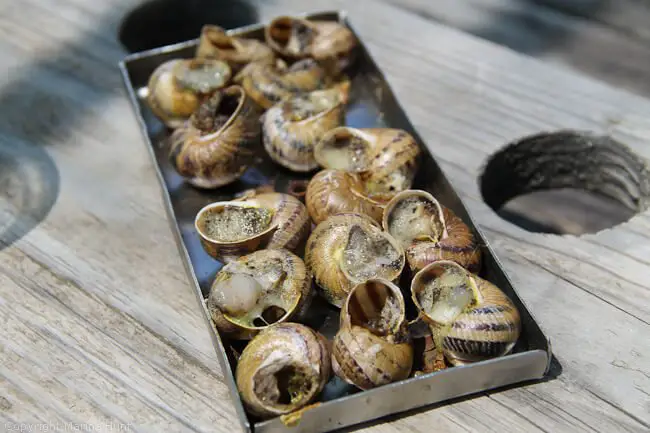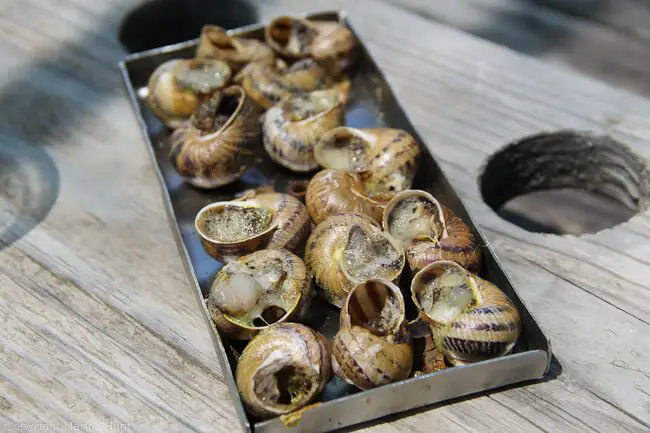 My first experience with escargots was, quite appropriately, in a Parisian bistro famous for their roast chicken called L'Ami Louis. In this particular establishment, a dozen giant escargots de Bourgogne arrive on a glass platter destined for this purpose, stuffed to the brim with a delectable parsley and garlic butter that my French boyfriend is convinced induces headaches upon consumption, not that it stops him, or even slows him down. While my siblings stared, agog, at the mollusks on their plate, fourteen-year-old me ate every one.
These were not the escargots I was going to meet as I ventured towards the Ferme aux Escargots in Estoher in the Pyrénées-Orientales, on yet another outing with the Paziols French Center.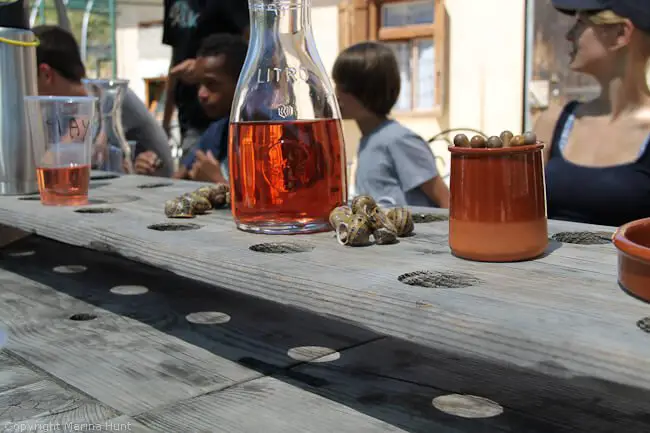 Upon our arrival, Nathalie greeted us and led us off the van to a long wooden table, complete with holes to hold glasses still, a precaution against the Tramontagne winds. Her young son propelled himself above us as we sat, moving via long and sinewy arms almost as wide as he was, which wasn't very much, via metal bars that held a tent in place. Our campers slowly found their seats; the younger girls had found kittens to play with, and our host waited patiently as my fellow counselors and I corralled the children into place.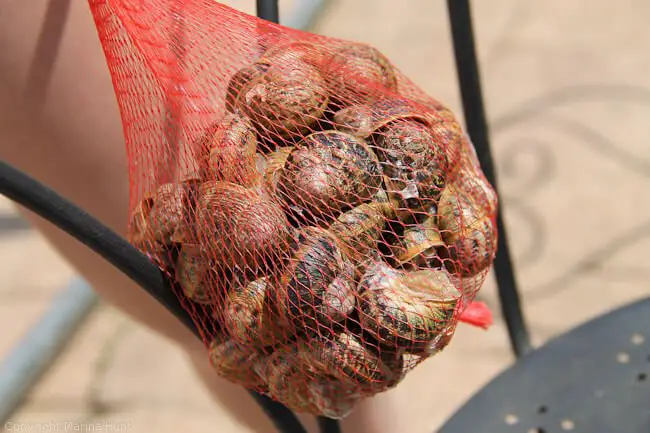 The small net bag she held contained, she told us, 100 small grey snails. Had I not tasted this version the year before, I never would have guessed that they were full grown enough for consumption, at nearly a third of the size of the Burgundy snails I had sampled in Paris. The children, however, were nowhere near this sort of speculation; I looked around the table and examined the variety of expressions, from interest to awe to disgust.
They weren't notified that these snails were intended for consumption, not yet. First, small ramekins of aioli were passed around, with warnings that none should yet be eaten… the time for that would come. Our new job became upholding this law, which, in the hands of 14 six-to-12-year-olds, was ripe for the breaking.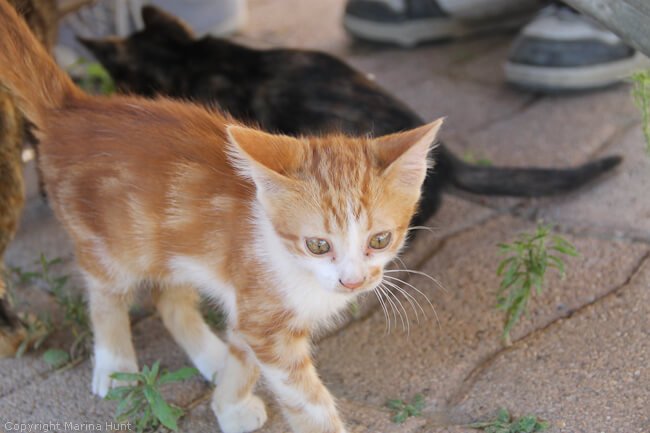 Slowly, the snails were handed out. The children examined them, played with them. They let them crawl on their arms and faces, squealing with disgust and delight. The snail-lady's son seemed simultaneously unphased and intrigued by the noise his familiar playthings had incited, as his mother drew out a hot plate and placed one of the tiny gray snails on top.
"Ecoutez," she said. Listen.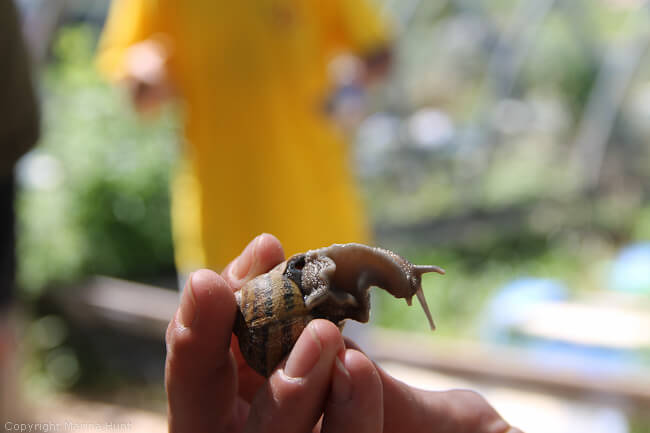 Miraculously, the group simmered down and waited. After a few seconds, a nearly unperceivable pop sounded from the hot plate.
"Voilà," she said. "His lung has popped. Now we can eat him."
I waited for the fallout, but whether it was because it was easier to hear in French than in English or whether they took a cue from the monkey-boy and his mother, the children were largely unaffected by the news. That is, until it was time to cook and eat their own snails.
We watched as many of them tasted; some enjoyed them; others screwed up their faces and spat them out. They chased the little snails with grenadine and water, mixed together to resemble rosé and drunk out of a traditional Catalan glass wine jug, with a spout that allowed the beverage to be poured directly into the mouths of each child without that oh-so-American fear of the spread of germs.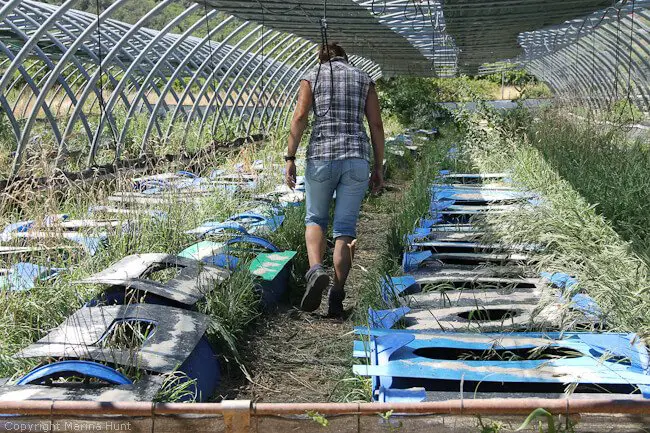 After lunch – supplemented by sandwiches brought from home – we took off on a scavenger hunt, organized by the farm owners. Upon our return, we took seats under a tent – it had begun to rain – and started on our lesson on the anatomy of the snail, seeing their natural habitat and examining the area where they were bagged for sale.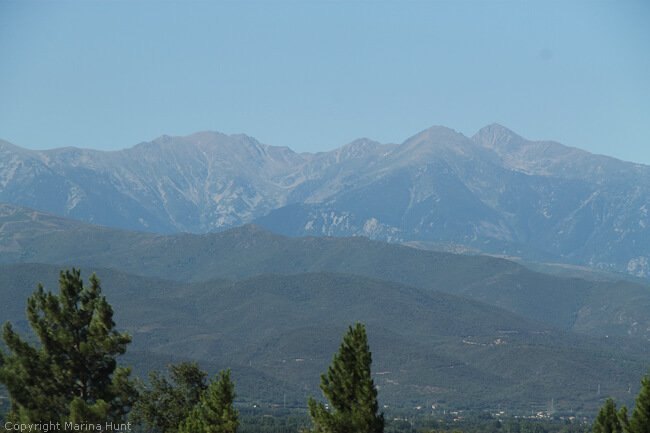 At the end of the day, we said our goodbyes – to the Escargot lady, to the kittens, to the little boy for whom all this was normal – and piled back into the vans, our palates a bit more adventurous and our minds full of knowledge about the petit gris snail.
La Ferme aux Escargots
Lous Pradéguets
66320 Estoher
France
All photos Marina Hunt ©