French roasted chicken and love of all things French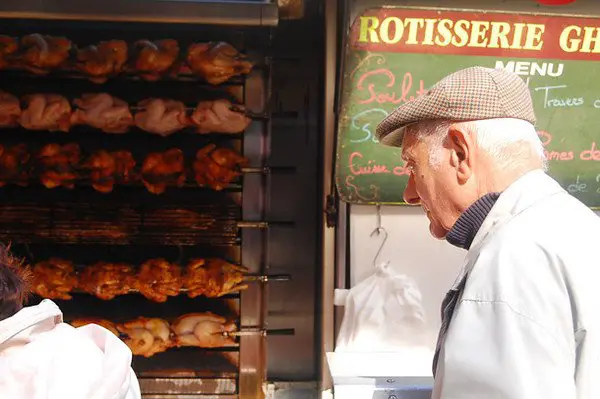 The first time I stepped foot on French soil was in celebration of my marriage. My husband and I chose Paris for our honeymoon because we had never been there. It was love at first sight for me and this beautiful city.
Talking travel and favorite destinations with friends always seem to lead to me proclaiming my undying love for Paris. Whenever I see a café on the street or even a croissant in the local supermarket, I cannot help but to think about my pet European capital: I adore it. The sentiment may not be particularly original, but there is a good reason why so many falls in love with the city of light. Paris has long been the true travel destination for those in search of history, beauty and above all else, French food.
We ate in a lot of great restaurants, and in truth, I miss them somewhat desperately. But alas, until I can return to my favorite city in the world, I am on a constant quest to cook and consume as much French food as possible. No, this is not a Julia Child project where I cook everything in her cookbook and blog about it, then a major movie is made and I become rich and famous. No, I simply want to recreate my own love of Paris and all things French in my own home.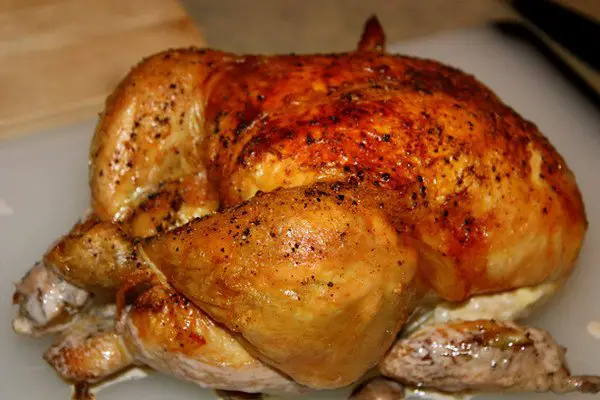 As much of a cliché as this is, I have recently started cooking and preparing recipes in Child's famous cookbook, Mastering The Art of French Cooking. Although Coq au Vin may be the more well known French style of cooking a whole chicken, my loyalties lie with Child's stunningly simply French roasted chicken. Anyone may be able to roast a chicken, but I have to say the French have it down to a science. Julia Child's chicken recipe is so delicious and flavorful it will make you and me both long to visit Paris for more!
Here's my own take on this French classic:
Cailin's Julia-Inspired French Roasted Chicken
Ingredients:
1 (3 1/2 to 4 pound) chicken
Salt and black pepper
Butter
Seasonally fresh vegetables good for roasting
1/2 teaspoon dried thyme
2 cups chicken broth
Directions:
Preheat oven to 425 degrees F. Wash the chicken in hot water and dry thoroughly. Season the cavity with salt and black pepper  Rub the chicken lightly with softened butter all over and season all over with salt and pepper. Tie the drumsticks ends together and set the chicken, breast side up, in an oiled v-shaped rack or on an oiled roasting pan in the oven.
Roast for 15  minutes at 425 degrees, remove chicken from oven. Reduce heat to 350 degrees. Baste with pan juices and return to 350-degree oven for 15 minutes. Remove from oven and add vegetables such as carrots, onions, and potatoes, and baste again. Roast the chicken until the juices run clear, around 45 minutes, plus 7 minutes per pound. Remove the chicken and carve. Reserve juices and prepare gravy by adding broth and dried thyme and reducing on stove top, stirring constantly. Serve with roasted seasonal vegetables.
Adapted from and Inspired by Mastering the Art of French Cooking with love.
For more great foodie posts from around the globe, head on over to Wanderfood Wednesday!
*First photo by Margo Millure ©, Second photo by Cailin Szczesiul ©
Pin for Later