Who doesn't want to find the best pizza when visiting Rome?
Visiting Rome serves as a long-searched-for open invitation to eat pizza every day: a practice usually only employed by American college age males.
This delicious dish has been enjoyed for over a millennium. There may be no better way to dive into the history and culture of pizza's birth country, than to take a bite out of what tourists have been traveling to taste for a thousand years.
What started out as an easy meal for poor fishermen in Naples was later cooked for the royal family, and exploded into one of Italy's most beloved gifts to the world. Pizza is now considered the most popular meal on a global scale.
So, when in the birth country of the pizza, what choice does one have but to consume it in all its fantastic varieties and simplistic splendor?
There are a few options when it comes to purchasing pizza in Italy: you can order a whole pizza at a restaurant, or you can grab a slice (or two) from an open air stand, or you can order it from a pizzeria al taglio; meaning you get a portion of a huge rectangle pizza and pay by weight. Each option is designed to fill your pizza craving accordingly.
I, of course, tried them all.
You may also like: Exploring The Slow Food Lifestyle In Italy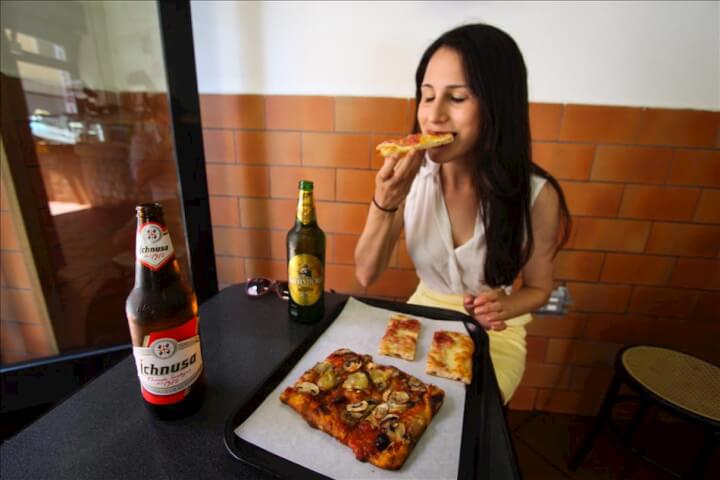 I gobbled pizza at countless restaurants, stands, and pizzerias, and it all was spectacular. I'll spare you all the gooey, cheesy details, but it was glorious. However, there was one place that stands out from the pizza smorgasbord blur: Pizzarium.
I had been given the recommendation from locals that Pizzarium owned by Gabriele Bonci, Rome's most famed pizzaiolo is the place to go for "the best pizza in Rome": a highly controversial, sought after, and hotly debated title.
Located across from a park, in a fairly quiet part of the city, nothing about Pizzarium suggests its notoriety. The sign is not unlike other pizzeria signs, its size is small.
In short, it's nothing fancy.
However, the buzz of people entering and exiting, standing at the four tables, and eating on the public street-side benches, is a tell-tale sign of its greatness in the pizza world.
Inside Pizzarium is a gallery of artesian pizzas that would make Da Vinci drool. The colorful squares of hand sculpted pizza perfection look as though someone thought about where to carefully place each topping for optimum deliciousness.
Behind this glass case of wonder is a friendly guy just waiting to cut you off as big of a slice as you want, and behind him are the artists at work making more pizza masterpieces.
They have everything from the classics: margherita and pepperoni, to eclectic combinations that I'd never think of, to vegan and vegetarian options.
You may also like: Visiting Italy As A Vegetarian
I wanted to try everything, but limited myself to a mere five different creations and paired them with one of the craft brews from one of the fridges.
I grabbed a spot at one of the outside standing tables and seriously considered whether this place was heaven. It was love at first bite as I chewed my first mouthful of prosciutto and eggplant pizza. The eggplant was roasted to sweet perfection, the prosciutto baked to a slight crispiness.
Next, I went for the classic bruschetta pizza with fresh sweet cherry tomatoes, olive oil and flavorful basil which was simple, but easily topped all previous bruschetta pizza experiences.
After that, fresh arugula, roasted tomato, and peppers ignited my taste buds with spicy and crisp deliciousness and its vegan goodness made me feel less guilty about the plethora of pizza I was eating.
Then, garlic and caramelized onion mozzarella offered a flavorful twist on the classic cheese pizza, and I didn't even mind the fact that this is how my breath would smell for hours; totally worth it.
Finally, margherita pizza rounded out the pizza circuit as it is one of the two only officially accepted types of pizza by pizza purists and a favorite of mine.
It's obvious how Pizzarium has gained its well deserved notoriety; each type of pizza was four cornered bliss on bread: absolutely the best pizza I've ever had.
You may also like: Best Things To Do In Rome
My name is Andrea Napoli, it has been one month since my last pizza, and I am a recovering pizza-holic (or rather search for and eating the best pizza in Rome has forever biased me against American pizza).
Pizzarium did not endorse this article and is located at:
Via della Meloria, 43, 00136 Roma, Italy
+39 06 3974 5416