Bring your jogging shoes, yoga togs or sailing gear for a healthy vacation in California
One thing you'll notice about Santa Barbara, California is how easy it is to feel healthy here. Even if you choose to chill out for your whole visit, the ocean air, abundant greenery and flowers, and easy-to-find wholesome foods will convince you that your mini-vacation in paradise is good for you.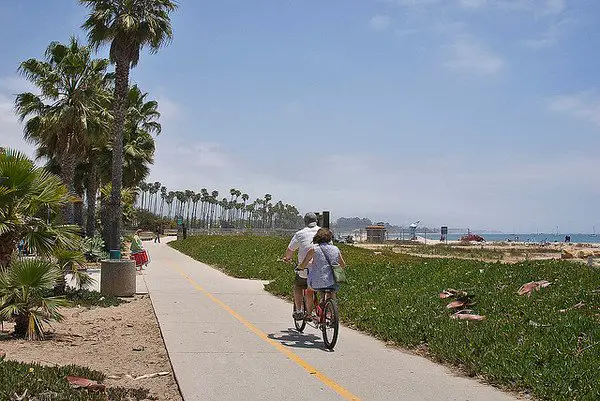 If you opt for an active visit, rent a bike at Wheel Fun Rentals (23 E. Cabrillo Blvd, 633 E. Cabrillo Blvd & 101 State Street; 805-966-2282) near the beachfront and join the fun on the bike path between the beach and Cabrillo Boulevard. Roller-blading, walking, jogging, biking, and dancing allowed.
Part of Santa Barbara's extensive bike path network, the beachfront path runs almost three miles from the harbor past the Santa Barbara Zoo to the Andree Clark Bird Refuge. Along the way, you might cross to Chase Palm Park to ride the antique carousel or join in a volleyball game at East Beach or the dancing at the Sunday afternoon drummer's circle. Stop for a beachfront snack or meal at the East Beach Grill tucked next to the East Beach Bath House.
Don't want to miss your yoga session? Not to worry. In Santa Barbara, you are likely to see locals toting yoga mats like the French tote baguettes. Several major studios offer classes seven days a week, morning, noon and night.
My favorites include the Santa Barbara Yoga Center (32 E. Micheltorena St., 805-965-6045), at home for 20 years in a historic high-ceilinged, arched-windowed building and offering more than 100 classes a week; Yoga Soup (28 Parker Way, 805-965-8811), with 80 classes a week and the provocative, amusing nudges from founder Eddie Ellner; and the Iyengar Studio of Santa Barbara (2718 De La Vina St., 805-569-2584), where my long-time teacher Richard McLaughlin still inspires dedicated students. Drop-in classes around town cost $11 to $17.
During your stay, you can also consider a hike in the foothills. The 3.5-mile round-trip trail to Inspiration Point starts at Tunnel Springs Road. Rated as a moderate hike, it begins with one mile on a paved road and continues on a well-maintained, wide trail. The elevation gain is about 800 feet and your reward is an astonishingly beautiful view of Santa Barbara and the Channel Islands.
If you are in town on any Wednesday between May and September, you're welcome to participate in the very popular Nite Moves, which are community evenings of running, swimming and biathlon events combined with entertainment and food. The events start at 6 p.m. at Leadbetter Beach.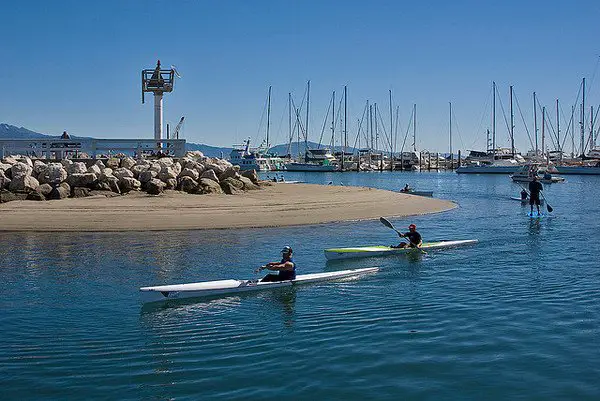 It's hard to resist the call of the water in Santa Barbara. I prefer to be on the water rather than in it, so kayaking and sailing are my preferences. I like to rent a kayak for a couple of hours ($25 from Paddle Sports for a single) to paddle around boats in the marina or out to visit the sea lions at the Mile Buoy (don't get too near them).
Another option is to paddle under Stearns Wharf and watch the divers from the Museum of Natural History pull up specimens for the touch tank.
If you sail, the Santa Barbara Sailing Center rents small and large boats, starting at $40 per hour for a 21-foot Victory sailboat. If you'd rather let someone else do the work, relax on a cruise aboard the popular Double Dolphin catamaran. They offer dinner, jazz, whale-watching, and coastal cruises.
Or, simply take a walk to the end of Stearns Wharf or out on the jetty by the Yacht Club, so you can be a few hundred yards off-shore and enjoy the view of the city from the water, without getting your feet wet.
Even if you come to Santa Barbara to do nothing, you can find a rock along the shore to sit on while you meditate and take in all those positive ions. Or wander through some of Santa Barbara's always-blooming gardens and parks to be revitalized by their beauty and the calming qualities of nature.
One of my favorites is Alice Keck Park Memorial Gardens, where you can meander along paths with lush vegetation or stop to ponder the lives of the turtles and koi in the pond. Meanwhile, the Santa Barbara Botanic Garden offers 78 acres to explore and the A.C. Postel Rose Garden in front of the Santa Barbara Mission will entice you to stop and smell at least some of its 1,000 varieties.
While you are making your body healthier with exercise and meditation, don't forget to eat well. If you can, plan your Saturday morning around the farmer's market (corner of Cota and Santa Barbara Streets, 8:30 a.m. to 1 p.m.), which holds its own against the best of French open-air markets. Enjoy the exuberance of generous vendors, neighbors meeting neighbors and the artfully staged piles of good-for-you foods. Get your wheatgrass juice with a carrot juice chaser.
Pick up fresh fish, meats, cheeses, French breads, and all-American apple pies. Take home locally grown, often organic fresh fruits and veggies, olives, herbs, and flowers. Sample everything and linger near the musicians, who are sometimes quite good. The Tuesday afternoon farmer's market along the 500 and 600 blocks of State Street (3 to 6 p.m. winter, 4 to 7 p.m. summer) is similarly abundant.
Dining out in Santa Barbara is a challenge. Which superb restaurant shall it be? Some of my downtown favorites are Opal for Californian and fusion cuisine, Pascucci for Italian dishes (and best garlic bread ever), Paradise Café for steamed local mussels, and Sojourner for vegetarian fare. Down by the water, try the popular Shoreline Beach Café at Leadbetter Beach.
There, you can snag a beachfront table and dig your toes into the sand while you enjoy your fish tacos. Or at the harbor, keep your shoes on and meet locals at Brophy Bros. or Chuck's Waterfront Grille, enjoying the view of sailboat masts and fishing boats.
Whatever your preferences, you'll find Santa Barbara an inspiring place to be active or rest, to eat well and, by the end of your healthy vacation, to feel great.
***
Information
Bike Rentals:
Wheel Fun Rentals at 23 E. Cabrillo Blvd, 633 E. Cabrillo Blvd & 101 State Street
Phone: (805) 966-2282 wheelfunrentalssb.com
Yoga Studios:
Santa Barbara Yoga Center, 32 E. Micheltorena St., 805-965-6045 www.santabarbarayogacenter.com
Yoga Soup, 28 Parker Way, 805-965-8811 www.yogasoup.com
Iyengar Yoga Studio of Santa Barbara, 2718 De La Vina St. 805-569 2584 www.iyssb.com
Hiking Information: www.santabarbarahikes.com
Nite Moves: www.runsantabarbara.com
Boat Rentals:
Paddle Sports Center www.channelislandso.com
Santa Barbara Sailing Center www.sbsail.com
Farmer's Market – Saturdays: corner of Cota and Santa Barbara Streets 8:30 – 1:00,
Tuesdays: 500 & 600 blocks of State Street, 3:00-6:30 winter, 4:00-7:30 summer
For more information about Santa Barbara: www.santabarbara.com
*Photos by and property of Damian Gadal, used with permission
Related video: Weekend getaway in Santa Barbara
Pin for Later