If you're a vegetarian and you're bound for Brooklyn, then you're in luck.
Anything is worth it if you can get a chance to taste the vegetarian food Brooklyn has to offer (including muggy subway travel in the summer and slushy, frozen sidewalks come wintertime). Seriously — anything.
And if you're a regular meat-eater, you won't miss the meat at these gems. You may even find yourself foregoing meat forever after eating here.
But let's not get ahead of ourselves.
Check out why these 4 vegetarian spots in Brooklyn are so special — and why you shouldn't miss them for the world.
1. Natural Blend
The name isn't really descriptive, I know. You may even wonder at first if it serves solid food, given the name.
And judging by the storefront, you may question whether it serves food at all. Tucked snugly between adjoining buildings, it looks a lot more like a convenience store. The best thing it has going for it location-wise is its proximity to the Brooklyn Museum.
But when you walk inside, you realize it's something special. The menu items sport options like eggplant chipotle panini, mac and cheese, and orange pineapple chicken.
It's all meatless of course, and the meat substitutions are soy-based. Vegans are free to eat here too, since they don't use any egg- or milk-based products.
And if I were you, I wouldn't leave without grabbing a pastry on the way out. I always have room for their desserts. They have everything from chocolate-chip cookies to cassava root cake.
Menu Recommendations:
1. A plate of curry chicken ($7)
2. A lemon bar…or two ($2-4)
2. Zaytoon's
Zaytoon's. Just the name brings back memories of summer. This is one of those places where you can eat outside, sip on a fresh rosewater lemonade, and savor the simpler things in life.
Zaytoon's is a Middle Eastern restaurant that has a few different branches in downtown Brooklyn. They serve meat but have a lot more vegetarian options to choose from.
I ate at two of the three Brooklyn locations before, and both had the same great quality of food.
With ovens ablaze behind the counter as you walk in, you can choose between a fresh vegetable pitza (like a pizza, but made on fresh pita bread), a piping spinach pie, or tabouleh (bulgur wheat salad with diced tomatoes and cucumbers) to start you off with.
And if you need a palate cleanser after your meal, go for the Arabic mint tea. But if you're a true New Yorker like I am, stick to the cardamom-spiced Arabic coffee.
Oh.
And don't. Forget. The Baklava.
Ever.
Menu Recommendations:
1. Vegetable Kabob Platter ($11.5)
2. Arabic coffee with cardamom ($3)
3. Baklava ($5)
3. Masal Cafe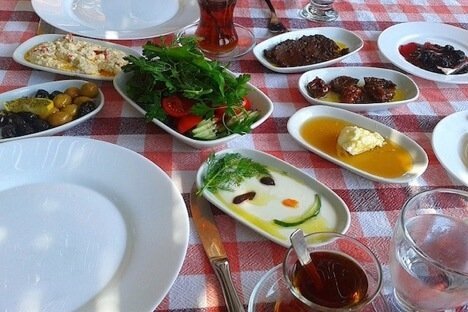 Masal takes you to the southernmost part of Sheepshead Bay, a neighborhood brimming with an eccentric Russian population. But Masal sits tucked away on Emmons Avenue in front of the canal where everything's quieter.
You can't walk into Masal's cushy seating area without passing by a display of endless Turkish sweets and baklava. Yes, you will buy sweets. You need not kid yourself.
You wouldn't have had proper Turkish food until tasting their vegetarian kumpir (baked stuffed potato).
They load their potato with olives, corn, salad, and dressings I can't even name. And it's so large, you'll find yourself full after eating just half of it.
Go for the Turkish breakfast if you want a little variety (just ask them to hold the ham). It comes with aged cheeses, jams, bread, butter, olives, and other veggies. The plate comes with so many dfferent things that it gives new meaning to playing with your food.
Menu Recommendations:
1. Vegetarian Baked Stuffed Potato ($7)
2. Turkish coffee (for the brave) ($3)
4. Champ's Diner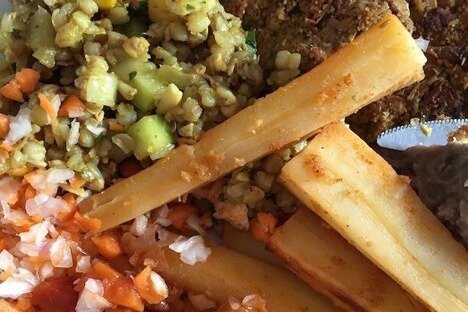 The second you walk into Champs, you'll notice the black-and-white checkered flooring first and loud wall paraphernalia second.
I mean, you can't expect any less after a neon sign reads "Death Before Decaf" in the storefront.
Champs has a lot of personality — and a lot of good vegan food.
They serve up greasy "cheese" fries, banana chocolate chip pancakes, and vanilla milkshakes. Classic diner food suited for everyone.
I have a meat-eating friend who goes here and he says he'll take their vegan Philly cheese steak over a regular one any day.
Their food is that good.
And like any traditional diner, they're open late till 12 AM to welcome everyone with those late-night cravings.
Menu Recommendations:
1. Cauliflower Po Boy ($12)
2. Cookie Dough Pancakes ($10)
3. Arnold Palmer ($3.5)
Over To You!
These four spots are just the tip of the iceberg when it comes to the vegetarian food available in Brooklyn.
Are you planning on visiting Brooklyn soon, or have you visited before? What kind of awesome vegetarian eats did you find while you were there?
Pin For Later