Whether you're on a road trip or a short stopover, sometimes Travel Belles have only one day to see a city.
When time is limited, you don't want to waste it on a hit-or-miss dining experience.
Next time you're passing through Raleigh, follow these steps and try these top-notch eateries in the capital of North Carolina.
Best restaurant bets in Raleigh, North Carolina, when you're short on time…
Breakfast
I stepped into Big Ed's for breakfast and felt like I was sitting down for a meal on the family farm. A tricycle from the 1930s hung from the ceiling overhead along with a rusted tractor seat, antique pots, baskets, and wooden farm tools – all of which came from Ed's cotton and tobacco farm.
"You gotta have one of the pancakes," said Lynette, the waitress, offering her breakfast suggestion based on 16 years of working at Big Ed's. "They're big as an 18-wheeler and made from Ed's momma's pound cake recipe," she explained.
The pancake was the size of a large dinner plate, dense and slightly sweet just as Lynette had said. I also sampled "fatback," one of the breakfast meats on the menu. It was extremely salty and tough to chew. Imagine something that looks like a thick piece of bacon with a rind that is hard as a jawbreaker. I thought my tooth was going to break when I bit into it.
I may have been transplanted from the south at a young age but I rarely pass up a chance to order grits. I had two scrambled eggs, smoked sausage, biscuits with blackstrap molasses and buttered grits. The portion was so large that I quickly became too full to eat everything, however, the biscuits and grits were not left on the plate.
Big Ed's Market and Restaurant
220 Wolfe Street, Raleigh, NC 27601
(919) 836-9909
Lunch
I went into the Mordecai historic neighborhood to have lunch at Market Restaurant on North Blount Street. Market shares the street with several of Raleigh's historic Victorian homes, which the state of North Carolina has moved to North Blount in an effort to preserve them.
The first thing I noticed as I picked up the menu was the statement at the top that said, "Market serves only fresh, all-natural, unprocessed foods and supports the local economy by purchasing its ingredients from local farmers." I was immediately intrigued and impressed.
For starters, I tried the kale chips, sweet potato nachos and crack fries, which are hand-cut fries cooked in truffle oil and sprinkled with herbs and cheese.
The creamy vegetable risotto was my entrée of choice; fresh carrots and peas were cooked to that perfect point between crunchy and mushy. Bread pudding is one of my favorite desserts, so Market's variation, chocolate and Drambuie liqueur bread pudding, was a rich finish to a home-style meal.
Market Restaurant
938 N. Blount St.
Raleigh, NC 27604
(919) 754-0900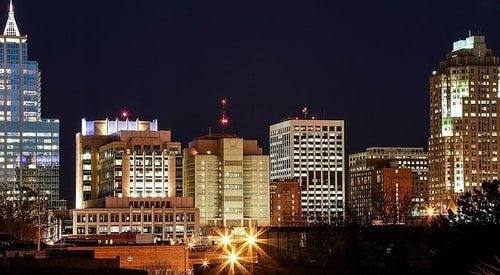 Dinner
"Irregardless" may not be a word but it is the longest running restaurant with the same owner in Raleigh. I went there for dinner and was drawn into the mellow atmosphere punctuated by the instrumental sounds of the musical duo at the front of the dining room: one on the keys and the other on a stand-up bass.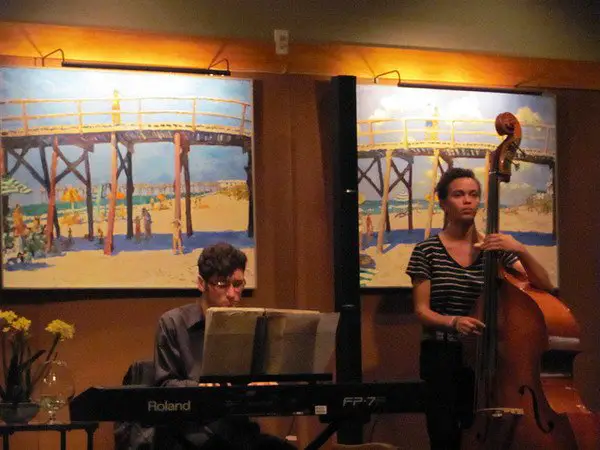 Arthur Gordon, the founding owner, circulated throughout the restaurant shaking hands and chatting with many folks he has come to know over the course of the 36 years that Irregardless Café has been in business.
I paired the Middle Eastern platter (fresh hummus, tabouli, butterbean paté and grilled pita bread) with North Carolina pan-seared flounder complimented by sage cornbread soufflé and turkey bacon cream sauce. I washed it down with a glass of Roanoke River red wine. The portion was just the right size to leave me satisfied.
Irregardless Café
901 West Morgan Street
Raleigh, NC 27603-1511
(919) 833-8898
After dinner
Although I stopped for a beer at Natty Greene's Pub and Brewing Co. during the day, I wished I had gone in the evening. Once the Raleigh Electric Company, the building maintains the feel of the early 1900s with high ceilings and exposed iron beams. It reminded me of my favorite pub back home.
Natty Greene's brews 12 of its own microbrews. Mike Morris, the resident brewmaster, told me he enjoys being both an artist and a scientist, as he has full control of the alcoholic recipes created on site.
I sipped on the Old Town Brown (a chocolate beer), Buckshot Amber Ale (caramel and toffee) and Oktoberfest Lager (German style), but the one that I could have sat at the bar and drank all night was the Wildflower Withier, a Belgian-style beer with flavors of orange peel, chamomile and coriander.
Natty Greene's Pub & Brewing Co.
505 W. Jones St.
Raleigh, NC 27603
(919) 232-2477
Another place to grab a beer, the Raleigh Brewing Company, get a brewery tour or have a drink in their tap room. 
Headed to the Carolinas, you may be interested in reading about the Hominy Grill in Charleston…
*The Greater Raleigh Convention and Visitors Bureau sponsored Christina's trip to Raleigh. However, all opinions and appetites are her own.
Main image credit: pixabay
Pin For Later