The "traditions" behind some of our favorite traditional Italian food favorites aren't what you think.
Over the years, Italy's world-famous cuisine has seamlessly entered into U.S. culinary culture thanks to immigration, globalization and Giada De Laurentiis. Still, that stuff you eat at your neighborhood joint or local Little Italy is likely more American than Italian, so before arriving in the boot-shaped country, prepare yourself for a slightly different dining experience.
1. Caesar Salad
With Parmesan cheese and croutons, this salad gives off an air of authenticity, but you won't find it anywhere in Italy. The popular dish doesn't pay tribute to the great Roman emperor, but rather immigrant-turned-restaurateur Caesar Cardini, who first tossed it in his Tijuana, Mexico establishment in the 1920s. Instead, a typical side salad in Italy features lettuce, tomato, carrots and sometimes beans, radish or olives, dressed only in oil and vinegar.
2. Spaghetti and Meatballs
Most Italian chefs know how to cook up delicious polpette, meatballs, but they never serve them over spaghetti or under tomato sauce, which is an American invention. In Italy, people separate their pasta and meat courses, with the flavorful and well-seasoned balls often serving as an option for the latter. You can also spot miniature versions in certain soups, such as one made with thistle in the Abruzzo region.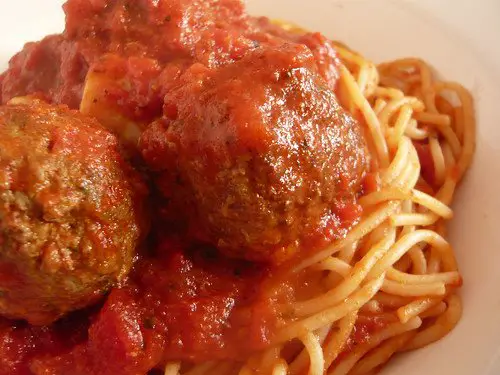 3.  Bread and Condiments
Bread undoubtedly plays an important role in Mediterranean mealtime, but one that differs from its American counterpart. While dining in Italy, don't expect this traditional Italian food favorite to be served with dipping oil or butter. Use the slices or rolls to perform la scarpetta, or wipe up any remaining crumbs and juices to indulge your taste buds one last time. And when ordering a sandwich, ask for a panino rather than a panini, which is an anglicized term made from the Italian plural.
4. Coffee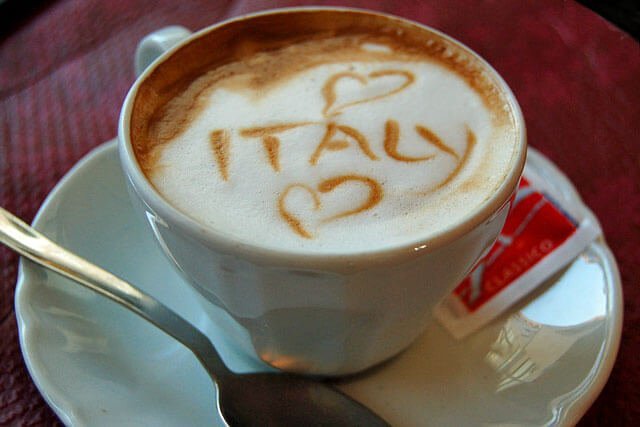 These beans hold a special place in the hearts of Italians, who consume more than 1 billion pounds of them each year and do so mostly at the bar, foregoing take-out options. Order a caffè, though, and you'll face a shot of strong, dark brown espresso, the country's standard in caffeinated beverages. Prefer the lighter, foamy Cappuccino? Beware. Sipping on the warm drink after lunchtime goes against Italy's unwritten social code.
5. Timing
Italian culture is deeply rooted in enjoying delicious Italian food and friends at the table. Traditional mealtimes come later and last longer. Head to lunch at about 1 p.m., have dinner around 8 p.m., and abandon that American habit of eating in a hurry. One of the true pleasures of visiting Italy is allowing  yourself to leisurely work your way through a traditional italian meal (even if you are a vegetarian) : appetizer, first and second courses, side dish, and – if you haven't burst yet – dessert!
Photo credits:  WordRidden and Wikipedia Commons
Pin For Later