There are more reasons to visit Michigan's Northwest coast than its scenery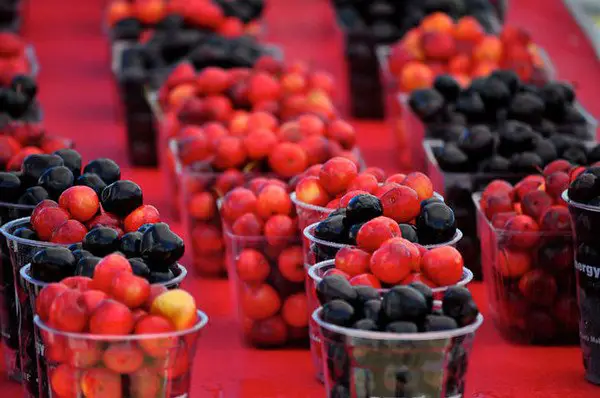 Leelanau County, Michigan, the Cherry Capital (and home of the Michigan Cherry Festival!)
"Mmm, what are these red things in my granola bar?"
"Oh, those must be craisins!"
"No, I think they're raisins…"
"Maybe they're dried grapes. Oh, wait, raisins and dried grapes are the same things. Must be craisins then."
Upon hearing this conversation at the spa where I work, I was frustrated at the lack of knowledge the common man (or in this case, mostly women, as they are our spa's main clientele…which is mostly true of any spa. Though men are really into manicures these days) possesses when it comes to fruit.
[pullquote] The cherry has more uses than a shoelace; more implementations than duct tape; and is far tastier than either of these things.[/pullquote]Those little chewy beauties you bit into while nomming on your complimentary granola bar are cherries, actually. You know; that crimson fruit that grows on trees (not bushes!)  No, I'm not talking about the translucent gob that comes on top of a sundae, and no, I'm not referring to the mush that comes in a can shrouded by thick red goo. I'm talking about crisp-skinned, dark-juiced, delicious-on-anything cherries!
Maybe I have a skewed view from growing up in Cherry Country—not referring to Washington, either! Leelanau County, Michigan is a prime cherry locale. But the cherry owns more potential than to just end up in a pie, or as an unidentifiable scrap in your ice cream that gets stuck in your teeth. The cherry has more uses than a shoelace; more implementations than duct tape; and is far tastier than either of these things.
Let me enlighten you.
Now, cherries grow on trees. To harvest these jewels of juiciness, the trees are shaken. They are kept in big tanks of water to keep 'em fresh. My oldest brother worked in the orchards when he was a ruffian teenager. My neighborhood was once all orchards. My oldest friend's family makes their living, as many people in this area do, by harvesting and selling cherries. Even with all this cherry background, besides what I already said, I don't know much about the tree-to-jelly/salsa/fudge sauce process; but I know how they taste. And boy do they taste good.
The Cherry Republic is in itself worth a family vacation to Northwestern Michigan to experience; seriously. I'd sleep in a tent in a bear-infested wood to be able to indulge in what they have to offer. Luckily, I live about half an hour from them and can, therefore, sleep in a bed in a house.  With locations in the idyllic town of Glen Arbor, Michigan, and also in downtown Traverse City, it's insanely cute and rustic (two words hardly ever used together, even in my brain.) Delightfully, it's full of samples.
No, they're not just bowls of cherries lying around, though that wouldn't be bad; there are salsas, jellies and jams, chocolate-covered dried cherries, biscotti, peanut butter, gumballs and more. If you like cherries, you'll be in fruit heaven. If you don't like cherries, this place is going to convert you. There's Cherry Ginger Ale, Liberty wine, cherry fudge sauce, cherry barbeque sauce, cherry mustard; and the list goes on.
Even locals go here and pilfer the samples. My own father fills his pockets full of all products that won't ruin his pants every time we go, which is usually on every major summer holiday, or just on a whim. I go when I need a snack. I go when I want to make a friend change to the dark, non-popular side of fruit-enjoyment. I go when I need a pick me up. Even if I'm full from dinner and ice cream, sometimes the Republic calls, and I can't say no.
Michigan Cherry Festival in Traverse City
Besides the Cherry Republic and the many other hot spots for Michigan cherries in and around Traverse City, we have an annual festival held each July. Shockingly it's called theNational Cherry Festival. I say "shockingly" because we also have a lobster festival even though we are surrounded by fresh waters un-infested with lobsters. Besides there is a bevy of cherry samples here too, there are cherry spitting contests, cherry field tours, and a Cherry Queen contest.
If you like crowds, cherry popcorn, sand-sculpture contests, parades, and cherry fritters, this is the festival for you! Haven't you heard of it? The Michigan cherry festival does happen to be a National Festival. So be an American and join us! Next year's festival dates are July 7 – 14.
A few closing words on the majesty that is the Michigan cherry
Just to clarify, in no way is a cherry a craisin. And in no way is it like a dried grape. The Michigan cherry should be glorified and is becoming much more common (even used on Food Network, which makes my mom geek out). Don't believe me? Don't think cherries can make it any further up the culinary ladder than thick-crusted pies and as a topping for ice cream? Make a trip to Northern Michigan and you'll come to share my cherry-loving views.  America's icon shouldn't be apple pie anymore. Embrace the cherry!
Pin for Later