"You are going to Dominican Republic?! Oh! I love Punta Cana! Which resort are you staying at?"
Nestled between Cuba and Puerto Rico in the Caribbean Sea, sharing the island of Hispaniola with the country of Haiti, and about the size of the state of Pennsylvania, Dominican Republic is known primarily for it's white sand beaches and premium golf courses. And I say, what a shame.
Don't get me wrong, Punta Cana is beautiful and the image of Caribbean perfection. However, how many visitors ever ignore the strong warnings to not leave the resort and explore the historical, real towns around the tourist attractions?
What many people don't know is that DR is highly accessible by bus, more affordable than most countries in the Caribbean, and relatively safe.
For that, if the adventurer in your heart ever gets curious, and you crave a more authentic Dominican experience, this list of 3 places outside of Punta Cana should be the firsts on your list.
#1 Las Terrenas
An easy bus ride from the capital of Santo Domingo, 3-hour drive from Santiago or Sosua, Las Terrenas is located in the Samaná province of the Dominican Republic and in my opinion has even more beautiful beaches than Punta Cana.
Unfortunately the politicians of DR know this fact and charge a pretty penny to enter and exit this coveted area. At 500 pesos to enter and 500 pesos to exit, make sure to budget that additional $20 US, but I assure you, it is well worth it.
Littered with hotels, but very few resorts, I suggest seeking out an affordable Airbnb. As a popular area for ex-pats of all nationalities to call home, most housing is kept to a Western standard with air conditioning, functioning wi-fi, and hot water.
If your Spanish is up to snuff, I suggest exploring one of the local beaches away from the primary center of town. Two that cannot be beat are Playa Cosón and Playa Bonita. Both beaches are given proper signage in town, but become fairly more illusive once off the main roads.
To maintain respect for the two most beautiful beaches I have ever had the pleasure of enjoying, I have to leave out exact directions for finding these gems. The effort to find them will be worth it, however. And like all beaches in DR, bring rum, ice, and some salty snacks. A good playlist couldn't hurt either.
As for food, most restaurants in Las Terrenas cater to the much pickier tourist. Pizza and other European libations are common in the beachfront restaurants. For a much cheaper, authentic eating experience head into the pueblo of Los Pescadores and ask around for a guy named Daniel. Mention you are looking for real Dominican food. You will find yourself at a hole-in-the-wall, cafeteria-style restaurant where you can eat to your hearts content for 100 pesos.
Fried cheese, fried meat, pureed yucca, beans and rice are all on the menu. Don't skip out on the ice cold Presidente either, while you are at it.
You may also like: You Better Belize It: Best Things To Do In Belize
#2 Cabarete/Sosua
Located in the northern region of the country, these two places belong in the same category, being 15 kilometers apart. A 30 minute taxi ride from Puerto Plata airport or a 90 minute bus ride from Santiago, these beach towns boast some of the most exciting and beautiful beaches that touch the Atlantic.
Sosua Bay is located in the sleepy town of Sosua. With very few hotels and large restaurants, this beach remains the go-to for city-dwelling Dominicans looking for a reprieve from the traffic and heat of the Cibao Valley. Its cliffs create a calm bay safe for children and adults who have had one or two Santo Libres (rum and lime flavored soda).
For the best experience? Pack a cooler with ice, a bottle of rum, a mixer such as Coke or Sprite, and some beers. Order fresh fried fish with a side of fried plantains. Again, don't forget a Bluetooth speaker or some other source of music, because a view like that deserves a soundtrack.
While Sosua nightlife is still growing, just a few miles down the road you will find the best nightlife in the entire island in Cabarete.
The restaurants that line the beach, serving a whole range of foreign and local cuisine turn into relaxing happy hours from the later hours of 9 pm to midnight and then transform into raucous nightclubs well into the early hours of the morning. For the best place to practice your bachata and merengue check out Ojo, the last nightclub in the line-up. Beachfront, open air, and a popular spot for locals and tourists Thursday thru Saturday.
You may also like: 8 Tips to Avoid the First Time Cruise Jitters
#3 Santiago de los Caballeros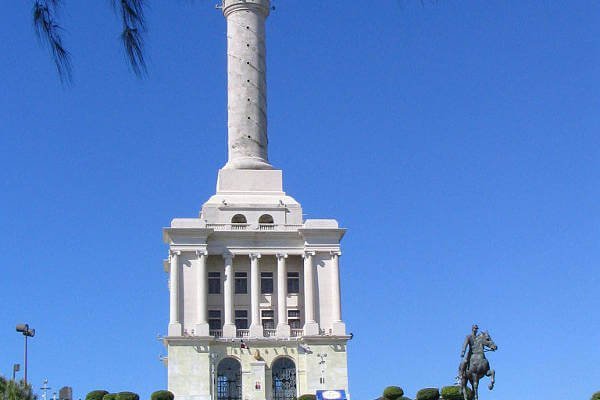 Known as the second capital, Santiago will far exceed your likely small expectations. A short hour and a half bus ride via Caribe Tours or Metro from either Puerto Plata in the north or Santo Domingo in the south, Santiago bodes the new and upcoming style of the younger population while maintaining the traditional eating and social culture of the older residents.
With many places to experience a local quipe or empanada, try a traditional cafeteria style lunch at Cocina de Dona Mary in the neighborhood of Los Cerros de Gurabo, a short taxi ride from the Caribe Tours bus stop in Los Jardines.
If museums are for you, check out the Centro León (free admission on Tuesdays!) that boasts local Dominican art, new and old, and an enormous display dedicated to taking it's visitors on a journey through the history of the island, from the Taino civilizations to it's modern day baseball culture. End your visit with an ice-cold Presidente in the center's café.
In the downtown area, where in years past was vacant of nighttime activity, there is now a small but exciting bar scene that is bringing hip (slightly more expensive) cocktails and artistic vibe to the city.
On Wednesdays, like most bars in Santiago, Dao al Pecao offers Ladies Night cocktails, upbeat music, and an atmosphere that mixes the romance of outdoor dining with the fast pace of city life. Having transformed an old home on Calle Benito Minción in downtown Santiago, its popularity seems to be growing quickly.
If you are looking to eat and drink for an evening with a view of Santiago's famous monument, Puerta del Sol in the neighborhood of La Zurza is constantly bustling with great people watching, music, and yummy food paired perfectly with a rum and sprite. For dessert, do not hesitate to indulge with a slice of their Cuatro Leche cake.
#4 A Dream Itinerary
Fly into Santo Domingo. Enjoy the colonial architecture and musical culture just enough for the garbage not to leave a sour impression then take a bus straight up to Las Terrenas. Hunt down those incredible beaches, drink a little too much rum, and chat up a few ex-pats.
Rent a car and take the coastal highway to Sosua. Splurge on a Sosua Bay hotel room. Spend a day eating fried fish and reading your favorite book, another day admiring the kite surfers at Caberete Beach, and then party hard at the beachfront clubs.
End your trip in Santiago taking in the clean air, the pride that Santiagueros possess for their city, drink a beer on the steps of the monument and fly home from their more much relaxed, affordable airport.
And maybe not stepping a foot into Punta Cana.
Pin For Later