A Stay at Villa Marsili in Cortona
Last year for our first wedding anniversary and my 25th birthday my husband and I traveled to Italy for seven days.  Five of those days were spent in the majestic hills of Tuscany in the charming town of Cortona.
Cortona is perhaps best known for its legendary city walls, historic square and as Frances Mayes' inspiration for her book, Under The Tuscan Sun. But Cortona also boasts what is hands down, some of the best scenery in all of Tuscany.  Situated on top of a hill, you can see for miles in any direction, including the picturesque Lake Trasimeno.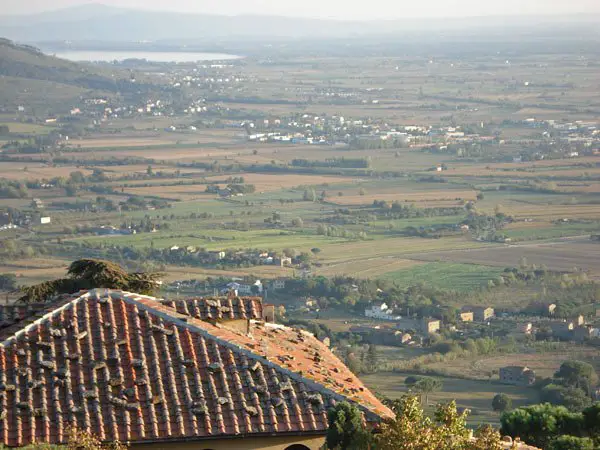 Located northeast of Rome, Cortona is three hours by train from the city. Two train stations service Cortona, each requiring a bus or taxi ride to town. We took the train to the station at Camucia and found a bartender who was willing to drive us the 20 minutes to our hotel which was located at the bottom of the entrance to Cortona.
When planning this trip, accommodations were high on our list of importance.  Through recommendations by our fantastic travel agent, Angie, we picked Villa Marsili.  Having received amazing recommendations online as well as several important awards in the industry, this hotel is unlike any other I have ever been to.  Built on the property of what was once a 14th-century church, the property has changed little since it was built as a private residence in 1786
Highlights of our stay included the stunning views and the hospitable and knowledgeable staff.  The rooms were large with full baths and beautifully decorated.  As one would expect from a hotel of this caliber, the staff were well-versed in the special details of the area, making reservations at Cortona restaurants and arranging for wine tours that best suited our needs.
Breakfast was served every morning in the bistro area, where we could sit inside or out in the courtyard.  The courtyard quickly became one of our favorite spots on the hotel grounds.  Most mornings, we bought a bottle of wine and some cheese at the market to share in the afternoon in our little oasis.
When looking for a truly special place to stay in Tuscany, I highly recommend Villa Marsili whether it is for a week or just one night. Information about what to do in Cortona.
* All photos by Cailin Szczesiul © All rights reserved
Pin for Later