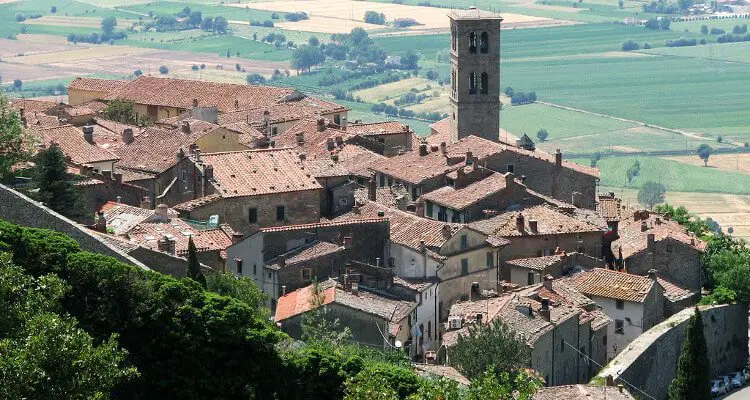 Cortona For The Tuscan Food And Wine Lover
Last Updated on
The first thing I think of when Tuscany comes to mind is food…well, food and wine. Our most recent trip to Cortona, Italy, proved to be more wonderful and delicious than I could have ever imagined.
We stayed less than five minutes from the main village at the magnificent Villa Marsili. The close proximity to the Tuscan town of Cortona and its restaurants proved to be an advantage to our appetites, if a disadvantage to our waistlines.
You may also like: Cortona, Italy's Villa Marsili
Some of the best authentic Tuscan cuisine and wine can be found in the small village; while just beyond Cortona's medieval walls, one of the most magnificent of Italy's wine regions sprawls in all directions, offering a bounty of world-class vineyards and fresh, natural ingredients. Cortona really is a foodie's dream come true!
You may also like: Awesome Things To Do In Capri, Italy
During our five day stay at Villa Marsili, we often sat in cozy cafes sipping cappuccinos and ventured to the gelato bar for late night snacks. Every night we would ask the concierge for great dining recommendations.
The first night was actually our wedding anniversary, so we really wanted to treat ourselves to a fantastic meal. The first restaurant recommended to us was Osteria del Teatro.
The beautiful outdoor patio and genuine Tuscan interior were just the beginning of what would easily be one of the best dining experiences of my life. From the vegetables, meat to the wine, everything was produced nearby.
An elaborate array of risottos, pastas and tender meat dishes were on the seasonally fresh menu. The best thing on the menu had to be the Coniglio alla Cacciatora (stewed rabbit with vegetables), a typical Tuscan plate. I've never been a huge rabbit fan but the incredible flavors of the stew were amazing.
You may also like: A Rome Day Trip To Bracciano
Another restaurant that came highly recommended was the famous Pizzeria Flufluns.
Known for it's giant pizzas, FluFluns has a variety of different pizza and pasta dishes. Be sure not to have a pasta dish as a starter, with a pizza as a main course.
I made this mistake in my ever-growing quest to consume as much Tuscan cuisine as I could. By the time the huge pizza came around I could barely eat half, which is why we had to go back a second time! I also recommend eating outside on the romantic street patio.

Cortona's proximity to the Italian wine region of Montepulciano also makes it great destination for wine lovers.
Mid-week we hired a car to take us to the legendary Avignonesi winery, founded by nobility who came from Avignon in 1377 when Pope Gregory XI moved the Roman capitol back to Rome.
The tour guide took the group through all the main cellars and outdoors through the vines.
My favorite part of the tour was when we got to see where the grapes are housed until they are made into wine.
Amongst the rows and rows of grapes the sweet smell is something I will never forget. The tour ended with a tasting of all the Avignonesi wines. The property is stunning with wide picturesque landscapes and charming old buildings.
You may also like: Visit Italy Like A Pro The First Time Around
For the history, culture and food, I highly recommend the Tuscan town of Cortona as a great addition to your itinerary for your next Italian vacation. I know it will be mine.
* All photos by Cailin Szczesiul © All rights reserved