Discovering the intersection of past and present on a historic walking tour in Melbourne, Australia
A chilly breeze rolls in from Port Phillip Bay and it's slapping me in the face, reminding me that Melbourne's weather may turn ugly despite the promising sunshine.
Grey clouds veer over Federation Square while we wait for our guide Jerome to arrive, our pavement-pounding partner for the day.
On cue, he emerges from the afternoon flow of traffic that's snailing along Flinders Street as he greets us enthusiastically for our walking history tour of Melbourne.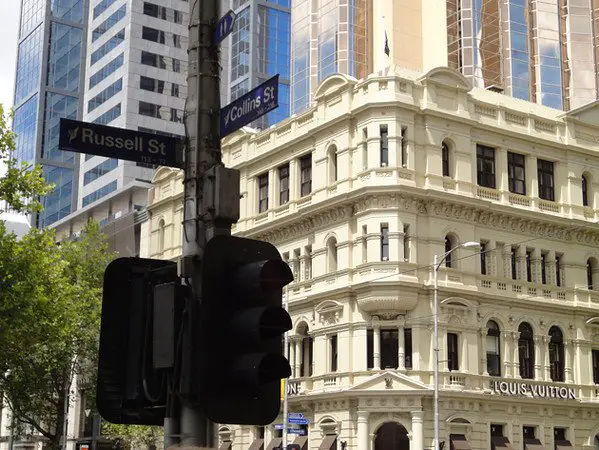 As we're led up Flinders Street, Jerome paints us a picture of Melbourne in the 1800s and it's evident that we're not just joining in on a walking tour; we're stepping through an elderly timeline peppered with tales of governments muscling for power, murders, brothels, artists and coffee. By the time we reach Hosier Lane, bluestone buildings from the 1850s tower over us with a peeling skin of paint; Melbourne's gothic charm is now juxtaposed with smartly dressed window-fronts selling modern-day cafés and the lure of basement fine dining.
A lack of backstreet traffic allows us to listen closely for a horse and carriage which may have clip-clopped past so many years ago. Instead, Jerome's voice rings in our ears, confirming that Melbourne was once named Batmania after entrepreneur John Batman, who originally tried to start a colony here.
By the time we reach the financial end of town, the T&G building on the corner of Russell and Collins Streets, we hear of doctors living and practicing with an air of flamboyance while dosing out eccentric medical treatments. Patients were once sent here for "fresh air" therapy while those suffering more tedious ailments were prescribed flutes of champagne. Now, the building hosts an elite fashion name and my mind imagines Melbourne's affluent slipping into Louis Vuitton over complimentary servings of bubbles – a timely irony.
Across the way we're introduced to Scots' Church, which sports a spire that was once the tallest structure in old-time Melbourne. Yet the true treasure is what Jerome reveals to us; within metres from where we're standing, in 1955, prolific Australian artist John Brack was eagerly applying the strokes to his infamous painting, "Collins St., 5 pm." The painting illustrates a dreary and drab Melbourne afternoon while office workers burdened by wintery jackets walk in a monotonous line to nearby pubs for as many beers as they can skull before the city's 6 pm curfew.
Apparently, Brack sketched the scene in a doorway of a townhouse unbeknownst to his subjects. Those office workers are now replaced by weekend shoppers dressed in jeans and sneakers, and grasping designer label swing bags without a care in the world.
A misty drizzle inconspicuously dampens our path yet our spirits are running high. We're led through more of Melbourne high society that reluctantly admits to a more rambunctious past – the prestigious Melbourne Club for gentlemen, which was originally formed by roustabouts and squatters in 1839. We're even taken to the location of Gun Alley (an alley that once ran from Little Collins Street), where 12-year-old Alna Tirtschke was raped and murdered near the Australian Wine Saloon in 1921; a formidable case that became known as the case that built the Herald and Weekly Times for newly appointed editor Keith Murdoch, father to News Corporation founder and chairman Rupert Murdoch.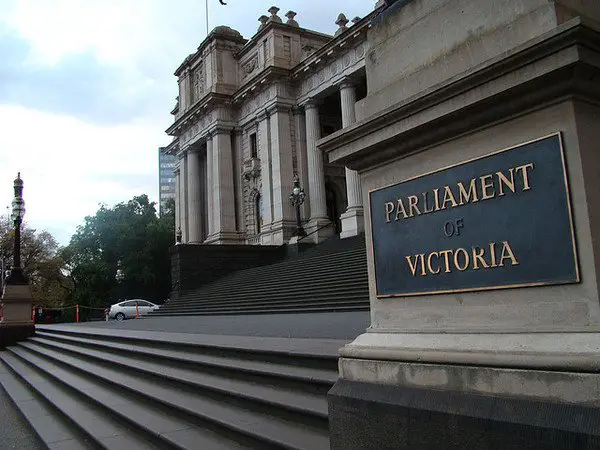 The government end of town, Spring Street, emerges to snare more of our attention: the Old Treasury Building, Victorian Parliament Building, Windsor Hotel and Princess' Theatre. Over our shoulders, stories of secret underground tunnels and brothels emerge. Urban legend insists that secret tunnels link the Treasury and Parliament to the Windsor, for financial or government emergencies. These suspect tunnels were also claimed to have been used as fast getaways by devilish governors indulging in the services of classy ladies of the night nearby.
One particular high-class brothel in Lonsdale Street, owned by German expat Madame Brussels and allegedly frequented by Prince Alfred, Duke of Edinburgh, in the mid-1800s, was threatened with closure by the moral side of Melbourne's society though successfully avoided the long arm of government.
At her court hearing, Madame Brussels was reported as wearing respectable clothing yet accompanied by her girls, who sat in the stalls behind her, all appointed in their midnight finery. Brussels pleaded her case to the government: "If you close me down, you miss out on all of this" (imagine Brussels motioning to the seductive ladies behind her).
While government, art and crime are the underbellies of historic Melbourne, it's the belly itself that now rules this town. After discussing the intricacies of Melbourne's past alcohol laws, Jerome aptly pulls a quote from W.C. Fields: "Every man believes in something. I believe I need another drink." And so we trod through Little Bourke and Liverpool Streets to eventually discover where Melbourne built its world-class coffee-drinking reputation.
We traipse past teeny Italian bistros now dotted along Bourke Street to suitably end our tour on a note of freshly ground coffee at Pellegrini's Espresso Bar – the home to Melbourne's first-ever espresso machine. Pellegrini's, with its unpretentious old-world charm, is the cornerstone of Melbourne's vibrant café culture and a perfect ending to an afternoon of pacing through the pages of Melbourne's history books.
*Photo of T&G building by Justine de Jong; Parliament of Victoria by Brian Giesen, used with permission
Pin for Later