The moment I mention the word "Australia," many of you may conger up images of white sandy Australian beaches, bikinis, blue skies and warm summer days year round.
Yet if you've ever heard the song 'Four Seasons in One Day' by Crowded House, when I utter the word "Melbourne," different images might spring to mind.
The song is based on my city, and as a Melburnian I know its weather tendencies very well: the weather in Melbourne can be sunny and bright in the morning, then dark, cloudy and raining by afternoon.
I love it dearly and can't imagine living permanently anywhere else; but it's a city that has taught me how to pack for the fleeting weather conditions known to an experienced traveller.
You may also like: How To Pack Light: Confessions Of A Bag Lady
Dressing in Layers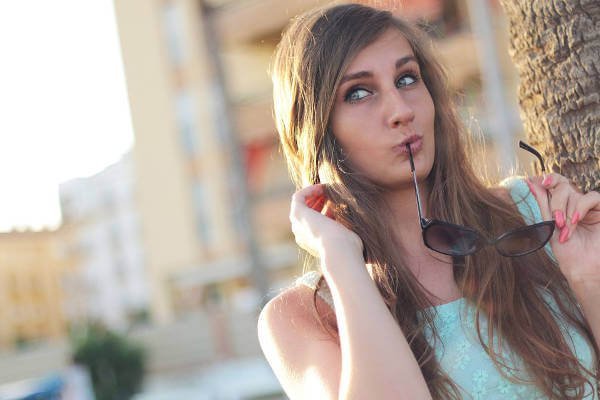 One thing that gets me through a stifling cold winter in Melbourne is the technique known as layering.
Singlets are pulled over my body and tucked into waist high opaque stockings before long-sleeved shirts, pants and ¾ skirts are draped over my arms and legs.
When I pack for a big journey, I always pack some neutral-coloured singlets, long-sleeved tops and stockings.
Not only do they keep me warm, but I can wear some of these items on their own if temperatures dart high into more liveable digits. Plus, these items are light in weight and barely take up valuable suitcase room.
You may also like: Beaches On The Gold Coast
Umbrella and rain jacket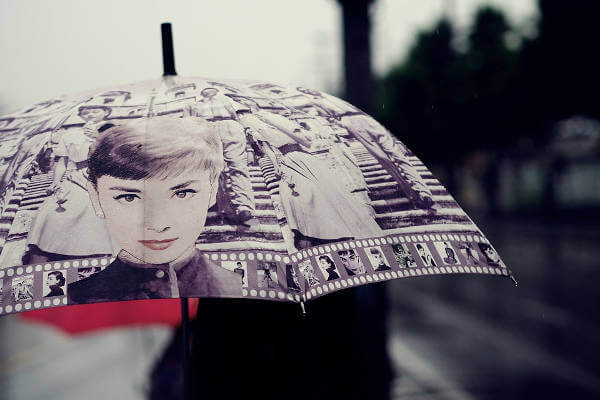 I don't travel anywhere without an umbrella. Just the feeling of a little drizzle on my face while walking through Melbourne's city streets will almost always mean more threatening drops are on their way.
I find small, [easyazon_link keywords="compact umbrellas" locale="US" tag="tbelles-20″]compact umbrellas[/easyazon_link] in cases can be stowed away in a secret compartment in my suitcase or backpack without costing me valuable packing space.
I also buy umbrellas from a discount shop so I only pay a few dollars. The umbrella keeps me dry and I'm not going to be too tearful if I happen to lose or break it.
I also pack a [easyazon_link keywords="ladies light rain jacket" locale="US" tag="tbelles-20″]light rain jacket[/easyazon_link] for those moments when I'm hiking or walking around in areas where there's the slightest sight of clouds. Layering keeps me warm and my light rain jacket keeps me dry. My jacket sits flat in my bag and can be rolled up easily to save on more space.
Scarves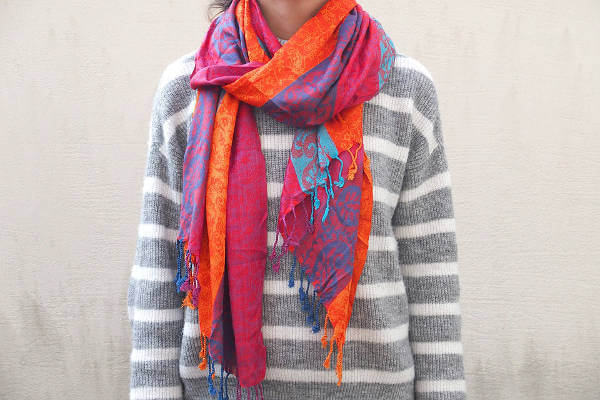 I'm addicted to scarves because of their versatility. I wear scarves almost every day during a Melbourne winter and any day when I'm travelling. They keep me warm or shaded from the sun; they keep me prepared and they make me look good.
I always travel with a long, [easyazon_link keywords="light-weight cotton scarf" locale="US" tag="tbelles-20″]light-weight cotton scarf[/easyazon_link] knotted around my neck for days when I'm traipsing around cities and sight-seeing locations.
I also pack a lighter, dressier scarf to accessorise simple black items of clothing I wear out to dinner or for special occasions while on the road. Not only do scarves keep me warm, they can keep me modest by covering up my upper body area and they keep my head covered if I'm visiting a place of worship.
My cotton scarf also doubled up as an emergency towel during a dip in The Nile in Egypt a couple of years ago when my usual towel was wet and festering away in my suitcase. If you're worried about a lack of space in your day-bag, then you can always wear a scarf around your neck.
You may also like: Aswan, Egypt: A River Runs Through It
A scarf around your neck is also a way to disguise your money belt around your neck too. I remember being in a grocery store in Dahab, Egypt, when the manager shouted "congratulations!" to me. He saw the bulge of my money belt around my upper torso and misinterpreted it as a baby bump.
My scarf was covering the bulge but made it look like I was pregnant!
Alternatively, you can buy a scarf in a country you're visiting and take back a beautiful, and useful, reminder of your trip. I'm now proud to say I have a scarf purchased from the start of the Silk Road in Xi'an, China, and one which was purchased towards the end of this ancient trade route in Damascus, Syria. I always receive comments on my exotic scarves when I return home.
You may also like: Aleppo, Syria: Tradition Of Eating Five Apples
"Slip, slop, slap"
Many Australians will tell you about this simple saying from their childhood. Back in the 1980s we endured the Slip, Slop, Slap campaign in order to protect us from skin cancer.
It's simple – slip on a shirt, slop on sunscreen and slap on a hat.
Despite Melbourne's cold and dreary weather it can get very hot in summer. And as much as Melbourne is famous for its rain, Australia is famous for being one of the driest countries on the planet.
I [easyazon_link keywords="sunscreen" locale="US" tag="tbelles-20″]always pack sunscreen[/easyazon_link] and a hat to keep me from getting sunburnt and light, long-sleeved cotton shirts for when temperatures soar and humidity is high.
If I do get sunburnt, I [easyazon_link keywords="aloe vera gel" locale="US" tag="tbelles-20″]apply aloe vera gel[/easyazon_link] to affected areas; it's great for taking away the redness and soreness.
With these simple Melburnian tips, you can enjoy your travels whatever the weather in Melbourne brings.
Tackling four seasons in one day can be done without, as Australians say, "putting a dampener" (i.e. a negative, instead of the more British and American English "putting a damper") on your journey!
Pin For Later