Sites and experiences in Melbourne that are free
Melbourne, the capital of Victoria in Australia, was voted the most livable city in the world for the second year running earlier this year. With its many local attractions, thriving art and music scene, café culture, multi-cultural cuisine, and colorful history, Melbourne is a destination that provides its visitors with endless experiences.
Not only is it easy to find something to see and do in town, but there are lots of free things to do in Melbourne on offer for practical travelers.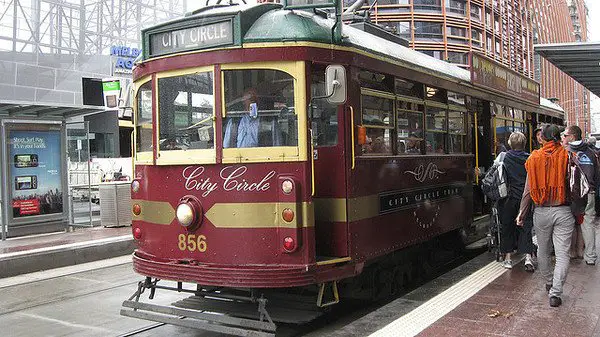 Explore Melbourne for free on foot (and by reasonably priced tram)
Melbourne's central business district is laid out in a grid so it's extremely easy to explore the streets without getting lost. Visitors can navigate their way through the city seamlessly by foot or tram.
If you want to wander the streets, you can pick up a free map and self-guided tour hints from the Melbourne Visitor Centre, located at Federation Square on the corner of Flinders and Swanston Streets. If you want a guide, then why not opt for a Melbourne Greeter?
The Melbourne Greeter Service gives you free two- to four-hour orientation walking tour with a trained volunteer, and tours can also be arranged in languages other than English. Talk to the staff at the Melbourne Visitor Centre for tour times and preferred languages. Bookings are required at least 24 hours beforehand. Before visiting this part of Australia, you also should read my suggestions for packing for Melbourne's weather.
Melbourne's tram network is one way to experience a city like a local. The free City Circle tourist tram starts and finishes at Flinders Street and coasts along the major streets around Melbourne's outer gridline, passing many notable landmarks and attractions along the way.
The City Circle runs in both directions around the city every 12 minutes, plus running commentary will keep you informed on your journey. This is a simple and free way to hop on and hop off without feeling rushed.
Check out local and international art
Melbourne's vibrant art scene has given rise to many galleries peppered around the city.
The National Gallery of Victoria is on the city's doorstep on St Kilda Road. The gallery is open each day and features the work of many of the world's most prominent artists, but you can check out art without parting ways with your cash. Many works can be found on the Gallery's free exhibition program and you could discover a free talk or tour during your visit.
The Ian Potter Museum of Art at Melbourne University on Swanston Street is another destination to experience one of Victoria's biggest art collections. It's open Tuesday to Sunday and admission is free. If the big or small screen is more your taste, then head to the Australian Centre for the Moving Image (ACMI) at Federation Square where you can view some exhibitions at no charge.
If you want to check out what upcoming artists are creating, then visit the Victorian College of the Arts' Margaret Lawrence Gallery on Dodds Street in Southbank, about a 15-minute walk from Flinders Street, where current students regularly exhibit their wares. The gallery is open from12 p.m. to 5 p.m., Tuesday to Saturday.
If you're more inclined to experience Melbourne's underground art scene, then a walk through some of its street art laneways can possibly bring you face-to-face with work from famous local and international artists like Baby Guerrilla or Banksy. Head to Hosier, Rutledge, Caledonian and Union Lanes to find ever-changing canvases for murals, stencils, paste, and spray-can art.
Rock out to some live music
Nothing screams Melbourne music more than the film clip to AC/DC's "It's a Long Way to the Top (If You Wanna Rock 'n Roll)." The band, while riding on the back of a moving flatbed truck, belted out this rock anthem as they were flanked by bag-pipe players and bemused onlookers along Swanston Street in 1976.
Now, Melbourne's live music scene is one of the world's most prolific. You can rock out in Melbourne's live scene anywhere in the city on any night of the week, as hundreds of bands play to cut their teeth in the hope of "making it." While most venues charge a door price, you can get in for free at venues like Toff in Town on Swanston Street or Cherry Bar in AC/DC Lane. Pick up a free copy of Beat Magazine or Inpress, Melbourne's two weekly street press rags, from an independent record store or pub to find comprehensive live music listings each week.
Venues located on the city's fringes like The Tote in Collingwood, The Esplanade Hotel (Espy) in St Kilda, The Cornish Arms in Brunswick or The Empress Hotel in Fitzroy also host free gigs. Or, you may find an unexpected free show at Federation Square or in one of Melbourne's independent record stores.
Get into the festival spirit
Melbourne wields an exhaustive calendar of festivals throughout the year to celebrate all facets of Melbourne life – food, wine, movies, comedy, music, fashion, art, sport and culture.
It's almost impossible to list every festival in Melbourne, but there's a strong chance that at least one festival will be happening during your stay. It's best to keep your eyes and ears open and you're sure to stumble across one. Street press, community radio, and social media are good avenues to tune in to, and Federation Square is a major locale for bringing city festivals to its visitors.
While some festivals come with a price tag, some offer free tastings, screenings, and other experiences. Additionally, some paid festivals offer two-for-one and discounted ticket offers.
Relax in the city's gardens
Beyond the hustle and bustle, you'll find many manicured gardens hugging the city's outer rim. Flagstaff Gardens on William Street, Treasury Gardens on Spring Street, Carlton Gardens on Victoria Street and Fitzroy Gardens on Wellington Parade are lush locations for relaxation or a picnic lunch; all are only a walk or tram-ride away.
For a longer sojourn alight to the Royal Botanical Gardens, a 15-minute walk along St Kilda Road from Flinders Street, where you'll find specialty gardens, memorials, and lengthy paths to stroll along as well as destinations within Herbarium, Plant Craft Cottage, Melbourne Observatory and The Tan (a popular running and jogging track).
Garden volunteers are available if you'd like a free guided tour and a visitor centre is located next to the observatory where you can find out more on regular tours, maps and events.
Learn about Melbourne's past
There are many locations in the city where you can learn more about Melbourne's history. Make your way to Parliament House on Spring Street and you'll find a treasure trove of stories from secret underground tunnels, brothels, scandals, laws passed and challenged. Free public tours are conducted Monday to Friday at regular intervals and there's no need to book.
If you're interested in the underbelly of Melbourne's crime history then join a free tour of the Victoria Police Museum at the World Trade Centre on Flinders Street. Here, you'll learn about the city's most notorious crimes as well as Australia's renowned bushranger from the 1800s, Ned Kelly, and his gang.
While at the Royal Botanical Gardens, you can also visit The Shrine of Remembrance, Victoria's biggest memorial to those who have served in Australian forces throughout the country's history.
Birrarung Marr, another major park, is located on the north bank of the Yarra River next to Federation Square. While this park is quite new, the area is significant to the Wurundjeri people, who were the first to inhabit this area. You can experience public sculptures and listen to pre-recorded stories of Melbourne's indigenous people and their history at the ArtPlay Building, all for free.
If architecture is your cup of tea, then the ANZ 'Gothic' Bank on Collins Street, Flinders Street Station and Forum Theatre on Flinders Street, Royal Arcade on Bourke Street, State Library of Victoria and Manchester Unity Building on Swanston Street, and Princess' Theatre on Spring Street are locations to marvel at historic architectural landmarks from street level. Free guided tours operate at the 'Gothic' Bank and State Library; the State Library also hosts free movie screenings, exhibitions, and literary events regularly.
When you find yourself looking for a beverage, then you may want to take a free tour of the only working micro-brewery in the city of Melbourne – the James Squire Brewhouse. The brewhouse is located at The Portland Hotel on Russell Street, one of Melbourne's oldest pubs. Free tours are conducted on weekends.
*Photos by Sarah M Stewart, Jupiter Firelyte and emmoff, respectively, and used with permission
Pin for Later